A perfect day is exactly what Bridget and Matthew had on their wedding day! After having to change plans because of the pandemic they decided to listen to their Grandmother's and keep their original date and go with the flow and ended up having the best wedding day.
WEDDING DATE: August 1st, 2020
CEREMONY: St. Ann's Academy (www.stannsacademy.com) Victoria, BC 
PHOTOGRAPHY: Kim Jay Weddings (www.kimjayweddings.com) Victoria, BC "We found our photographer through online searching and reviewing her work. Then finally after a meeting, we decided she was 'the one.' to make our day perfect" – B
GUEST #: 18
COLOUR PALETTE: Blush, Mauve, and Rose complimented by a touch of Deep Blue
BRIDE GOWN: Bliss Gowns (@blissgowns) Nanaimo, BC
BRIDE ACCESSORIES: Blush Bridal Boutique (www.blushvictoria.com) Victoria, BC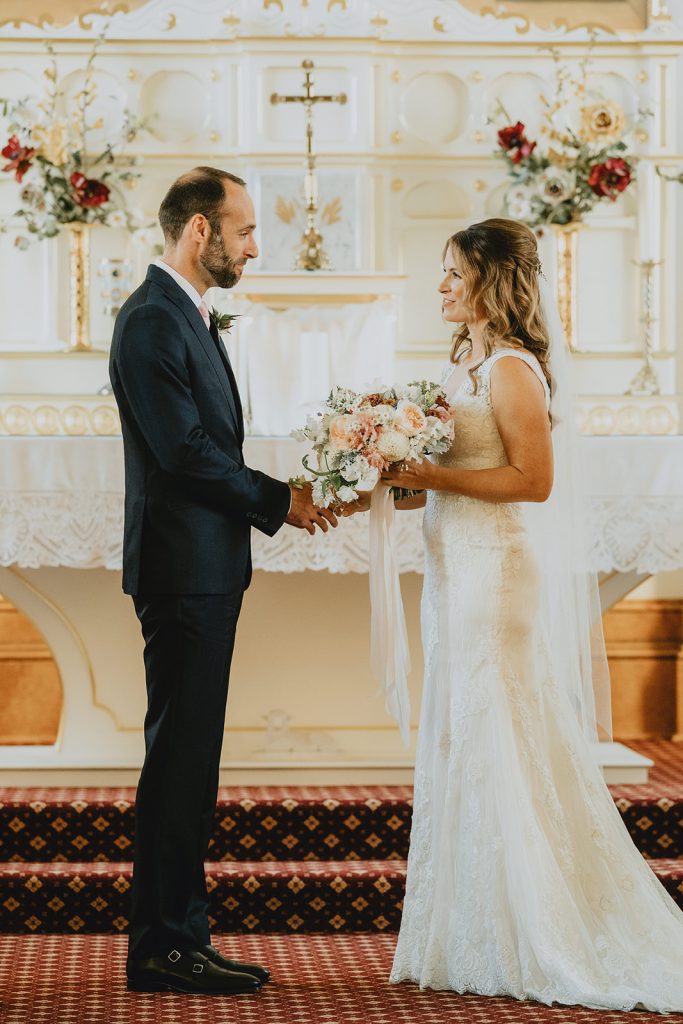 GROOM ATTIRE: Gotstyle (www.gotstyle.com) Toronto, ON
HAIR: Melissa Robinson (@meliss_robinson)
CAKE: Pâtisserie Daniel (www.patisseriedaniel.com) Victoria, BC 
FLORAL: Apothecary Floral (www.apothecaryfloral.com) Victoria, BC 
CATERING: Toque Catering (www.toquecatering.com) Victoria, BC
TELL US YOUR STORY: "We met shortly after Bridget moved to Victoria in July 2017 and fell in love over a shared love for fresh basil and world travel. After getting engaged in December 2019 on Mystic Beach, we planned for a dream wedding surrounded by 100 close friends and family later that summer. We planned for the ceremony at St. Ann's Chapel and reception to be held at the Inn at Laurel Point. Once the pandemic hit, we knew our planned 'dream wedding' was unlikely. So, we sought advice from the wisest members of both our families – our Grandmothers – who encouraged us to honour our chosen date and 'don't put your life on hold, go get married!' After countless changes in plans due to the pandemic's ever-changing rules, we got married on August 1st, 2020 at St. Ann's Chapel surrounded by a few close friends and family and a whole lot of loved ones in attendance over Zoom. Following the ceremony, we had a Zoom toast with loved ones and enjoyed a wonderful intimate dinner with our guests at a private home in Victoria. We finished the night off with some dancing, a lot of laughing, and then the two of us spent the night at the beautiful Inn at Laurel Point. While it was not the wedding we planned, it turned out to be a perfect day and we felt so much love from everyone, even those attending from far away.
Since then, we bought a home and at the end of last year, we welcomed a beautiful baby girl into our family. She has added immeasurable joy to our lives and we felt so blessed to return to St. Ann's Chapel this Spring to christen her with our same Reverend and the same wonderful staff. Again, we held a small ceremony with many family members watching from afar. We often marvel at what a journey these last few years have been and how grateful we are that we followed our grandmothers' wise advice."- B&M
BIGGEST CHALLENGE: "Not to have everyone we wanted in attendance 'in person'. We tried to make the best Zoom experience we could for our guests who stayed home – ensuring camera, lighting, and sound were good quality and that there was champagne ready for a toast from afar." – B&M
BEST MEMORY: "We both agreed that getting to see each other in the Chapel was incredible. We both described a feeling of overwhelming joy and love in that moment. It was the perfect day!" B&M
ADVICE: "A COVID wedding was not easy to plan but it was worth it. We don't know what the future holds in terms of this pandemic, but try to go with the flow and focus on what matters the most to you. The rest will come together."- B&M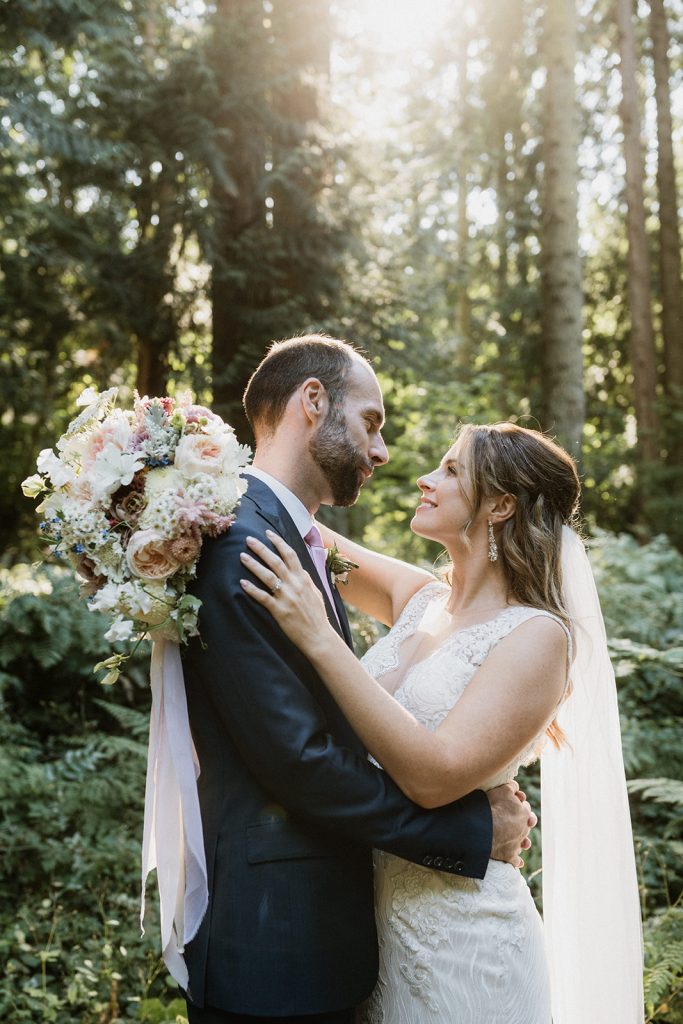 Featured in the Fall/Winter 2022 edition of The Wedding Ring Magazine
FIND OUT MORE ABOUT ST. ANNE'S ACADEMY| To speak with St. Anne's Academy about your wedding options, you can reach them using the form below.