When it came to planning their wedding, Giancarlo and Adrienne wanted to bring in the colours of a beautiful sunset. So they went forward with their sunset beach inspired wedding at the Guild Inn Estate. With soft and warm pastels, they were able to achieve their beach-inspired wedding vision.
Couple: Giancarlo Pawelec & Adrienne Britten
Wedding Date: July 30, 2023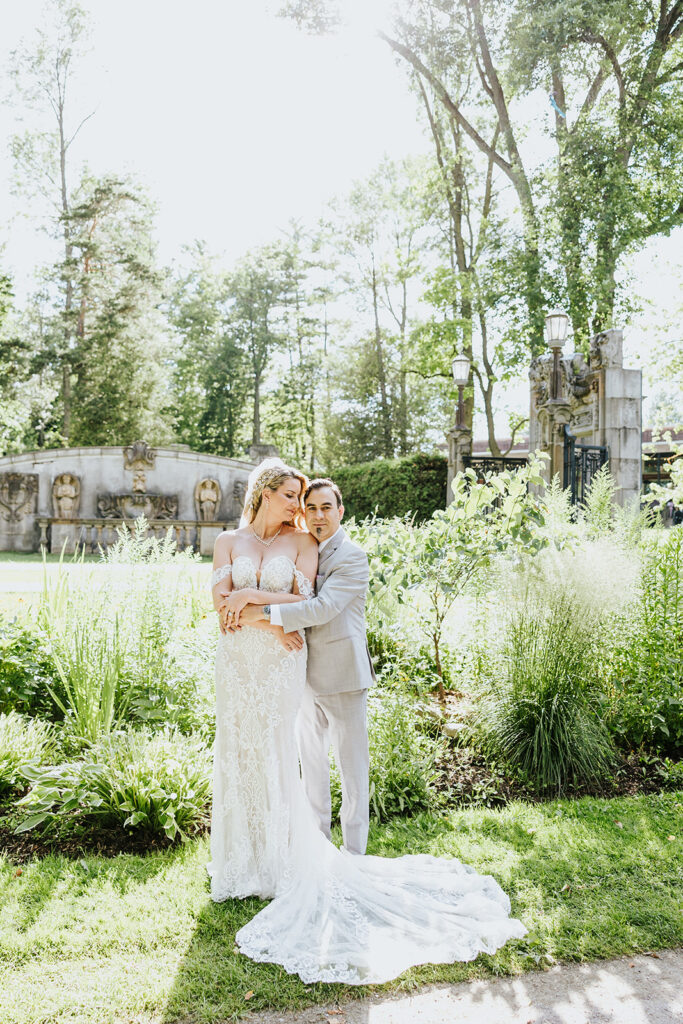 Ceremony and Reception Location: The Guild Inn Estate " My Mother-in-law suggested it. Giancarlo, an editorial and commercial photographer, had done a bridal fashion photoshoot there 10 years prior for a client at the "iconic Greek columns" and liked the spot; however, this was pre-renovations for the wedding venue/event space that it is today. It was the perfect spot for out beach inspired wedding" – A
Tell us your story!
"Adrienne and I met back in 2014 at an electronic music festival by parking next to each other on the outside grassy car park. She was with her sister and brother-in-law, and I was with a group of friends. We tailgated before heading into the event. There, Adrienne and I played a few games of rock-paper-scissors, which I won (obviously), although to this day she thinks she won. We'll just pretend she won. Once heading into the event grounds, her sister kept insisting that Adrienne get to know me, even though I wasn't her "type". In turn, she wasn't my "type," and more importantly, we were both "single and ready to mingle" – definitely not looking for a relationship.
We finally got to the VIP section and when entering, I noticed a light pole with benches around it. I then mentioned to Adi that if she or anyone in her group got lost during the event, this was "home base". She understood and off she went with her crew. A few hours passed, and after some intense dancing and fist-pumping, I headed back to the food area of the VIP section. My buddy Paolo and I lined up for a slice of pizza when I noticed Adi heading towards me. She bluntly says to me, "Buy me a drink, I'm thirsty," to which I reply, "Sure" – breaking my cardinal party rule. I then turn to Paolo and tell him to "hold the fort," as I'll be back after I get Adi a drink at the bar.
Well, nearly 10 years later, we're still together. I never went back to Paolo standing in that pizza line. After a lengthy 8-year relationship and multiple stalls, I finally asked my best friend and fellow music-festival-dance-partner Adrienne to be my wife. She said yes!" – G
Guest #: 80
Photographer: Fedora Media "Trent (and his wife Holly) own Fedora Media. I have been friends with Trent for over a decade, as we're both professional photographers. He mostly shoots weddings, and I focus on editorial/commercial work in fashion and automotive. If there's anyone that I trust to capture this milestone in life, it is him. Without hesitation, I called him and asked if he would shoot our beach inspired wedding, and he agreed." – G
Colour Palette: "The concept was "Sunset Beach Inspired Wedding", with soft and warm pastels." – A
Cake: Bobbette & Belle
Florals: Singing Mermaid Studio "They were amazing and completely brought our beach inspired wedding to life." – G
Bride's Attire: Essence of Australia (dress), Vince Camuto (shoes), Aarkish Diamonds (custom engagement ring and wedding bands)
Biggest Challenge: "The first was the flower-decor person, who was simply awful to deal with. My mother-in-law handled the details and noted that the person was very confrontational, especially when asked if they would meet with us, the couple that is getting married, to know what we wanted such as the theme, colour pallet, etc. The situation was so bad, that I requested that she no longer be involved and simply use the pre-paid balance for a floral arch during the ceremony.
Thankfully, I had met a florist at an event in my studio during that time who had exhibited the most beautiful arrangements and orchids, plus was incredibly kind in nature. Her name is Ariel of Singing Mermaid Studio. I had reached out to her and mentioned that we needed flowers and decor for our beach-inspired wedding. She immediately scheduled a Zoom call so we could meet and discuss our vision, wants, budget, etc. I genuinely don't know how she (and her team) pulled it off with the centerpieces, flower arrangements, and bouquets all brought in fresh & prepared on-site.
Groom & Groomsmen Attire: Moores, Ted Baker with custom laces (groom's shoes)
Bridesmaids Attire: David's Bridal
Make-up: Nicole Ostonal
Planner: "Me! Believe it or not, yes, the groom planned the whole beach-inspired wedding. I have experience with events, and being a photographer helps with contacts, scheduling, booking, etc. just like a normal commercial photoshoot production." G
Best Memory: "Seeing two cultures collide (Latino and Canadian-British) and feeling the love from all our closest family and friends." – G
Advice from one couple to another
"Just have fun with it, as the day will go by faster than you think. Don't sweat the small stuff and just focus on the vibe while being together through the experience. Spend your budget on what matters most to BOTH of you and conserve on what doesn't. In the end, it is YOUR day." -G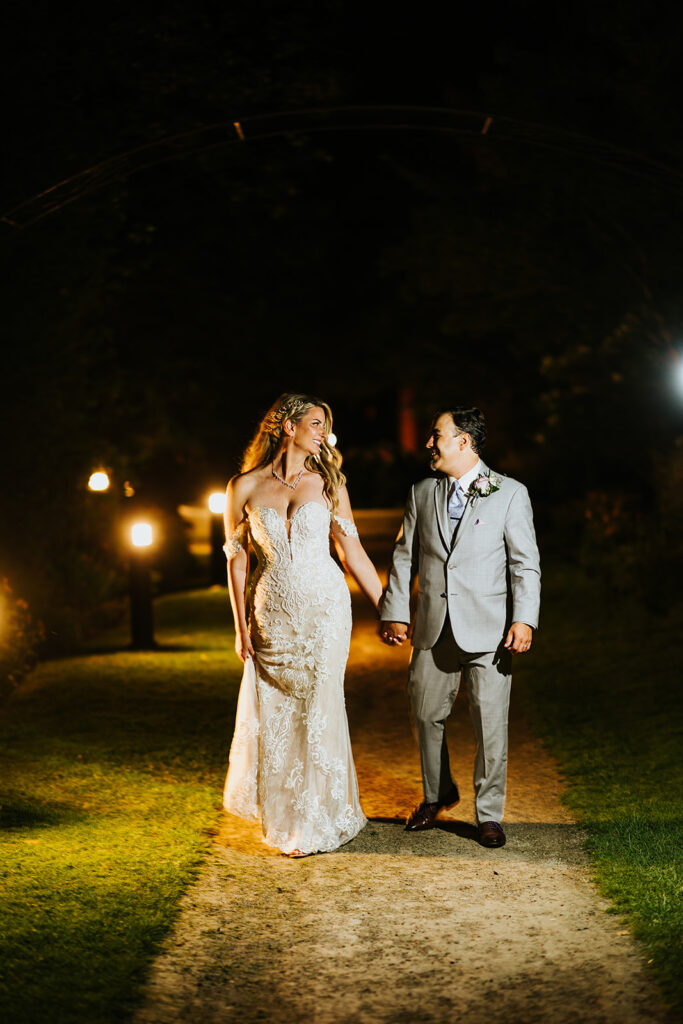 Find more Real Wedding Stories at The Wedding Ring!
FIND OUT MORE ABOUT FEDORA MEDIA | To speak with Fedora Media about your wedding options, you can reach them using the form below.