Stephanie and Brent achieved the rustic wedding day look they had been searching for using navy & pink at Dundee Country Club. This golf course wedding venue just outside of Kitchener, ON was the perfect spot for Stephanie and Brent to tie the knot.
Couple: Stephanie & Brent Moore
Wedding Date: June 10, 2023
Ceremony & Reception Location: Dundee Country Club (golfnorth.ca/weddings) "We really wanted to get married at a golf course and Dundee was beautiful and reasonable for our budget." – S&B
Guest #: 114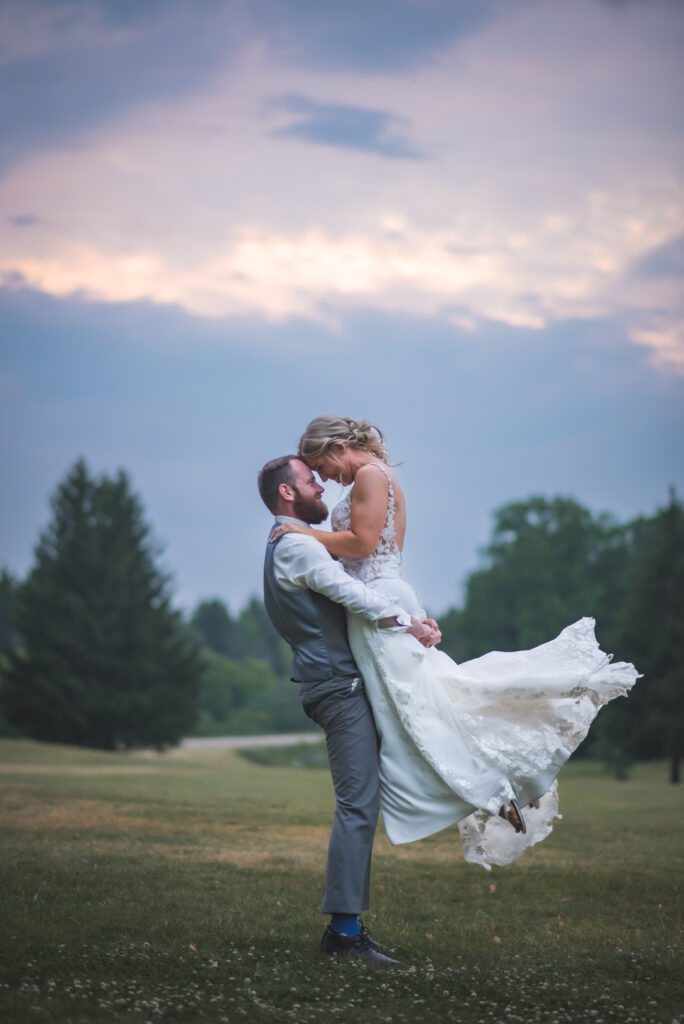 Photographer: Laura and Tom from Emptage Photography (www.emptagephotos.com) "Tom and Laura were absolutely fantastic. They were extremely well organized and made us both feel comfortable. They captured some awesome shots during our engagement photo session as well as our wedding day. Brent and Laura are long-time friends which is why it was an easy decision to go with the sibling duo. We are super familiar with their work and we were excited to have friends shoot our special day." – S&B
Colour palette: "We used navy blue as our main colour with baby blue and light pink accents. We went with a rustic look. We did all of our own decor so we wanted something simple yet beautiful." – S
Donuts: Debrodniks Donuts (debrodniks.ca)
Bride's Attire: Taylor's Bridal in Elmira, ON (taylorsbridal.com)
Groom's Attire: Collins Clothiers in Kitchener, ON (collinsclothiers.com)
Tell us your story: "The first time I saw him, I was working on the beer cart as a summer job before starting my teaching job in September, while he was teaching golf lessons to young kids. He waved me over and he asked me if I had a few minutes to spare. When I answered yes, he proceeded to tell the kids that they were going to learn an important golf lesson. He smirked, looked at the kids, and said: "You're going to learn how to hit a nice shot, under pressure, in front of a pretty lady". I rolled my eyes but secretly loved watching someone enjoy teaching kids as much as I do.
Since we worked at the golf course together, we ran into each other a lot that summer. He never missed an opportunity to come and chat with me. I started to look forward to my shifts at the golf course, in the hopes that I would get to see him. He finally got the courage to ask for my number and he asked me to go mini-putting to get to know each other better outside of work. I fell in love with his confidence, his ability to talk about anything and everything, his kind heart, and his infectious smile. I am the luckiest!" – S
Biggest Challenge: "Handling all of the small details 2 weeks before the wedding. Since I didn't get a wedding planner it was difficult to coordinate all of the vendors and to make sure everyone understood what the day was going to look like. Thanks to friends, family, and online blogs- I was able to coordinate all the moving parts and the day went smoothly." – S
Favourite Memory: "Walking down the aisle and seeing Brent's face for the first time. I will never forget this look. So much love and excitement for this new chapter of our lives. I also get butterflies thinking about all of our friends and family being together to celebrate our love. It was an awesome feeling to celebrate with them by our side." – S
Advice from one couple to another: "Don't sweat the small stuff and do exactly what you want to do!" – S&B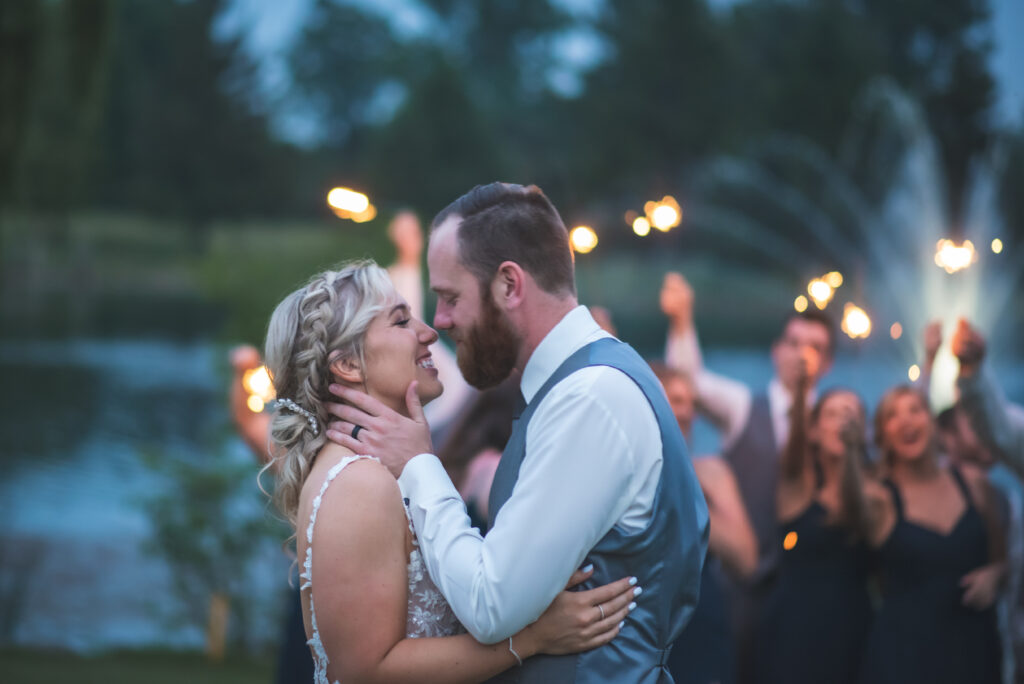 To see more Real Wedding Stories, click here.
FIND OUT MORE ABOUT DUNDEE COUNTRY CLUB | To speak with Dundee Country Club about your wedding options, you can reach them using the form below