Erin Estates was the perfect backdrop for Andrew & Jennifer's simple rustic boho wedding. Filled with wood accents, greenery, and hints of pink accents they were able to let the beauty of their venue shine thru.
Couple: Andrew & Jennifer Suitor
Wedding Date: August 20, 2022
Guest #: 150
Ceremony & Reception Location: Erin Estates (erinestate.ca)
"We wanted something different, somewhere no one we knew had been. As soon as we pulled up to the property, we knew it was our venue. Jamie, the owner of the property was amazing and was able to accommodate everything we asked for. She even did the flowers herself on site which were more beautiful than we could have ever imagined. The space is so unique and we could not have been happier with how amazing all the staff were leading up to and on our wedding day." – J&A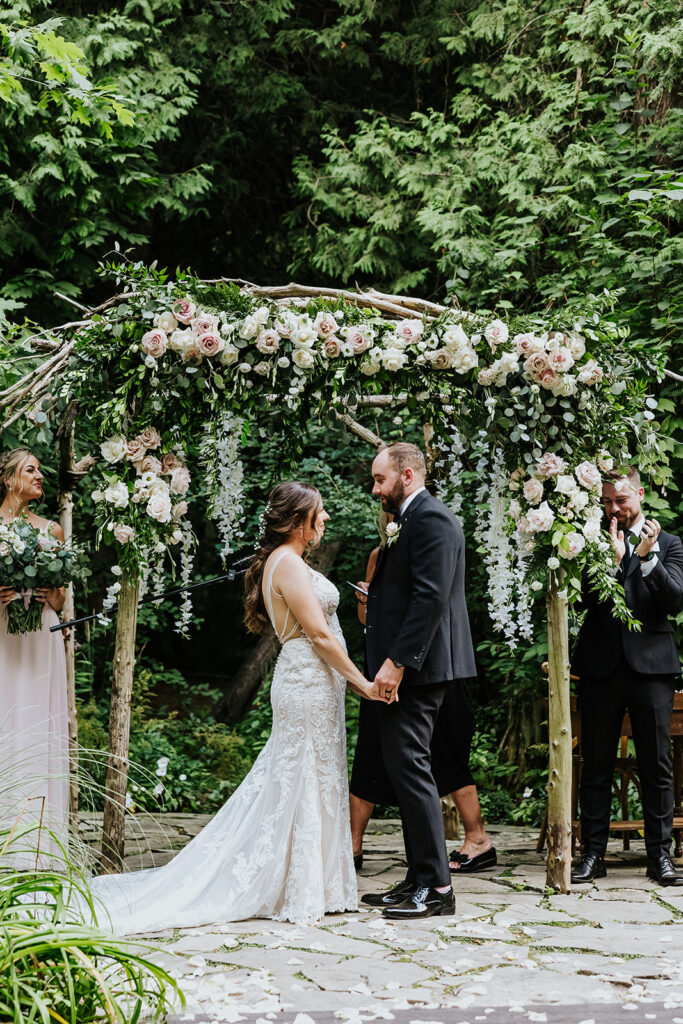 Photographer: Fedora Media (fedoramedia.com)
"Fedora media was one of our venue's preferred providers and for a good reason! What stuck out to us was their lifestyle photos and editing style. Trent made us comfortable as soon as we met him and had us and our son laughing. Our wedding party had such a fun day with them and the fun and happiness are reflected in our photos. We love all the pictures but our favourite part was the time the two of us got to sneak away after the ceremony to take photos. The wedding day is so crazy and it was so nice to capture those quiet moments together." – J&A
Colour Palette: Rustic, boho vibes. "We kept it simple with harvest tables, wood decor, and a lot of greenery. We had different shades of pink incorporated into the flowers to match the different shades of pink bridesmaid dresses. We kept it simple to keep the flowers and the beautiful property the focus." – J
Bride's dress: The Gown (thegown.ca)
Bridesmaids attire: Azazie (azazie.ca)
DJ: DJ Soundqwest
Make-up: Styled Faces by Talisha (styledfaces.com)
Wedding Planner: Event Bliss Planning (eventblissplanning.weebly.com)
Catering: Midknight Catering (midknightcatering.ca)
Tell us your love story: "We are a 'Bumble' love story! We knew after our first date we had something special. We moved in together after 6 months, had two beautiful boys, Jett (3) and Tate (7 months) got married and the rest is history! Our story is short and sweet but it is perfect for us. We were so happy to have our boys celebrate our wedding day with us." – J&A
Biggest Challenge: "Honestly, we started early and it was pretty smooth. We did have one bridesmaid who could not make it the morning of the wedding because she had COVID which was hard because she was one of my best friends and we found out that day. We were one bridesmaid down but it all worked out." – J&A
Best Memory: "The entire day felt like a dream. Seeing our vision come together and walking into the ceremony to see all our family and friends in the most beautiful setting we could have asked for was such a good memory for us. And of course, seeing each other for the first time down the aisle was the best feeling." – J&A
Best advice for other couples: "Try and have fun with it! Obviously, the whole process can be stressful but try and make it as easy as possible. We found going with preferred providers was super helpful, they are recommended for a reason and know the space so well! They also all work so well together as a team to make the day the best it can be! Lastly, don't sweat the small stuff! Sometimes things go wrong but at the end of the day, you're marrying the love of your life and nothing else matters." – J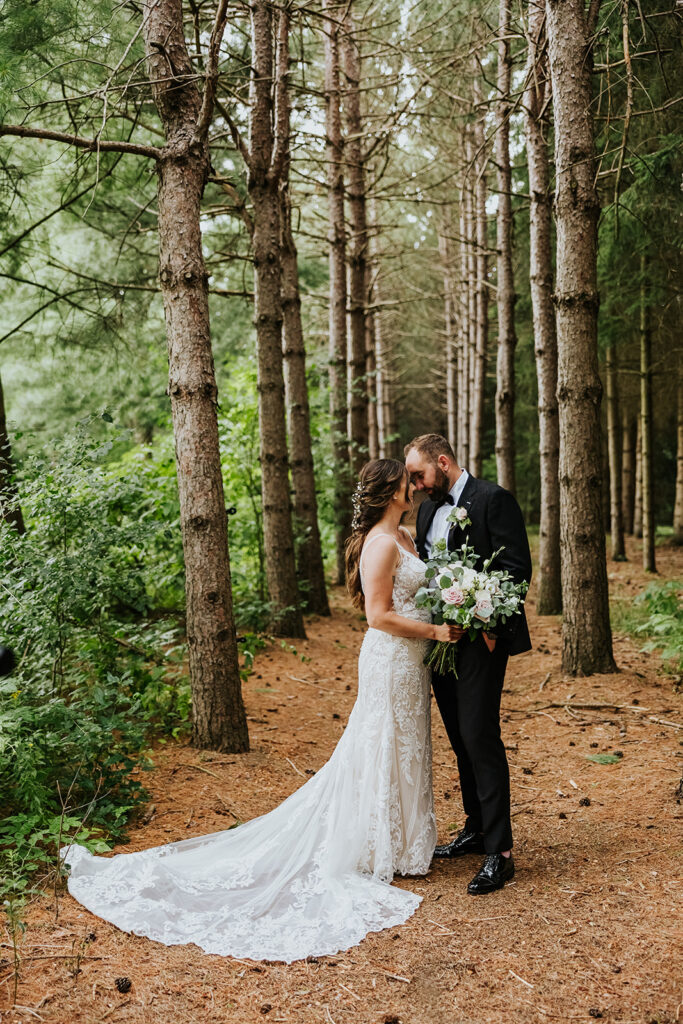 Click here to see more from Fedora Media
FIND OUT MORE ABOUT FEDORA MEDIA | To speak with Fedora Media about your wedding options, you can reach them using the form below.