Nothing says a casual boho farm wedding like a colour palette of cinnamon and emerald! Heather and Henry had a beautiful fall-inspired wedding with a beautiful circular archway and the family farm as a backdrop. Add in many personal touches, and they had the perfect day!
Couple: Heather and Henry Busili
Wedding Date: September 3, 2022
Guest #: 80
Ceremony and Reception Location: Family Farm "We chose to get married on Heather's family farm because it has beautiful scenery and lots of outdoor space. We had spent a lot of time there when we were dating and engaged and felt it was a meaningful place. Since COVID restrictions had been all over the place, we wanted to have options." – H
Rentals: Mildmay Tent Rentals (mildmaytentrental.ca) "They were easy to work with as we planned for our day, and the tent set up and take down occurred seamlessly as we were busy with the rest of the preparations! Mildmay tent rentals also provided our tables, chairs, and other supplies, and it was convenient to have it all together." – H
Colour Palette: "We chose cinnamon and emerald as our colours with some casual boho decorations. We had a family member/close friend of the family who enjoys decorating offer to help, and she really helped our vision for the day come to life. We wanted to include lots of special touches that make us who we are. Everything from the circular arch, which reminded us of the "time" symbol from Arrival (the first movie we watched together) to the plush toys Henry gave me while we were dating and the motorcycle helmet that Henry's late father gave him." – H
Photographer: Elli Bel Photography (ellibelphotography.com) "We met Elli Bel at the Ring Wedding Show. As we talked, we felt that she understood our vision, and we thought that her wedding photography fit our style. Elli Bel was able to flow with our laid-back schedule for the day, suggest locations for photos despite the fact that it was a new venue for her and she tied unique parts of our story into her photography. We love looking back at the photos from our day, and Elli Bel captures so many special moments and details that made the day all that it was!" – H&H
Invitations/stationery: Paperless Post (paperlesspost.com)
Decor/Floral: Christine (decor) / Lewis Flowers in Wingham, Ontario (lewisflowers.com)
Bride's dress and accessories: Best for Bride (bestforbride.com)
Grooms Attire: Collins Clothiers (collinsclothiers.com)
DJ: "We had friends (Sarah, Joanna, and Sean) perform music for our ceremony, Henry made a playlist, and we had family help with the sound set-up." – H
Hair: Brittany McClinchey
Make-up: Jenna Jones (facebook.com/glamorous.touch.lucknow)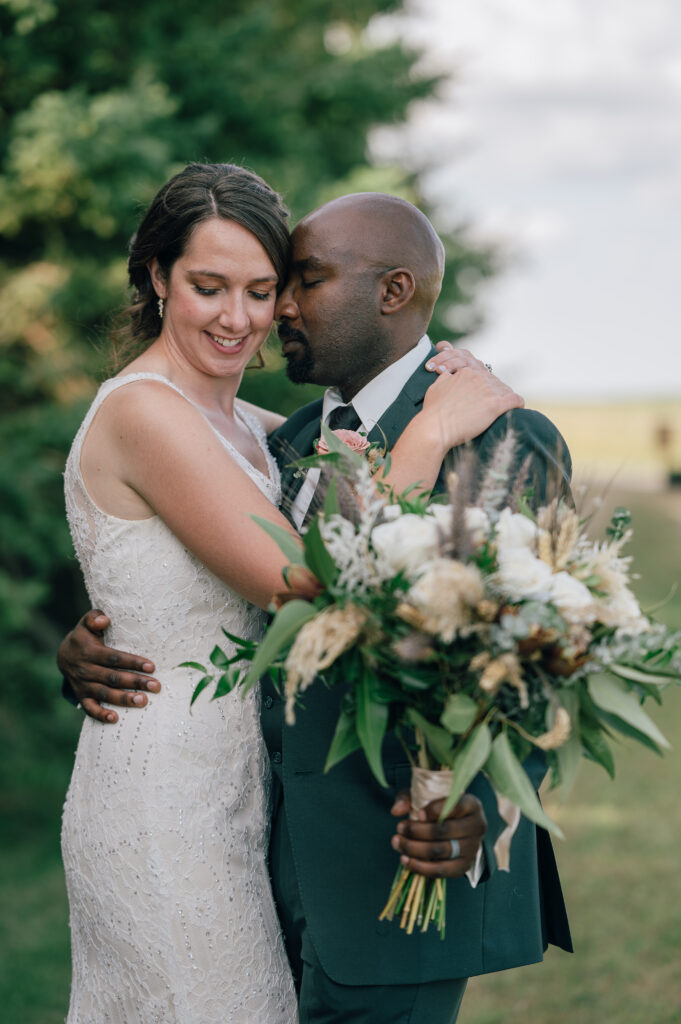 Tell us your story: "In the midst of a pandemic and in a world of technology, even though we were in different cities, we were blessed by God to have met online. Both of us had been praying for God to bring someone into our lives, and this "match" became an answered prayer.
Our first interaction was a video call to get to know each other. Henry showed his creative and organized nature by planning a game of 21 questions. Heather was struck by how well-prepared he was and how fun he made that first moment. In addition, Henry finally realized that the meaning of "love at first sight" was actually a real thing!
We had planned to have a first date and meet shortly after, however, the province went into lockdown. Our next couple of dates turned into a virtual wonderland: GTKEO (get to know each other), texting games, gifs, video calls, and virtual movie dates. The first movie we watched, which became a defining moment for our relationship, was "Arrival".
Come Valentine's weekend, the lockdown was lifted, and we finally got to meet. Ironically, not on Valentine's Day, even though Heather suggested avoiding a winter storm. However, nothing stops an eager man who knows what he wants and is willing to show the lengths he will go to meet a new intriguing, and mysterious lady. So our first date turned into a walk in a howling snowstorm.
When something is God's Plan, it never fails, and our journey has been a divine one. In getting to know each other, we shared a lot of our faith stories and experiences, and Heather introduced Henry to Church on the Rock and eventually included him in her small group.
Our dating continued, and our relationship grew. Henry drove to see Heather on weekends, the best drives he has had in his life, as he would spend the time talking on the phone to Heather or sharing his excitement to his friends and family. Heather would often have an amazing meal planned for his visits.
As our relationship grew, our weekends included lots of various outdoor activities, road trips, board games, video games, movies and shows, sports, meeting friends and family, and a lot of laughter and love.
Henry, being the romantic that he is, would often show up with a bouquet of flowers and some form of gift. Some of the most meaningful were three plush toys: a cow, a bunny, and a pig, whom we named Aurora, Miyoni, and Francois, respectively. These became our "kids" and hold a special place in our hearts to this day and forever.
Henry knew how much Heather loved outdoor activities. So one warm Saturday, he booked a kayak trip down the Niagara River. This wasn't any old regular kayak trip. Heather had no idea what was to come. The week prior, Henry planned for this day and asked for her parent's blessing.
We kayaked down the river to a God sent secluded shore that had a small waterfall. Henry had brought the three "kids" and set up the day with several other sentimental touches, to Heather's surprise. When the moment was right, with music playing from their special movie "Arrival", Henry handed Heather a symbol that meant "Time". Then he got on one knee and said, I want to spend the rest of mine, with you. After Heather's surprise, joy, and welcomed yes, as a newly engaged couple, we paddled our way back to shore.
We got married just over a year later, and it's hard to believe that's almost a year ago now!

Biggest Challenge: "We can't say that we had any big challenges, but choosing to plan our day without hiring a wedding planner had some challenges as there were many little details to think about and stay on top of! We were blessed to have great family and friends who took on some different aspects of this for us!" – H&H
Best Memory: "It was so special having all of our friends and family together. With some family living so far away, it was just amazing to celebrate all together and share this special time." – H&H
Advice from one couple to another: "Relax and enjoy the day! I would definitely have a tendency to worry about the details and overthink everything. Henry encouraged and supported me to trust that everything would come together. We prayed together leading up to the day and had many others praying for us, and it was more than we ever could have imagined!" – H
See more Real Wedding Stories here
FIND OUT MORE ABOUT ELLI BEL PHOTOGRAPHY | To speak with Elli Bel Photography about your wedding options, you can reach them using the form below.