WEDDING DATE: July 17th, 2021
LOCATION: The Campbell House Museum (www.campbellhousemuseum.ca) Toronto, ON 
PHOTOGRAPHY: Gary Evans Photography (♥) (www.gary-evans.ca) Kitchener, ON 
GUEST #: 23
COLOUR PALETTE: "Our colour palette was Mauve, Eucalyptus, and Gold and all the shades of purple and green in between. We were aiming for a watercolour effect." – S
PLANNER: Pop Up Weddings by Lovely Weddings and Events (♥) (www.lovelyweddingsandevents.ca) Kitchener, ON " We booked a double time slot for our wedding. This allowed us a bit more time and a bit more customization
for our package. I think the best part about Lovely Weddings is how well they take care of you. They made us feel so special and important. We felt heard! And even though our wedding was a pop-up – the theme and venue shared with a handful of other couples – it didn't feel that way. We added in key personal touches, we included family traditions in our ceremony, we had a custom cocktail, and even had meals specific to my dietary needs. Nothing felt forced or rushed. Our wedding felt completely like ours. And that's how amazing Lovely Weddings are!" – S 
BRIDE + BRIDESMAID ATTIRE: Simi Bridal Dresses (www.simibridaldresses.com) 
GROOM + GROOMSMEN ATTIRE: Just White Shirts (www.justwhiteshirts.com) 
MAKEUP: Makeup by Tramaine
CAKE: Mad Hatter Tea Co (www.mhteac.com) Oakville, ON
FAVOURS: Wildflower Seed bombs by Free Mountain Designs (www.etsy.com/ca/shop/ FreeMountainDesigns) Idaho, USA 
CATERING: Chef Matt Basile (www.chefmattbasile.com) Toronto, ON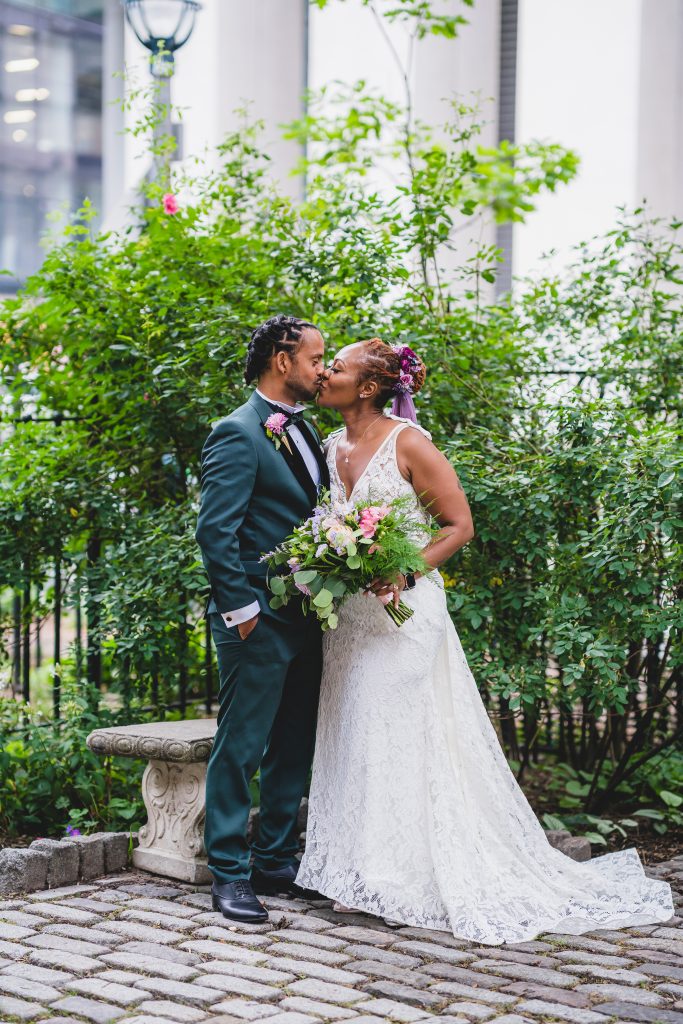 TELL US YOUR STORY: "We met mid-2020 online… How else did you meet someone at the height of a global pandemic?! I was recently divorced and not entirely ready to get back out there. After a long marriage, the dating world was a completely foreign place to me. My two besties suggested I create an online profile just to scroll and get my feet wet since I was so "out of touch." Reluctantly, I did. A profile popped up. I was genuinely intrigued but planned to swipe it away regardless. I truly thought it would pop up again at another time when I was more "ready." I didn't quite understand the concept of the app. I didn't realize the profile would be gone forever if I swiped it away. So maybe it was fate; the internet gods swooped in and took the wheel. I got my left and right mixed up. The profile's fate dangled under my finger, swinging back and forth as I struggled to figure out which way to toss the profile. Maybe it was the wine. I swiped up… Overwhelmed, I logged off. The next morning I woke up to a message. A basic conversation started, a friendship budded, and a relationship blossomed. I learned that this person I was beginning to fall into alignment with, had been online that fateful night, deleting his profile, fed up with the online dating world. When my profile came up, he liked it and then saw my super like. We began to talk every day, sometimes two or three times a day. We made dinners together over video calls and watched movies together that way as well. Eventually, we met in person after COVID tests, face masks, and lots of sanitizer. We sat in the flatbed of his truck, listening to jazz on the radio, and sharing a poutine while chatting face-to-face. It was the best date I'd ever been on.
Eventually, I introduced Patricio to my children. They had already built a strong relationship over the phone and they had invited him over for dinner. We were all a ball of nerves that evening but dinner was magic and the kids didn't want him to leave. He pretty much never did after that and our new family formed. In the summer of 2021, we got married after a short engagement, essentially just enough time to get all our details sorted out. We didn't want to wait too long, we knew this was exactly as it was meant to be." – S
BEST MEMORY: "The best memory I have is walking into the room, standing at the top of the aisle, and seeing Patricio's face. It was almost like a look of relief, 'Finally! We're here! We made it!' Then seeing the HUGE smiles on my children's faces. It was such a beautiful moment for our little family. We had all chosen each other and it was so perfect." – S & P
Featured in the Fall/Winter 2022 edition of The Wedding Ring Magazine
FIND OUT MORE ABOUT LOVELY WEDDINGS | To speak with Lovely Weddings about your wedding options, you can reach them using the form below.