Rustic Boho was what Carly & Haydn envisioned when they were planning their big day. With neutral colours and touches of greenery and pampas grass, they were able to achieve exactly what they wanted!
DATE: August 12, 2022
LOCATION: Best Western PLUS Stoneridge Inn & Conference Centre & The Rose Chapel (♥) (stoneridgeinn.com) "There are so many reasons why we chose this venue, it is truly a one-stop shop, they do it all! Working with Natalie was so effortless, she made the whole process so easy. The wedding packages they offer are very inclusive, they are as involved as you wish & they went above and beyond to make sure our day was perfect! It was really appealing to us to have a venue where guests could stay overnight & the staff are so accommodating. We couldn't have asked for a better experience!" – C&H
PHOTOGRAPHY: HG Photography (hgphotography.ca) "Four words – Hailey is the best!! Hailey was our photographer for our engagement photos & it was such a fun experience that when it came to our wedding photographer, it wasn't even a question of who we would choose. Hailey is so good at what she does, she is fun and outgoing & went so above and beyond to make sure we captured everything we were hoping for! We love everything about our wedding photos that it's so hard for us to pick a favourite part – she killed it!!" – C&H
GUEST #: 93
COLOUR PALETTE/THEME: "Our overall theme was Rustic Boho! We chose neutral colours combined with lots of greenery, pampas grass, and wooden elements." – C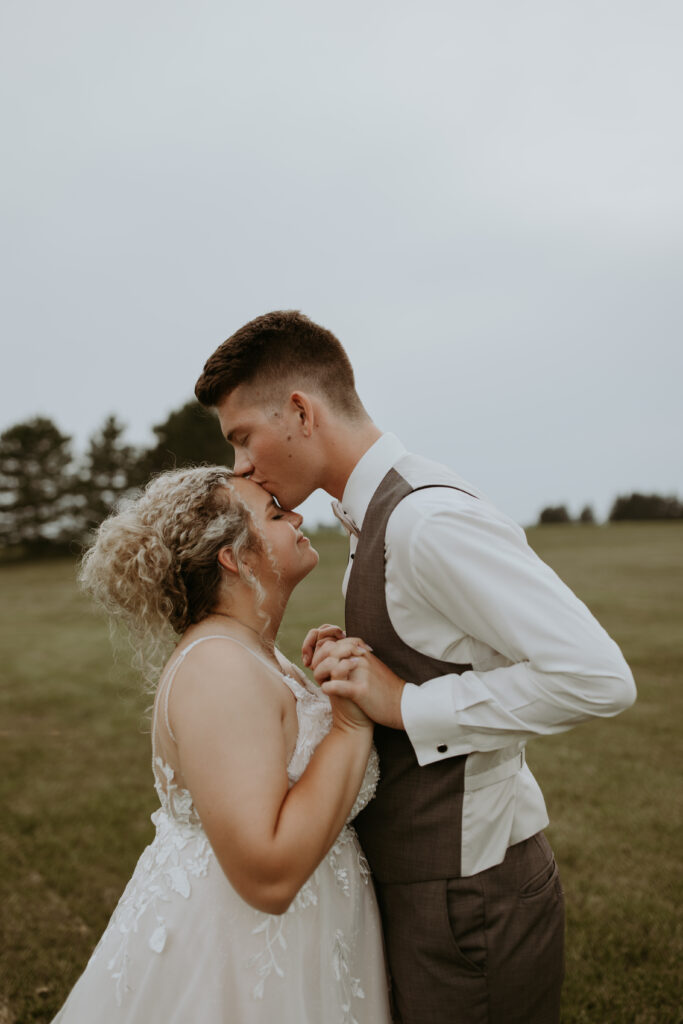 BRIDE'S ATTIRE: Ballets Bridal (balletts.com)
BRIDESMAIDS ATTIRE: David's Bridal (davidsbridal.ca)
GROOM + GROOMSMEN ATTIRE: Collins Clothiers (collinsclothiers.com)
HAIR: Shalimar Beauty Salon
MAKEUP: Payton Sedley (paytonsedleyartistry.com)
DÉCOR: Sandra Field Creates (@sandrafieldcreates)
DJ: DJ White Knight (@joshyboydjwhiteknight)
CAKE: Ana's Kitchen (anaskitchen.ca)
STATIONERY: Minted (minted.com)
TELL US YOUR STORY: "Haydn and I met back in 2019, it was a mutual friend's surprise birthday party. Her roommate and myself were supposed to be decorating the house before everyone showed up and I ended up getting stuck at work late that night. I showed up at this birthday party terribly sober compared to everyone else, among the guests that showed up, one of them was Haydn. We had known about each other but hadn't met at this point. After a fun evening out with all our friends, we all went back to life as we knew it. In the following weeks, I got a DM from Haydn asking me out on a date – I was very flattered and accepted his invitation to go on our first date. We continued to talk every day leading up to our date & on the night of, he shows up at my door with the biggest bouquet of gerbera daisies (my favourite!!) and I couldn't help but think he was pretty charming. We had the best first date, we both didn't want the night to end! It wasn't too long after that we became pretty inseparable, we spent a lot of time together and just couldn't get enough of one another. Fast forward, after a year of dating, Haydn's sister got him a photo session for his birthday and we decided to get fall photos done. 45 minutes into this 1-hour session, our photographer (Hailey) told me to do a pose and thinking nothing of it when I turned around I saw Haydn, down on one knee, asking me to marry him! It was such a wonderful surprise and we were both so excited to take this next step together." – C&H
BIGGEST CHALLENGE: "It's no secret that planning a wedding is hard work – Haydn and I both have occupations that require a lot of our time and we both travel a lot for work so that made the planning process difficult. Thankfully we have the best family and friends that helped out any way they could…picking up decor, calling vendors, making appointments on our behalf, etc. Time management is so important & staying organized, making to-do lists was a huge help to stay on track." – C
BEST MEMORY: "This is a hard one. There are so many wonderful memories from this day that it's hard to pick just one! Our favourite memory would have to be our first look! We were both so nervous, emotions were running high and for just a moment it was the two of us alone, looking at each other, knowing this is ours forever! It was such a sweet, intimate moment." – C
ADVICE: "If there is anything we could tell future couples – Don't sweat the small stuff! Everything has a way of coming together and it will all work out! The stress you're feeling isn't worth it. Try to focus your energy on the journey because before you know it your big day has come to an end. Enjoy every minute. You won't believe how fast your wedding day flies by!" – C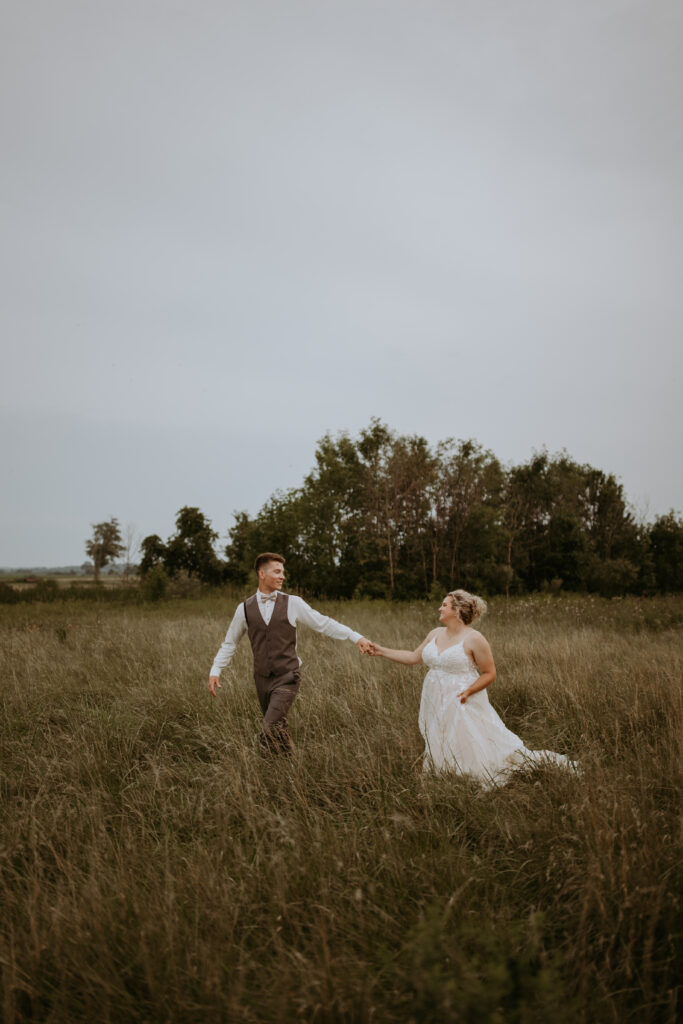 Featured in the Spring/Summer 2023 edition of The Wedding Ring Magazine
FIND OUT MORE ABOUT BW PLUS STONERIDGE INN & CONFERENCE CENTRE | To speak with BW PLUS Stoneridge Inn & Conference Centre about your wedding options, you can reach them using the form below.