Fall love story is the perfect way to describe Caitlyn and Brittany's magical wedding day. With soft beautiful fall colours and the setting sun for their ceremony, it was everything they knew it could be!
DATE: October 22, 2022
LOCATION: Caradoc Sands Golf Club (caradocsands.ca) "Brit grew up in Strathroy. We had originally planned to have our wedding at a conservation area but after pricing everything out as well as considering the time needed for setup, coordinating the day of, cleaning up the day after, etc., we figured out it was the same amount of money and would be much less stressful. We were also planning the wedding from 1100 km away so we would not be able to DIY some aspects of the wedding. We spoke to our friends about their weddings, venues, and experiences and looked at Caradoc Sands. Their photos of the reception area and ceremony were beautiful, we were told by many people that the food was delicious and that the staff were great to work with. Their package options included everything we wanted or could have wanted for our wedding." – C
PHOTOGRAPHY: HRM Photography (♥) (hrmphotography.com)
GUEST #: 85
COLOUR PALETTE/THEME: "Our theme/colour palette was actually based on an invitation I saw on Pinterest. It was a floral, laser-cut, gate-fold, navy invitation. I knew I wanted the rest of the aesthetic to be simple but with lots of greenery. My brother made our centrepieces – wooden lanterns, and we rented our signage which was simple but elegant with custom calligraphy from Samantha Ann and Co. (samanthaannandco.com)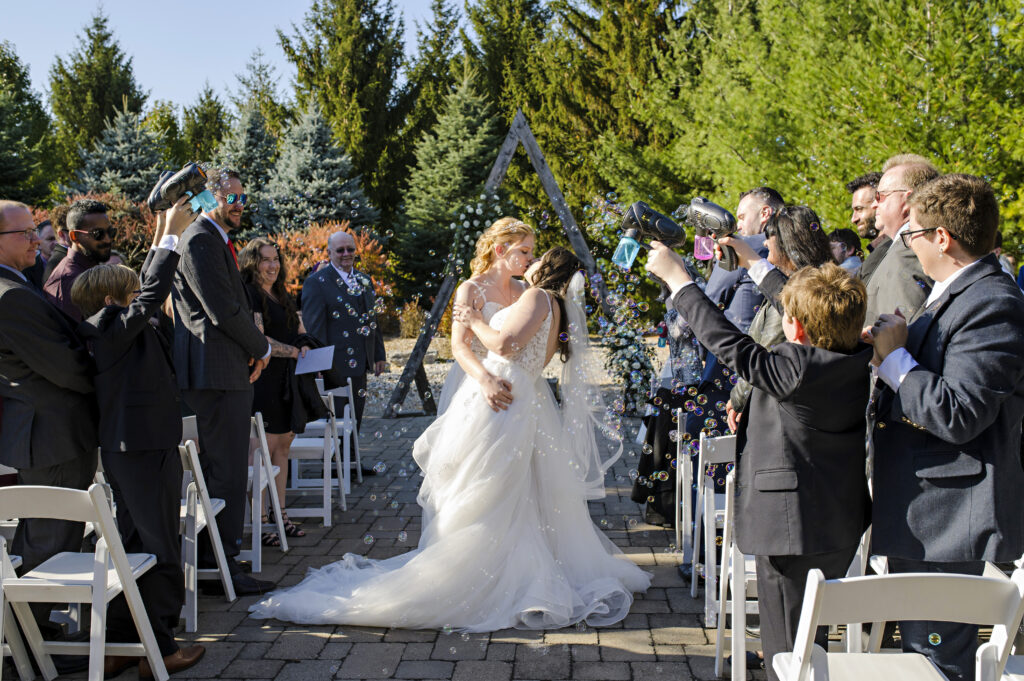 FLORALS: May's Flower Co (maysflowerco.ca)
INVITATIONS/STATIONERY: Minted Weddings (www.minted.com)
CAITLYN'S ATTIRE: Once Upon A Time Weddings (onceuponatimeweddings.ca)
BRITTANY'S ATTIRE: David's Bridal (davidsbridal.ca)
BRIDESMAID ATTIRE: various online stores
HAIR: Studio83 Hair Design and Chellez Hair Studio
MAKEUP: LDN Makeup Artistry (ldnmua.com)
DJ: Vanrock Sound (karaokecanada.com)
CAKE: La Noisette Bakery (lanoisettebakery.com)
VIDEOGRAPHY: Jason Darnell Studios (jasondarnellstudios.com) 
NOTABLE VENDOR: "Our photographer. I found HRM while looking on Instagram for area photographers that captured the kind of aesthetic we were looking for. I loved their work. HRM had also photographed a friend's wedding and they only had great things to say. We had our first meeting with Lindsay, who answered all of our questions and went into detail about everything. They were wonderful about customizing a package for us as well. Lindsay and her associate were easygoing but kept us on track and told us how to pose. We had never had professional photos done but they made it so easy and relaxed. The favourite part of our photos was the candid shots throughout the day. They really captured the happiness and joy we felt." – C
TELL US YOUR STORY: "Brit and I met while at work. Our workplace was very chaotic and busy but somehow made time to flirt! Brit messaged me on Facebook after a very crazy shift and we didn't stop talking for 3-4 days. We went on our first date which lasted hours and hours! We dated for 6 years before Brit popped the question. Brit wasn't too big on wearing an engagement ring mostly because of her job so we decided she would be the one to propose at some point. The other stipulation was that Brit would propose when I got her a cat (I'm allergic to them!). Brit planned a full-out proposal at a park we used to walk our dog and watch the wildlife. I was under the impression that we were doing family photos with my brother and his family. After a few photos, we walked towards the bridge where Brit had everything set up. There were photos of our "firsts" (our first date spot, where we met, first kiss) and music playing by Lily Rose (not a very well-known singer in Canada). I didn't put it together until I saw one photo of us at the Christmas Market in Toronto and finally clued in! Brit came walking across the bridge and proposed, then our families walked across too! We all went out for dinner afterward and it was perfect!" – C
BIGGEST CHALLENGE: "The biggest challenge to planning our wedding was being so far away. We flew to London to buy our dresses but then had to bring them home with us to get them altered. It was also hard not being able to see the venue (other than in photos on Instagram or their website) or try the food beforehand. We had to rely on our family and friends to help do the in-person things while we were on Facetime! Lots of trust and honesty!" – C&B
BEST MEMORY: "Best memory would be saying "I do" as well as being with all of our friends and family." – C&B
ADVICE FOR OTHER COUPLES: "Have a hotel close to your reception. We thought the hotel in town would be completed by the time our wedding came around but it opened a week after. We only found out about a month prior to our wedding and had to scramble to find a hotel in nearby London as well as transport some people from out of town. Also, get a videographer no matter your budget! It was the best way to memorialize the day and we will watch it for years to come!" C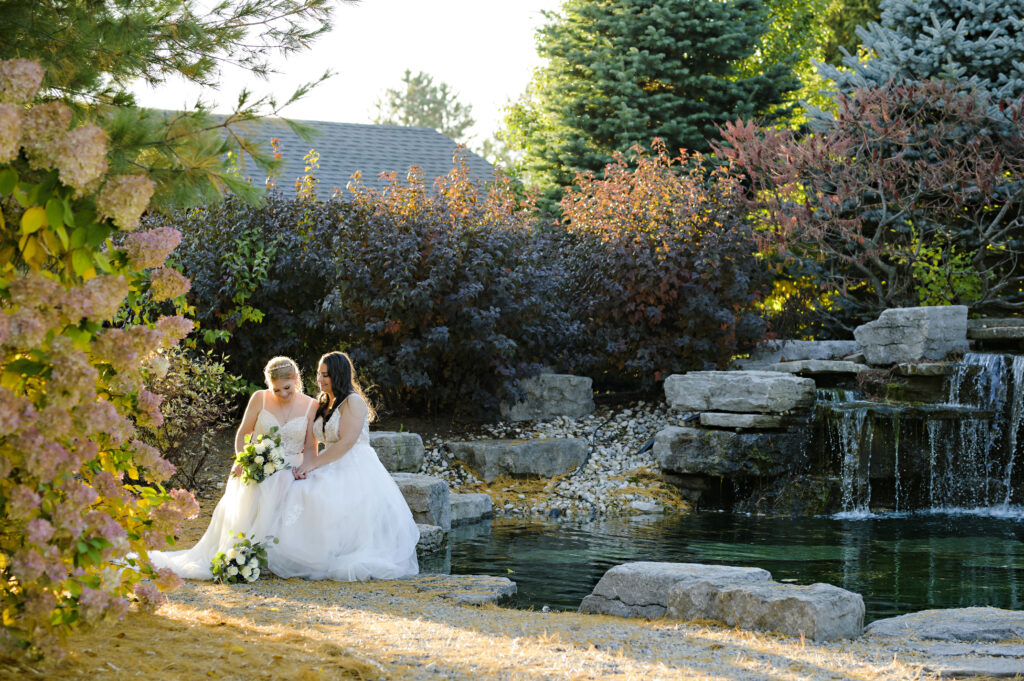 Featured in the Spring/Summer 2023 edition of The Wedding Ring Magazine
FIND OUT MORE ABOUT HRM PHOTOGRAPHY | To speak with HRM Photography about your wedding options, you can reach them using the form below.