This blush pink, gold and white wedding design created a perfectly romantic wedding at Grey Silo Golf Course. After waiting years and changing plans many times, Kelly and Josh were able to have the wedding that they always wanted.
Couple: Kelly & Josh Rietkerk
Wedding Date: June 11, 2022
Ceremony Location: Kelly's parent's backyard
Reception Location: Grey Silo Golf Course (golfnorth.ca/greysilo) "I found Grey Silo during my online search of local wedding venues. It was the second venue that we went to see in person and I immediately knew it was the perfect place for our wedding. We walked in to a warm fire in the beautiful stone floor-to-ceiling fireplace, and I loved how open the space was with its exposed beams and windows. It was rustic and beautiful and I loved that we could string lights from the beams which was one of the things I was looking for in a venue. Since I was doing all of the decorating myself I wanted a space that didn't need a lot of decor to make it beautiful and this space was perfect for that. The hospitality manager was extremely easy to work with and was very responsive to all of my inquiries. She made the planning process much less stressful. Grey Silo also did all of the catering which was one less vendor we needed to find ourselves. Overall I couldn't have asked for a better venue!" – K
Guest #: 80
Photographer: Spirits Intrigued Photography (sipimage.com) "I met Alex when I was a bridesmaid in a friend's wedding. He did such a great job day of and I was very impressed by the final images from that wedding. I liked knowing what to expect on my own wedding day and knowing that the photos would turn out amazing. I booked Alex at the following wedding show at Bingemans. The engagement photo session was our first time getting professional photos taken as a couple, and Alex quickly made us feel comfortable and gave great direction. We liked getting this experience so that we knew what to expect on our wedding day. I love how all of our photos came out! We received the photos in various different colour options as well as a photo book and canvas of our favourite photo. Alex was always very accommodating to our ever-changing plans and helped us plan other aspects of the wedding by offering his advice and expertise." -K
Colour Palette: Blush pink, gold and white wedding
Invitations: Minted (minted.com)
Cake: Q's Cakes (qscakesandcafe.com)
Florals: Buds & Blooms (budsandbloomskw.com)
Bride's Attire: Taylor's Bridal (taylorsbridal.com)
Groom & Groomsmen Attire: Moore's (mooresclothing.ca)
DJ: Flashpoint Productions (flashpointpro.com)
Hair: Emma Nish
Tell us your story!: "We got engaged in December 2018 in Waterloo Park after 4 years together. We debated if we would have enough time to plan a wedding for September 2019 but after some consideration, we decided to wait until June 2020. We had planned our entire wedding and were excited to be three months out when the pandemic hit. We ended up rescheduling our wedding date three times before deciding that we would have a small ceremony in May 2021 in my parent's backyard, and wait until it was safe to hold our reception at a later date. Our ceremony consisted of immediate family and our best men due to capacity restrictions at the time. It ended up being the perfect day and we loved getting to tie the knot with just our families present. We went ahead and re-planned our reception for June 2022 after having our daughter in October 2021. By then, restrictions were easing up and we were so excited to finally be able to celebrate our marriage with a party in the way we originally planned. It was everything we had dreamed it would be and worth the wait!" – K
Biggest Challenge: "Our biggest challenge with our wedding was the pandemic and needing to shift all of our plans so many times. It was a lot of coordination with our vendors trying to make sure that they were all available on our new date. Thankfully all of them were very accommodating. We did lose our florist to the pandemic as they decided to close their business, so we had to find another one closer to the wedding." – J
Best Memory: "After such a long wait, our wedding was the first time in a long time that we got to see all of the important people in our lives and celebrate together. Being able to dance and sing on the dance floor with all of our guests was so much fun.!"
Advice from one couple to another: "Be flexible! There will be a lot of elements that you can't control and even if things don't all go according to plan, it will still be an amazing day because you got to celebrate your love. The only job you have that day is to enjoy yourself and not worry about a thing!" – K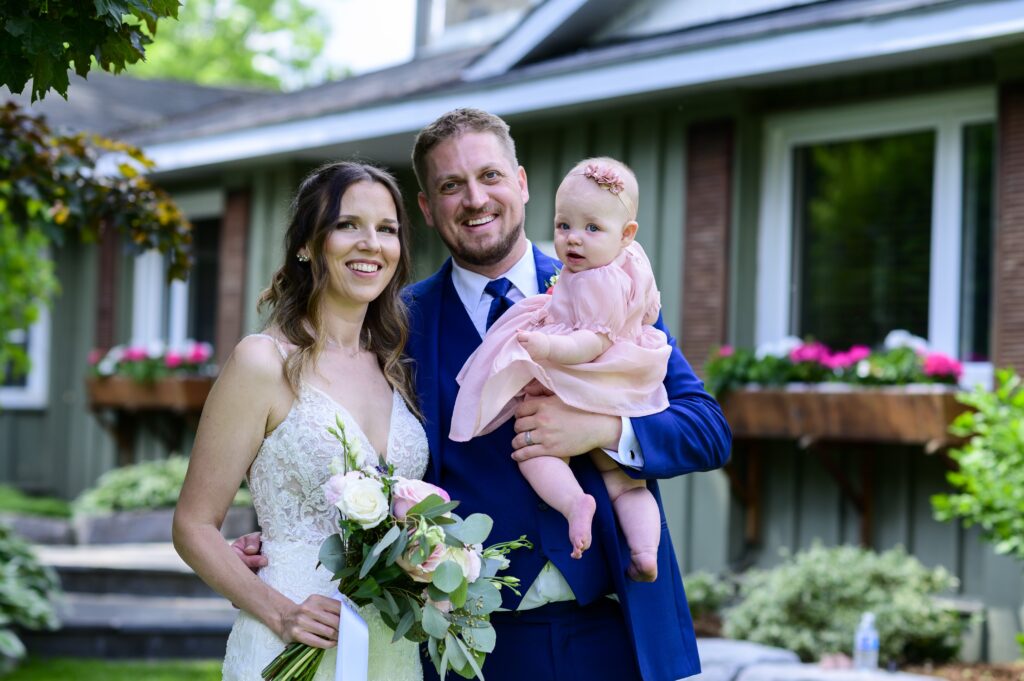 To see more Real Wedding Stories click here!
FIND OUT MORE ABOUT WATERLOO, ON WEDDING VENUE GREY SILO GOLF CLUB | To speak with Grey Silo Golf Club about your wedding options, you can reach them using the form below.