An outdoor wedding was exactly what Angela and Micheal were dreaming of. When their destination wedding plans fell thru, they still wanted to honour the outdoor dream. Angela's family property was the perfect place to host their intimate affair.
Couple: Angela & Micheal
Wedding Date: August 22, 2020
Ceremony/Reception Location: Angela's parents' backyard, Guelph, Ontario
"We got engaged in October 2019, and were originally planning a destination wedding at the Riu in Jamaica for December 2020, but then COVID happened. At first, we were willing to postpone our dream wedding until the Spring or Fall of 2021. But when it became apparent that the lockdowns were persisting, we knew we didn't want to prolong getting married and starting our family. So, in June 2020 we quickly decided that an outdoor wedding in a private space would have to become the wedding of our dreams. The house and property had belonged to my family since 1850, and my family had always joked that someone in the family should have a backyard wedding." – A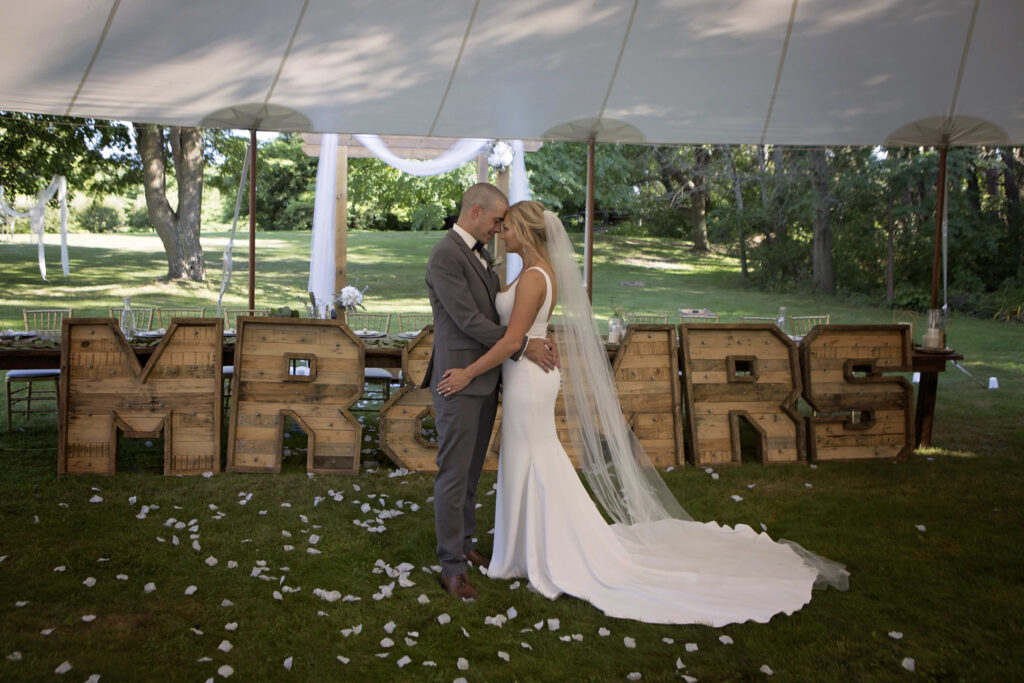 Guest #: 90
Photography: Heart to Heart Photography (hearttoheartphotography.com), Thorold, ON. "We found most of our vendors through friends who had recently been married. Our friends' wedding photos captured the emotions of their wedding day, and we knew that's something we wanted. And not only was the photographer extremely talented, but we actually met during our friends' wedding and immediately loved how comfortable we felt talking with each other. We knew it would be the perfect match for our wedding day." – A&M
Colour Palette: "I had always dreamed of an outdoor wedding, ideally somewhere near water, so that would set the tone for the decor. Surrounded by lots of greenery and a lake, a simple colour palette would work best. A simple black and white theme with navy blue accents and touches of wood, gold, and silver, complimented the space beautifully." – A
Bride's Attire: Tilted Veil (tiltedveil.com), Guelph, Ontario
Hair & Make-up: Aloe Beauty by DMB (aloebeauty.ca), Guelph, ON.
Tell us your story: "We first met in nursing school, but didn't begin dating until we found each other on a dating website. On our first date, I tricked him into eating 'Berty Bott's every-flavoured beans', since he was unfamiliar with Harry Potter. After feeding him dirt, black pepper, and earwax flavours, I explained that they are not your typical jellybeans. This first date would set the tone for our love story. He planned a surprise proposal at Universal Studios Orlando, in front of Hogwarts castle." – A&M
Biggest Challenge: "Our wedding's biggest challenge was the struggles imposed by the COVID lockdowns and managing the ever-changing restrictions. Even after we decided to cancel our destination dreams and opted for a backyard wedding, we still had to tackle the issues of guest number restrictions, food serving safety, and planning an entire wedding in only two months." – A&M
Favourite Memory: "The best memory of our wedding is rather simple, it's standing at our altar, holding hands, and just looking at each knowing that we were becoming husband and wife. Being married was what we wanted most." – A&M
Best advice for other couples: "I have actually given this advice to friends who are currently planning their wedding. Don't stress about the small stuff because nobody will notice it anyway. Focus on what is most important, each other, becoming husband and wife, and how you want to enjoy your day. Nobody will look down the aisle and think, "She should have chosen the other dress," or wonder why the cake doesn't have buttercream icing. People will remember celebrating your love, and so will you." – A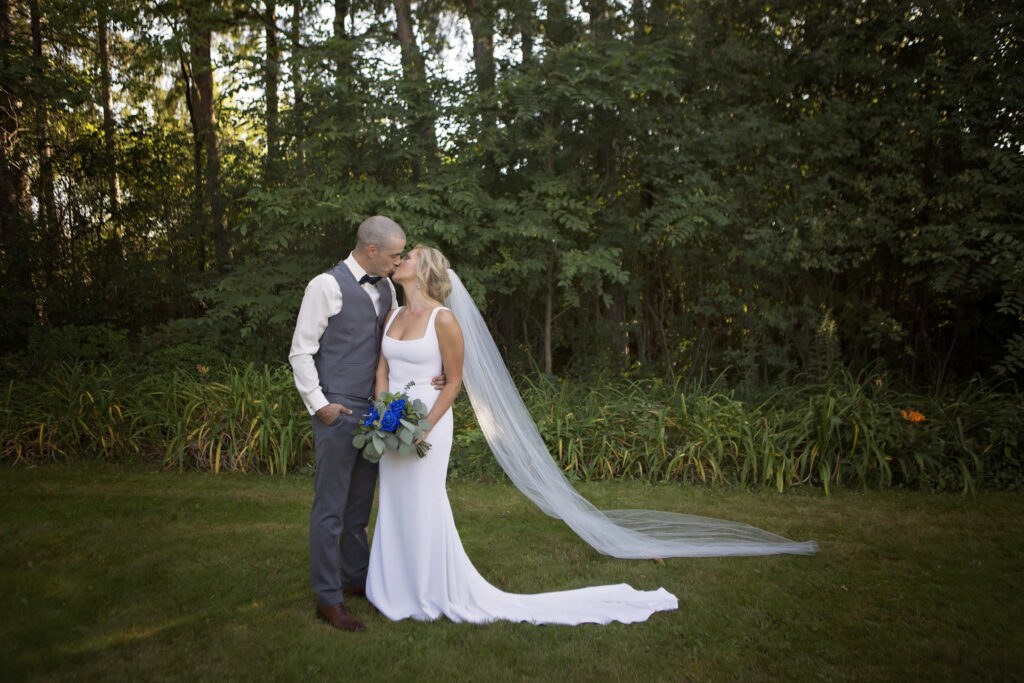 Click here to see more Real Wedding Stories
FIND OUT MORE ABOUT HEART TO HEART PHOTOGRAPHY | To speak with Heart to Heart Photography about your wedding options, you can reach them using the form below.