Caitlyn and Pierre bonded over their love for coffee and adventuring around the city. When it came time to plan their wedding they knew that a simple white wedding with touches of green would be perfect at Ancaster Mill and not take away from the history and beauty.
Couple: Caitlyn & Pierre
Wedding Date: June 16, 2023
Guest #: 60
Tell us your story!: "Pierre and I met in Toronto in the Fall of 2015. He was always up for travelling from one end of the city to the other in search of the best cup of coffee. Which I appreciated as a fellow coffee lover and city explorer. I loved that he was new to Toronto and felt like I had the privilege of showing all the secrets my home city had to offer. A few years later, with a new dog in tow and hundreds of coffees shared in our favourite haunts, Pierre proposed on the cliffs of Howth, Ireland during a stopover on a trip to Germany for a family reunion. I said yes and spent the rest of our hike down the cliffs thinking of all the adventures and memories we would have together. We haven't looked back since that day and we are now loving being a married couple with more adventures yet to come!" – C&P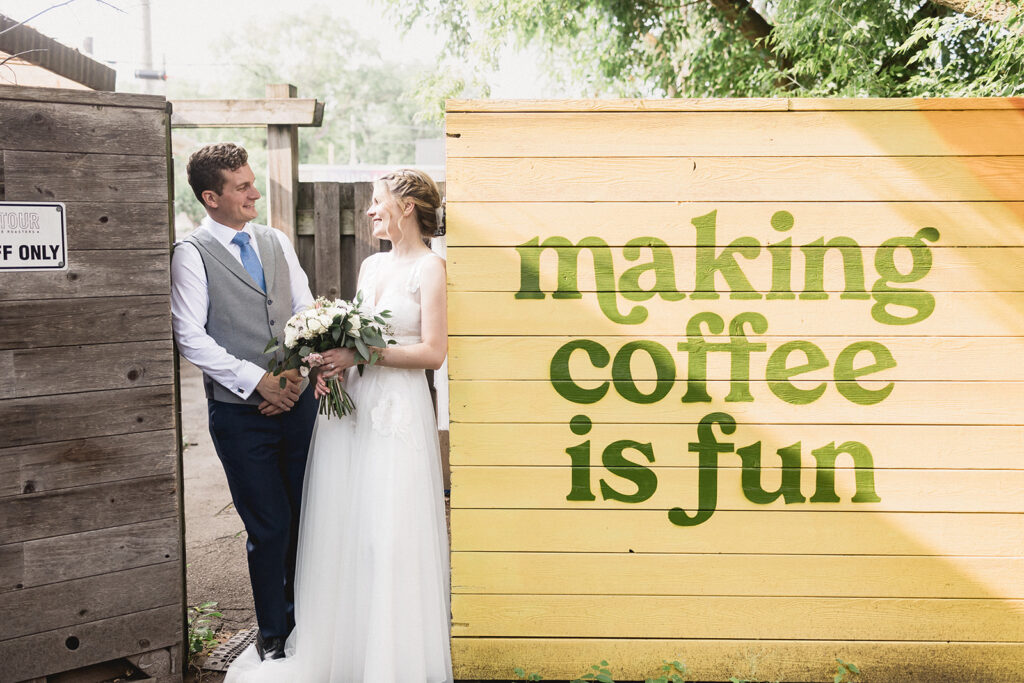 Ceremony Location: Dundurn Castle, Hamilton Ontario
Reception Location: Ancaster Mill, Ancaster Ontario. "After having attended my grandmother's 80th birthday at Ancaster Mill, I knew the venue was special. Years later when it was time to look for a wedding venue, I wanted to go back and see if the experience I had celebrating with family and friends for my grandmother's celebration would be the same for our wedding. When we went for our first visit at the venue the staff were as warm and welcoming as ever. The attention and care we got throughout the whole experience made us feel so comfortable about selecting them and from day one to the big day we had nothing but good experiences with the venue and our coordinator." – C
Photographer: Fedora Media "We found Linda by looking for a local photography company that would be familiar with our venues and the beauty of the Hamilton-Ancaster area. It was also important to us that our photographer was an animal lover as we had decided early on that our dog would be in the ceremony and we wanted someone comfortable with dogs to help us capture his good side as well as ours! We found Fedora Media online and immediately fell in love with their portfolios of bright and candid shots and, to our delight, a good number of photos of very happy-looking dogs thrown in as well. Linda was our top choice based on her portfolio and bio and we were thrilled when she picked our wedding to shoot. She made us feel comfortable from the moment the day started and had the best tricks to make us laugh candidly and feel relaxed throughout every shot. Our favourite part was when we were taking photos with my dad and my niece ran into the shot. Instead of shooing her out to finish the shot Linda took the opportunity to capture one of our favourite pictures of the day with my dad and I laughing with surprise as my niece stole the show as usual. It is a memory our family will cherish and we now have a great photo to share at her wedding many years from now!" – C
Colour Palette: "Simple white wedding with touches of green. We didn't want too much colour as we wanted to match the paired-back historic beauty of our venue. My maid of honour and I picked out a shade of light green for her dress and my mother found a perfect matching shade of green ribbon to accent the flower girls' dresses. We went with a classic navy for the guys to complement the green. Everything else we kept white to keep things simple. The perfect touch was the rows of white rose petals artfully scattered down the aisle by my talented sister-in-law that brought the whole theme together." – C
Florals: Westdale Florists
Dress Tailoring: Bloor Tailoring
Make-up: Rebecca Marie Makeup
Hair: Vranjes Hair Design
Biggest Challenge: "My dress was very delayed in arriving due to some supply chain issues and it was not until two days before the wedding that we were able to pick it up from our trusted tailor who had to work some magic to get it ready in time. At one point I even decided to purchase a backup dress just in case it would not make it in time, but luckily it came through!" – C
Best Memory: "Seeing both my husband and our ring bearer dog at the end of the aisle patiently waiting for me to walk down to reach them. The combination of our dogs' wagging tail and Pierre's smile will be something I will remember for years to come."- C
Advice from one couple to another: "Take the advice and support of loved ones around you that works for you and appreciate the time and support your loved ones give to make the experience special. My mother helped us from day one to elevate our wedding from ordinary to completely unique to us through her careful consideration of special touches that she knew would make the day memorable. I feel so lucky to have had her support and I know I will look back at our photos and think fondly of the time we spent at the dining room table adding ribbons to vases and picking out family photos to display for our guests to see the history of both our families. Those are some of the memories we will cherish for years to come." – C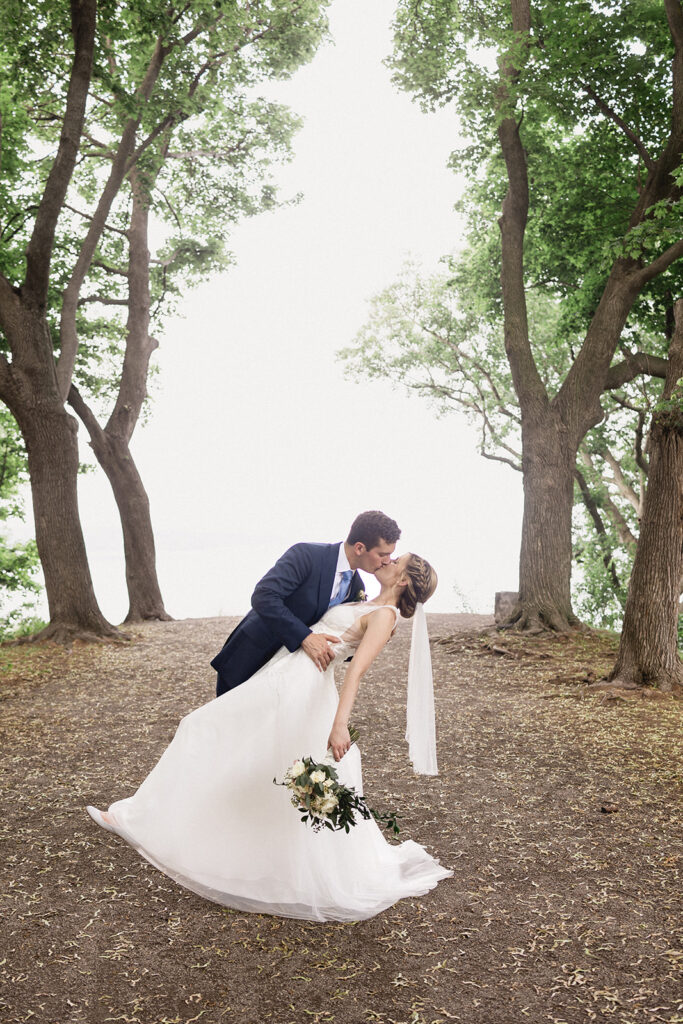 You can see more Real Wedding Stories on theweddingring.ca
FIND OUT MORE ABOUT FEDORA MEDIA | To speak with Fedora Media about your wedding options, you can reach them using the form below.