WEDDING DATE: May 9th, 2021
CEREMONY: Loft on Main, Toronto, Ontario event space
PHOTOGRAPHY: Katie Marie Photography (www.katiemariephotography.ca) Hamilton, Ontario Wedding Photographer "A friend of ours sent over Katie's Instagram page because her style was exactly what we were looking for. We set up a meeting with her at her studio, and after five minutes of talking knew we absolutely needed her to capture our day.
Katie is one of the kindest, most sincere, and loving human beings we have ever met. She goes above and beyond for her clients and friends and always has a plan to make life exciting. Working with her is like working with a best friend. She is supportive and helpful in every way she can be and to top it off, she keeps you smiling through every minute. She has a way of making everyone she works with feel comfortable and beautiful. She truly has a gift when it comes to her art and we could not have had a bigger blessing given to us than the day we met her. She captured who we are, not just how we looked. She gave us a little piece of her soul when she took our photos, and she showed that through her work. She showcased our souls alongside hers and you can't ask for better than that." – M & D
COLOUR PALETTE/THEME: "Our whole theme was simply us; Barefoot, boho, and moody. Our team went with warm, neutral colours and lots of different textures. With the help of our photographer, we used dry florals, drapery, Edison lightbulbs, and candles to set the mood. The studio our photographer created for us, (seemingly by magic), was already perfect for our vibe and our floral team met us on that level to tie it all together!" – M&D
BRIDES ATTIRE: Heirlooms Bridal Shoppe (www.heirloomsbridal.com) Dundas, ON
HAIR & MAKEUP: Look Devine Beauty Studio (www.erinlookdevine. com) Hamilton, ON
FLORAL: Ciji Marie Blooms (www.cijimarieblooms.com)
CAKE: Crumb and Berry (www.crumbandberry.com) Caledon, ON
OFFICIANT: One Soul Awakening (www.onesoulawakening.com) Hamilton, ON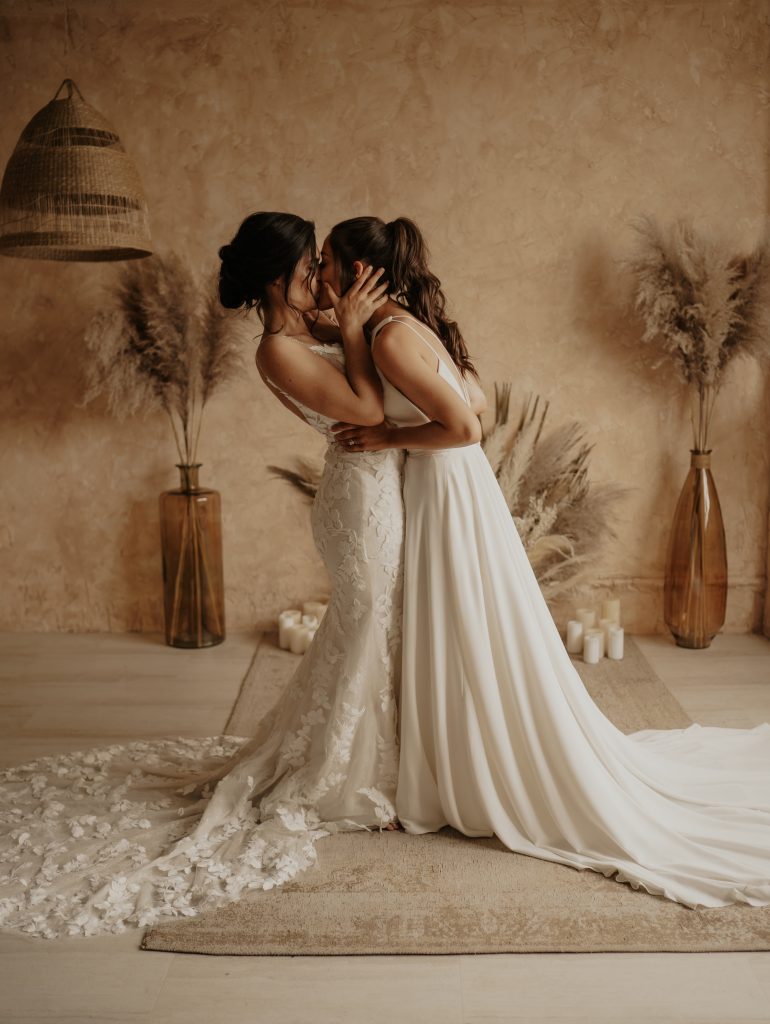 BEST MEMORY: "The simplicity found in the chaos. There were no bridesmaids throwing fits, no embarrassingly drunk wedding guests, no drama, no last-minute disasters, no crisis or madness. It was laughter, the happiest of nerves, the moment we turned around and saw one another in white. The hugs, the kisses, the tears and giggles through each loving moment. It was the authenticity of staring at our person and sharing in the vows as a team. No show, no masks, just love. It was finding love and friendship in unexpected places and creating magic and light in a time of uncertainty and darkness with those people. The memory of swearing ourselves to one another before the universe and no one else, without pretence or show will forever be the most authentic moment of our lives. And we are forever grateful for every moment because in those moments we were us. The us we always want to be and always will be. Barefoot and in love." – M & D
Featured in the Fall/Winter 2022 edition of The Wedding Ring Magazine
FIND OUT MORE ABOUT KATIE MARIE PHOTOGRAPHY | To speak with Katie Marie Photography about your wedding options, you can reach them using the form below.