WEDDING DATE: January 22nd, 2022
LOCATION: Bellamere Winery (www.bellamere.com) London, ON 
PHOTOGRAPHY: HRM Photography (♥) (www.hrmphotography.com) London, ON " HRM Photography was such a pleasure to work with. Jordan really understood what we wanted and our style. On our wedding day, they were so professional and easy to work with. They guided us with all of our poses and made it so easy. We heard about HRM through Bellamare. After meeting with a couple of photographers and looking through portfolios we decided to go with HRM. We really liked Jordan's style and she was so nice." – E
GUEST #: 60
COLOUR PALETTE/THEME: "Colour palette was Navy Blue, Grey, and Gold. Our overall theme was warm, cozy, and elegant; an inn out of the cold. We used candles, furs, and greenery to bring our theme to life." – E
BRIDE ATTIRE: Sophie's Gown Shoppe (www.sophiesgownshoppe.com) London, ON 
GROOM + GROOMSMEN ATTIRE: Moores Clothing for Men (♥) (www.moores.com) London, ON 
BRIDESMAID ATTIRE: Azazie (www.azazie.ca) 
BRIDE HAIR & MAKEUP: Maria Legria
GROOM HAIR: Hair by Steph
DÉCOR/FLORAL: Little Leaf Haven (www.littleleafhaven.com) Ingersoll, ON 
OFFICIANT: London Wedding Officiant – Patti Lofgren
PLANNER: Patti Logfren & Karen Legria
PIANIST: Jack Wyndham (j[email protected])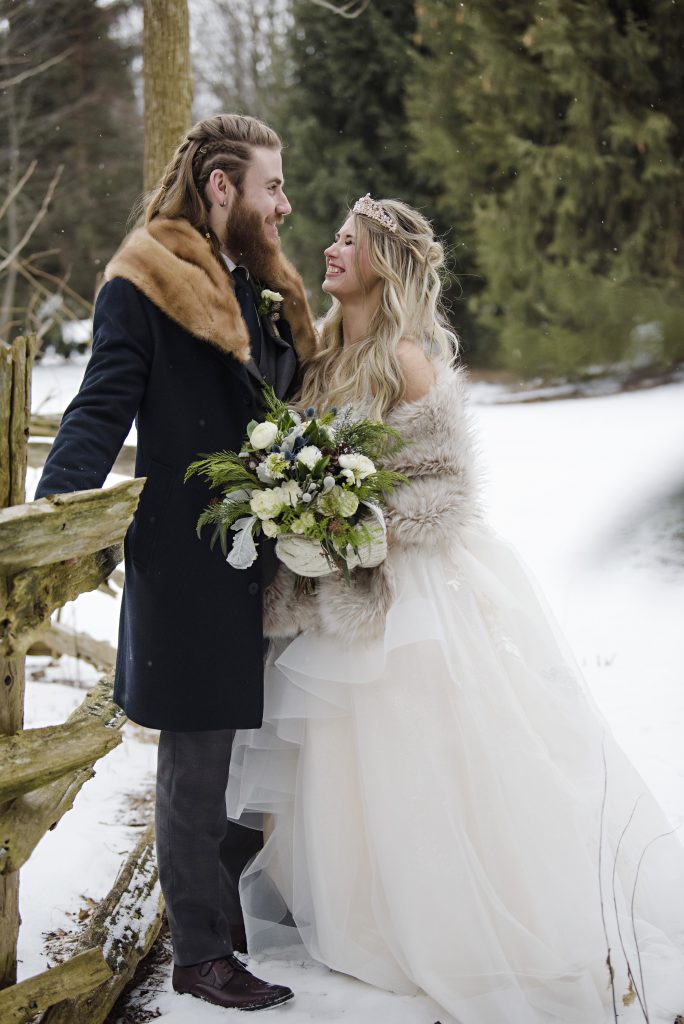 TELL US YOUR STORY: "When I met Nick I knew I wanted to get to know him better. I met him working a photo booth at a buck and doe. He was so charming and was a lot of fun. We spent the whole night together. At that time, I was also working as a bank teller, and a couple of days after the buck and doe, I saw Nick waiting in line to see me. He kept letting people pass him just so he could come to my wicket. He pretended to need some banking done so he could see me. It was cute. We started talking, then I gave him my number. I had a vacation planned the next day, so we had to wait a whole week for our first date. During that week we were texting non-stop.
I was so nervous about our date, so much so that Nick convinced me we were going to do a dine and dash. I, of course, wouldn't do that, but I was so confused and nervous at the time! Turns out he was just joking… phew. (It took me a while to know when he was being serious and when he was joking!) We ended up staying until six in the morning talking and staring at the stars. The ground was damp and cold, but it didn't matter to us. We just kept talking. Even in silence, it was easy. From then on, we spent all of our free time together and became inseparable.
One year later, Nick rented the entire butterfly conservatory for us to celebrate our first anniversary. Two years after that he proposed while star gazing. Planning our wedding was super easy and relaxing, for the most part. We had a couple of hiccups here and there with COVID, but we worked through them. We postponed our wedding once, so we knew that regardless of the situation, we weren't going to postpone it again. It helped to have lots of support from friends and family. In the end, our wedding turned out even better than we imagined. " – E
BEST MEMORY: "Performing our first dance and working with our pianist to personalize our music. Also, my husband's outfit and hair. He really wanted to keep everything a surprise until our first look." – E ADVICE: "Wedding planning should be a team effort. Don't get too hung up on the small details, remember, what this is all for! Also, do not underestimate the power of all-inclusive venues. They truly help make wedding planning easy, relaxing, and fun!" – E 
Featured in the Fall/Winter 2022 edition of The Wedding Ring Magazine
FIND OUT MORE ABOUT HRM PHOTOGRAPHY | To speak with HRM Photography about your wedding options, you can reach them using the form below.