A colourful yet elegant wedding is exactly what Jenna & Adam brought to Rebel Creek Golf Club. Letting the greenery and natural beauty of Rebel Creek shine on its own, they added pops of bold colours to bring their vision to life!
Couple: Jenna Jutzi & Adam Barton
Wedding Date: June 24, 2023
Guest #: 145
Ceremony & Reception Location: Rebel Creek Golf Club (golfnorth.ca/rebelcreek) "We absolutely loved our venue and working with the team at Rebel Creek. From the moment we met the team at Rebel Creek, we could feel their excitement and enthusiasm for us. It was clear it was more than "just a job". When we asked about special elements we wanted at our wedding their answer was always an enthusiastic YES! Their ceremony space is lush and green. The reception area is big and beautiful. The best feature – the huge patio overlooking their gorgeous golf course. complete with string lights and 3 fire pits. We did our first dance out on the patio underneath the stars and it felt magical. They host one wedding/day so you feel like you are their main focus. On the day of, the team was competent, kind, and attentive. I couldn't imagine a better experience anywhere else." – J
Photographer: Cara Chapman (carachapmanphotography.com) "I looked at lots of photographers, and it was Cara's Instagram that sold me. I don't like overly staged photos and I loved the candid shots Cara posted on her Instagram. Cara was a fabulous photographer. Both Adam and I were very worried we would be awkward in front of the camera but Cara put us at ease and gave us lots of prompts to help relax." – J
Theme: "Our theme was colourful yet elegant wedding. We wanted the natural elegance and greenery of Rebel Creek to speak for itself so we kept signage, napkins, plates, and table clothes minimal and muted. The colour came from our flowers which were bolder – light pink, coral, yellow, greens, and ice blue. The bridesmaids wore a colour palette of ice blue, seafoam green, and grey which added more colour. The groomsmen were in a navy. We added in lots of candlelight for a romantic soft feeling." – J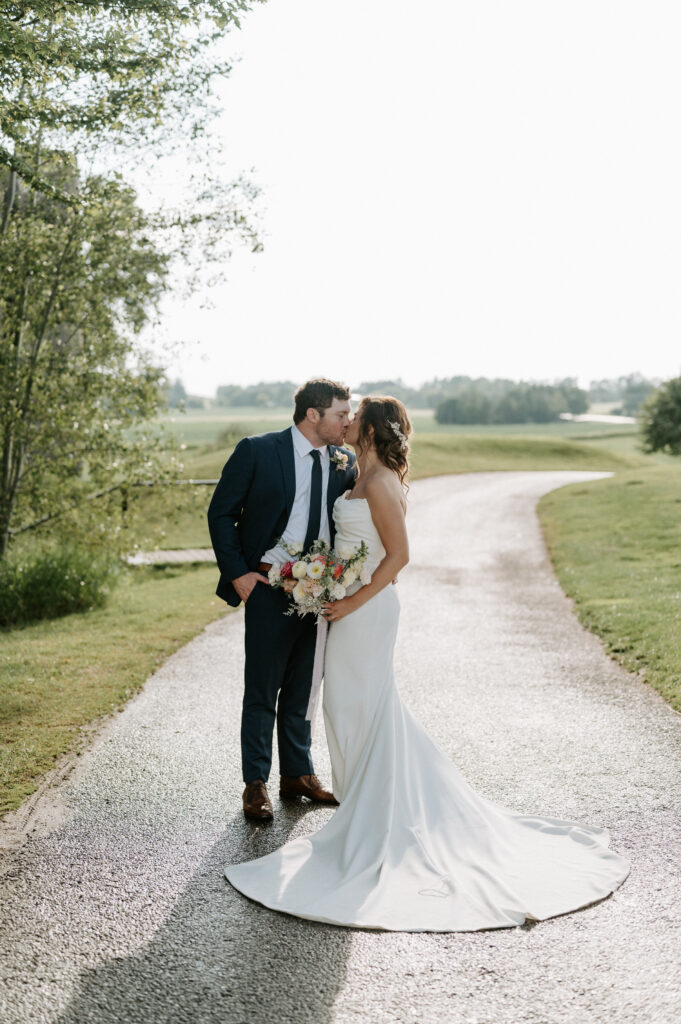 Invitations: Minted (minted.com)
Decor: Hollywood Weddings (hollywoodweddings.ca), KW Wedding Decorator
Bride's Attire: Tilted Veil (tiltedveil.com)
Bridesmaids Attire: Sophie's Bridal (sophiesgownshoppe.com)
DJ: Just Grin Productions (justgrin.ca)
Hair & Make-up: Gabi Soares (glamgirlgabi.com)
Tell us your story!: "Despite running in the same circles for years we only met 3 summers ago, when a mutual friend set us up. Adam went to a 'Survivor' themed birthday party and ended up winning. After a few drinks, he made a victory speech that was recorded. Our mutual friend sent it to me, trying to convince me to go out on a date with him. His hilarious and charming speech won me over and I agreed. We have been together ever since. It was one of those things that clicked and from very early on we knew this was it. I truly believe that we met at the exact right time that we were meant to." – J&A
Biggest Challenge: "I was very set on having the ceremony outside. 2 months before the wedding I started checking every day to see what the weather would be like. I was very stressed that the ceremony would be moved inside. On the day of it poured RIGHT before the ceremony took place and then cleared up. As the ceremony was happening it started to rain again. It ended up being very light and actually quite nice. As soon as the ceremony ended – it poured again for 5 minutes and was beautiful the rest of the night. At the end of the day – the rain didn't stop us and ended up being very romantic. So don't get too stressed about rain on your wedding day!" – J
Best Memory: "There are so many! We did our own vows, reading my vows and hearing Adam's vows was very special. Our first dance on the patio, with sparklers under the stars was very special as well." – J
Advice from one couple to another: "Get on the same page early about the budget. Enjoy the process – it will go by so quickly, so try to soak in every moment. Focus on what's important to you – we didn't do a wedding cake or guest book because it didn't resonate with us. Don't feel like you have to do something because it's tradition." – J&C
To see more Real Wedding Stories, click here
FIND OUT MORE ABOUT REBEL CREEK | To speak with Rebel Creek about your wedding options, you can reach them using the form below.