Your Name: Sarah & Kevin Rampelt
Wedding Date: September 14, 2019
Guest #: 110
Ceremony & Reception Location: Grey Silo Golf Club (golfnorth.ca/greysilo)
Photographer: Stephanie Canada Photography (stephaniecanada.com)
Colour Palette: "Our theme was rustic elegance, and our colours were navy, burgundy, and blush with accents of rose gold. We used plenty of florals and greenery along with wooden accents to get our theme across. For example, we used wine barrels with large floral arrangements on top at the beginning of the aisle and had rose petals lining the aisle. We had a wooden welcome sign with greenery around it sitting in front of the wine barrels. There was greenery and floating candles on the fireplace mantel and head table. We used a tall vintage mirror as our seating chart and our centerpieces were rose gold geometric terrariums with florals in the middle, and we had a few other rose gold elements as well. Grey Silo has exposed wood beams and a 50ft fireplace, so that really helped accent our theme as well." – S
Décor & Day of Coordinator: Servers with a Smile (serverswithasmile.ca) "Rebecca and her team set up and tore down all of our décor as well as was our wedding coordinator. We can't say enough about how incredible they were. Without Rebecca, I have no doubt that we would have been lost on our wedding day, but instead, her hard work meant Kevin and I got to spend every second together and in the moment of our big day. There were no flaws in our day, and we owe a big part of that to Rebecca" – S
Tell us your story!: "Kevin and I first met each other in grade 7. We shared the same group of friends, but it was safe to say that he and I were not at all interested in each other. We would bicker and debate all of the time, and the funny thing about that – it as though we were already an old married couple. We just didn't know that yet. We assumed it was dislike for one another. We ended going to the same highschool along with that same group of friends. Much to my dismay, back in those days, Kevin knew exactly what to do or say to get me fired up, but I was always able to out-argue him and that drove him crazy.
Eventually, the bickering and debating had become more of a fun game and less of an annoyance but was still very much alive. We discovered that we would also be going to the same college together, and I remember thinking that it would be nice to have him there with me. We spent a great deal of our time with each other and we grew closer and closer and there was a shift. Our 'hang-outs' eventually turned into dates, and we both had our light bulb moments that we had feelings for each other.
One day, Kevin came to pick me up in his dad's old, beat-up purple van because we were going to hang out with some friends. Little did I know that this was the day he was going to ask me to be his girlfriend. He was so nervous. I thought he had something bad to tell me. But eventually, he quickly blurted out what he had to say and before he could even look at me. I leapt out of my seat and into his arms.
Cut to six years later – Kevin and I were buying our first home together. The evening we signed the papers, he dropped me off at my place and then went straight to our best friends Adam and Amy's house to tell them he wanted to propose to me. He bought the ring that same night and started planning. The day we got the keys to our new home was the big day. Kevin chose wisely to pick this day to propose because I was so focused on the house that I didn't suspect a thing. I chalked up any of his nerves or weird behavior to the excitement of the house.
Kevin and our friends had been to the house earlier that day and set up our basement with string lights and rose petals. Amy also refinished a beautiful antique table for us and that is where they set up a beautiful display with the ring box. Kevin picked me up after work and we headed to the house for what I thought was to measure rooms for furniture. When we got there, Kevin was trying to get me to the basement, but I was busy looking around and planning the kitchen set up. Finally, he had the idea to tell me he sees a weird light coming from the basement – that did the trick! I was hot on his trail to go and see what it was.
When I got to the bottom of the stairs and saw the beautiful setup. I first thought he was being romantic and celebrating our first house. But after a few steps further, I saw the open ring box *Cue the ugly cry.* Kevin took my hand and led me over to the table, got down on one knee. He was barely finished asking me to marry him when I jumped on him and shouted 'obviously!' We had a beautifully romantic, exciting, perfect wedding. – S
How did you find your photographer?: "Kevin and I first crossed paths with Stephanie Canada at The Ring's KW Wedding Expo. Our little chat with her really stuck with us, so we set up a meeting with her. All of us hit it off right away and we felt so connected with her. We knew right away that she was the one. We also discovered that the 3 of us were connected to many of the same people, so Kevin and I took that as an extra sign. Stephanie is an incredible photographer and a lovely person all around, we're so thankful to have met her." – S
Florals: Batora Flora (facebook.com/BatoraFlora)
Stationery & Custom Welcome Sign: Love Daze Designs (facebook.com/LoveDazeDesigns)
Cake: Refined Sugar Cakes & Sweets (refinedsugar.ca)
Bride & Bridesmaid Attire: Taylor's Bridal Boutique (taylorsbridal.com)
Groom & Groomsmen Attire: Moores Clothing for Men (mooresclothing.com)
Hair & Make-Up: Bricks and Blondes Hair Studio (facebook. com/bricksandblondeshairstudio)
DJ: Loops N Jamzz DJ Productions (loopsnjamzzdjs.com) "The reception had elements of the groom's German heritage. When the groom and members of the wedding party did a special dance routine that they had practiced you could feel the energy in the room rise up and tell that this was a couple that loved music and that clearly put serious effort into their wedding and vendor choices. We certainly enjoy working with couples that have a vision and put together a good plan. There are some moments you can't plan for so as professionals we need to be ready for those surprises.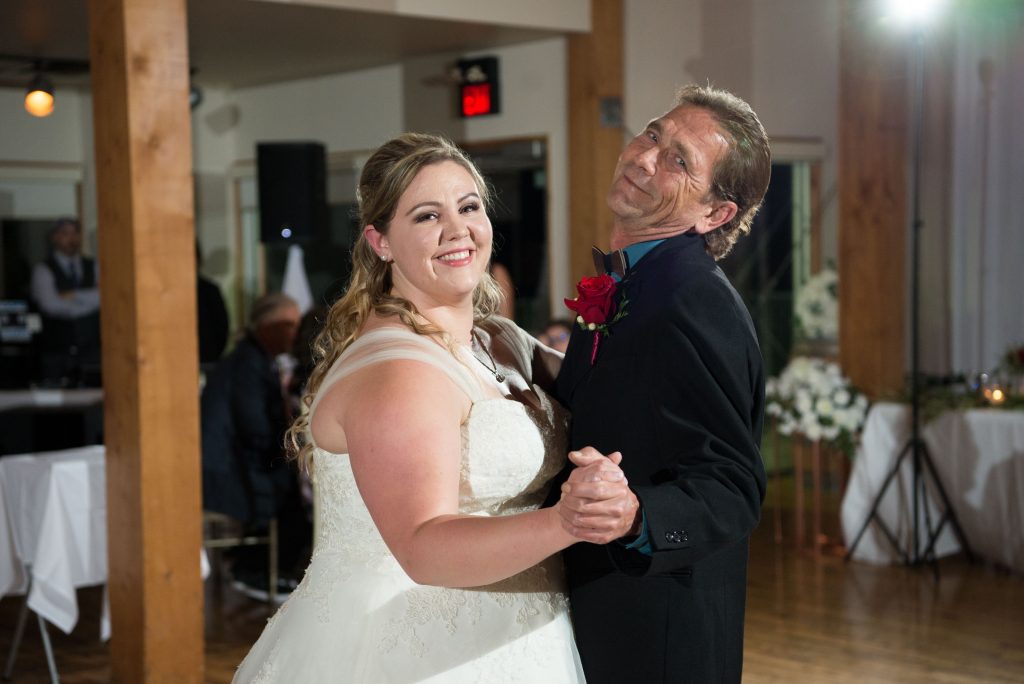 The father of the bride had one of those moments in mind when he approached us over dinner to have a conversation. He played in a band that regularly did shows in Kitchener-Waterloo for several decades. He was also an accomplished sound engineer so when he asked if we could play one of his songs later in the evening we agreed, but also quickly hatched a plan. The song had lots of sentimental value because he had sung it to her throughout her childhood. For those reasons we asked him to go to the mic before we played the song and speak so everyone at the wedding would understand the significance.
This wasn't part of the plan, however, this was a special moment created between a father and daughter. In that moment they relived the past and created a new memory as a new chapter began. Both Sarah and her father appreciated our flexibility, as well as the fact that we could accommodate this last-minute request. For your wedding remember to have a plan, but when it's your wedding day, live in the moment." – Ken, Loops N' Jamzz
Biggest Challenge: "I think the thing we struggled with the most was whether or not to hire a day-of coordinator and decorator. On one hand, we thought, we could totally manage to stick to our schedule, plus our wedding party and family can help us with decorations. But then we realized for us personally, choosing that route would have made us stressed out on our big day. Choosing Rebecca and Server's With a Smile was absolutely the best choice we made. Having her there allowed us to be in the moment for our entire day." – S
Best Memory: "Kevin and I decided to do a first look before our ceremony and also all of our couple photos. During our first look, Kevin said he'll never forget the excitement and anticipation he felt as he listened to me walking up behind him and turning around to see me. I was so nervous and excited to see him too and I will never forget his reaction when he turned around and saw me for the first time. It was so perfect and intimate. Having that time together beforehand was incredible. It allowed our nerves to settle, which created a beautiful in the moment ceremony, and it gave us so much time to just be together before the busy blur happened. It's so true that the day goes by in the blink of an eye." – S
Any advice for couples planning their wedding?: "The best advice I can offer is something you may hear a few times and it is so important. Always remember that your wedding day is for both of you above all else. A surprising amount of people will have an opinion or sometimes unsolicited advice about how your wedding should or shouldn't be, and it's very easy to get swept up in it because you want your loved ones to have a great time on your big day too. At the end of the day, sit down and decide are these requests going to bother us? Or is it not really a big deal? Your day is going to be the happiest day of your life, so remember to focus on yourselves as a couple too!" – S&K