WEDDING DATE: July 31st, 2021
LOCATION: Rebel Creek Golf Club (♥) (www.golfnorth.ca/rebelcreek), Petersburg, ON
PHOTOGRAPHY: LightOut Photography (www.lightout.ca) Hamilton, ON "We prioritized 3 things for our wedding – great food, great music, and great pictures. We spent countless hours looking up reviews on Google and Reddit for local photographers and finally found 'our guy' Joel from Vangaaard Photography. In the fall he took us for an engagement shoot and the photos turned out wonderful. Fast forward a few months and we have to postpone our original wedding date (thanks to COVID), and Joel was already booked for our new day. Lending a helping hand, Joel connected us with another photographer he knew, Simao Tome to take over the contract. After an initial video chat, we knew this was a match made in heaven and a perfect fit. On the wedding day, he captured every moment while dual-wielding cameras strapped to his shoulders like a character from James Bond. Simao always made us feel comfortable and was the right balance of charming and assertive with everyone he snapped pictures of. He captured some amazing candid moments and the pictures turned out stunning!" – R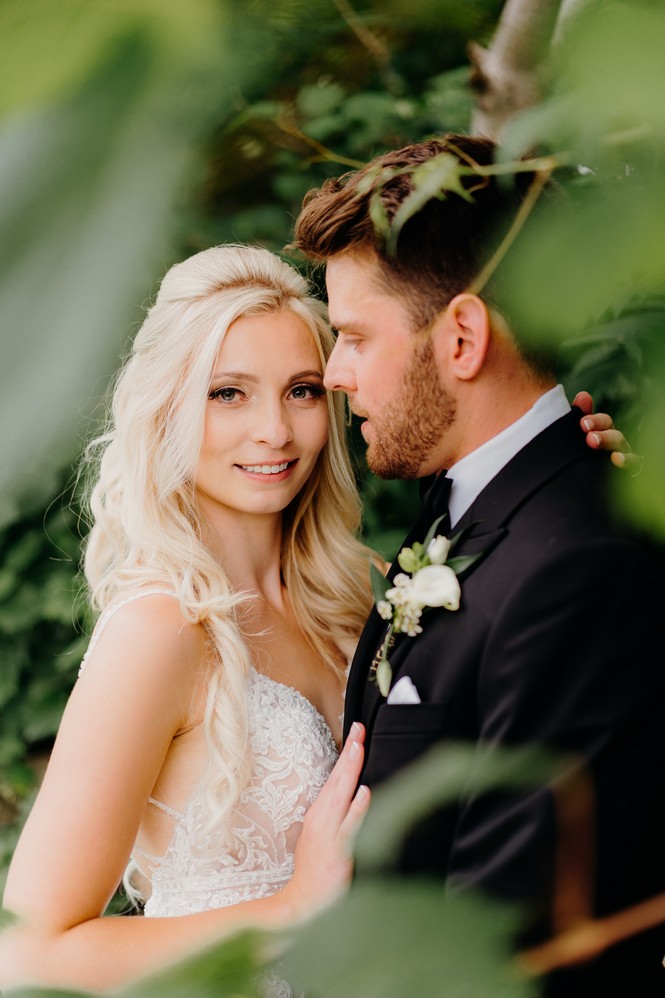 GUEST #: 50
COLOUR PALETTE: Mauve and Cream
BRIDE ATTIRE: Sophie's Gown Shoppe (www.sophiesgownshoppe.com) Kitchener, ON
GROOM + GROOMSMEN ATTIRE: Moores Clothing for Men (♥) (www.moores.com) Kitchener, ON
BRIDESMAID ATTIRE: Azazie (www.azazie.ca)
FLORAL: HiWay Flowers (www.hiwayflowers.ca) Kitchener, ON
DJ: CM Entertainment (www.cmentertainment.net) Waterloo, ON
HAIR & MAKEUP: KW Mobile Hair and Makeup (www.kwmobilemakeupandhair.ca) Kitchener, ON
SHORT JOHNS & BUTTER TARTS: Sittler's Home Baking
TELL US YOUR STORY: "Scott and I met uptown Waterloo at a bar in 2014, back when you could actually meet people face to face. Our love story went like this: countless games of mini golf (I won most, of course), vacations to Mexico and Montreal, buying a house, getting engaged, starting to plan a wedding, COVID, getting a puppy named Youppi, postponed wedding because of new restrictions, whatever – we're having our dream wedding no matter what!
We had to cut our original guest list down from 130 to 50 people (sorry again cousins, great uncles/aunts, we still love you). Regardless of all the curveballs thrown at us thanks to changing restrictions, we knew one thing was for sure: nothing was going to stop us from getting married and having the best day of our lives." – R
BEST MEMORY: "Seeing her for the first time when she walked down the aisle. We had an outdoor ceremony and there was a bit of a hill that she had to walk down between some trees before getting to the aisle. I was given strict instructions to NOT look until she hit the aisle. Boy, was that ever tough! Once she made it down, which seemed like an eternity to me, our officiant gave me the nod and I looked up to see her in her wedding dress for the first time. WOW. She literally took my breath away, she looked so beautiful. I remember keeping it together (though she says she saw a tear), and I couldn't wait any longer to say "I do". – S
ADVICE: "The day goes by REALLY fast, so be sure to take some alone time to enjoy it with your new spouse. We made sure to have the last dance at the end of the night with just us on the dancefloor. This was an intimate moment and a great way to end off our wedding." – R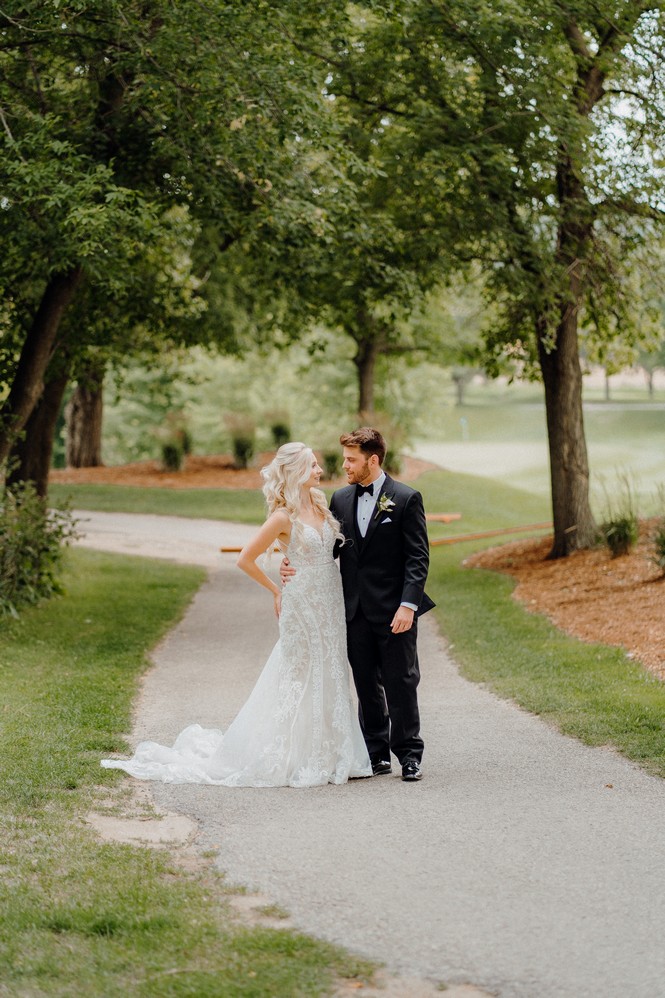 Featured in the Spring/Summer 2022 edition of The Wedding Ring Magazine
FIND OUT MORE ABOUT REBEL CREEK | To speak with Rebel Creek about your wedding options, you can reach them using the form below.