WEDDING DATE: August 27th, 2021
LOCATION: Stratford Country Club (www.stratfordcountryclub.ca), Stratford, ON
GUEST #: 40
COLOUR PALETTE: "Our vision was to have an elegant style with a bit of sparkle while remaining timeless. Our colour palette was white and gold with hints of light pink." – M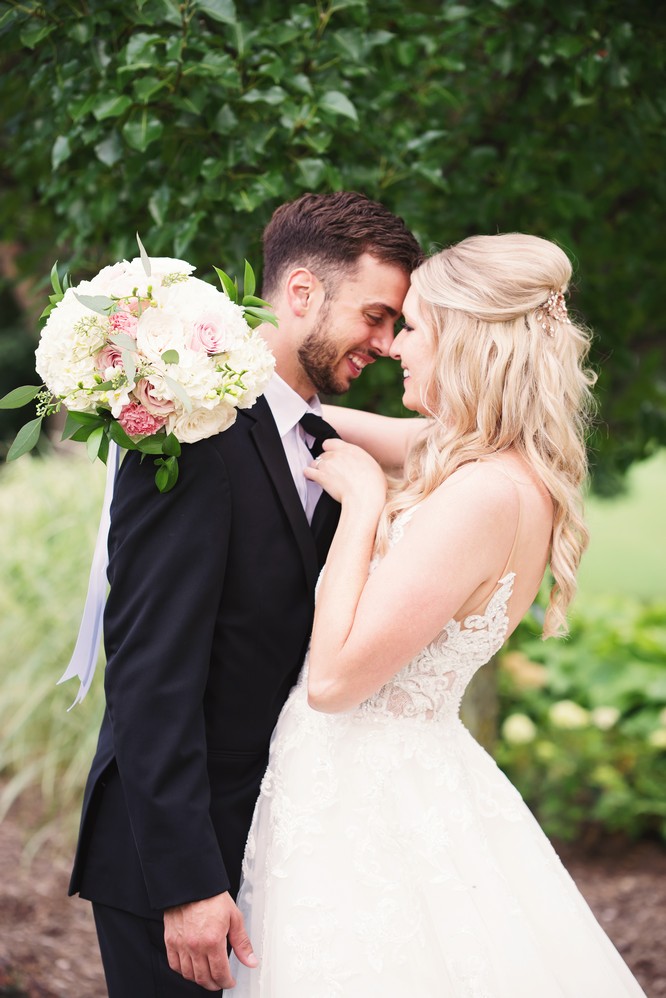 PHOTOGRAPHY: Jessica Lauren Photography (www.jessicalaurenstudios.com) Kitchener, ON "We spent what seemed like days going through photographer profiles/websites online. It was important to us to find someone that was local to the area and who would complement our style. Jessica's photography was romantic and classic so when we saw her
website and read all the positive reviews, we were really excited to talk with her. When we met Jessica, her calm demeanor made us feel comfortable. We did our engagement photos with her and loved them. She was flexible and
kind throughout the process of rescheduling our wedding multiple times." -M&R
BRIDE ATTIRE: Taylor's Bridal Boutique (www.taylorsbridal.com) Elmira, ON
GROOM ATTIRE: Moores Clothing for Men (♥) (www.moores.com) Kitchener, ON
HAIR & MAKEUP: Makeup Worx (www.makeupworx.ca) Hamilton, ON
DÉCOR: Devine Wedding Design (♥) (www.devineweddingdesign.ca) Mitchell, ON
FLORAL: Buds and Blooms (www.budsandbloomskw.com) Kitchener, ON
DJ: Nitro Music (www.nitromusic.ca) Cambridge, ON
CAKE: My Little Bakery (@MyLittleBakeryTavistock) Tavistock, ON
VIDEOGRAPHER: Glassworks Creative (www.glassworkscreative.com) Waterford, ON
OFFICIANT: Dean Kennedy (www.deankennedyofficiant.com) Toronto, ON
TELL US YOUR STORY: "We met at a Brad Paisley concert in Toronto seven years ago. We ended up exchanging numbers at the end of the night and have been together ever since. We spent that summer getting to know each other and started officially dating that fall. Our mutual love of music turned into years of going to concerts together.
We got engaged 3.5 years later and it was a complete surprise. Ryan took me on a surprise birthday getaway for the weekend. Our first stop was the helicopter experience over Niagara Falls. I was getting my picture taken in front of the helicopter before boarding and when I turned around, he was down on one knee. I don't think either of us remembers the helicopter ride or the view because we couldn't stop smiling at each other. It truly was the most amazing day. We spent the next almost 2 years planning our wedding and enjoying being engaged. I love planning so we had a lot of fun researching vendors, selecting a venue, and designing all the small details. Little did I know we were about to plan this wedding 3 times.
A few weeks after sending out our wedding invitations, COVID-19 came along, completely not invited, and decided it had different plans for us. We made the difficult decision to cancel our June 13th wedding and the SCC (Stratford Country Club) kindly let us choose a new date in 2021. We were so heartbroken. We thought rescheduling to June the following year would be the safest and best decision. Fast forward to May 2021 and sadly there were still so many unknowns and so much uncertainty. We realized we were going to have to go through the entire rescheduling process again.
We felt like we had so much of the wedding experience taken away from us that we really didn't want to have to go through it all again. We wanted to celebrate with our family and friends but we were also ready to be husband and wife. We decided we would get legally married on June 4 and speak to the SCC once again about postponing in hopes that we could still have the "real" wedding experience that we had planned and dreamed of for years now. Everyone was so supportive of us getting legally married and understood why we still wanted to have our wedding at the SCC as we originally planned. The SCC, being flexible and amazing again, worked with us to figure out a date to have our wedding celebration later in the summer and we chose our third and final date – August 27″ – M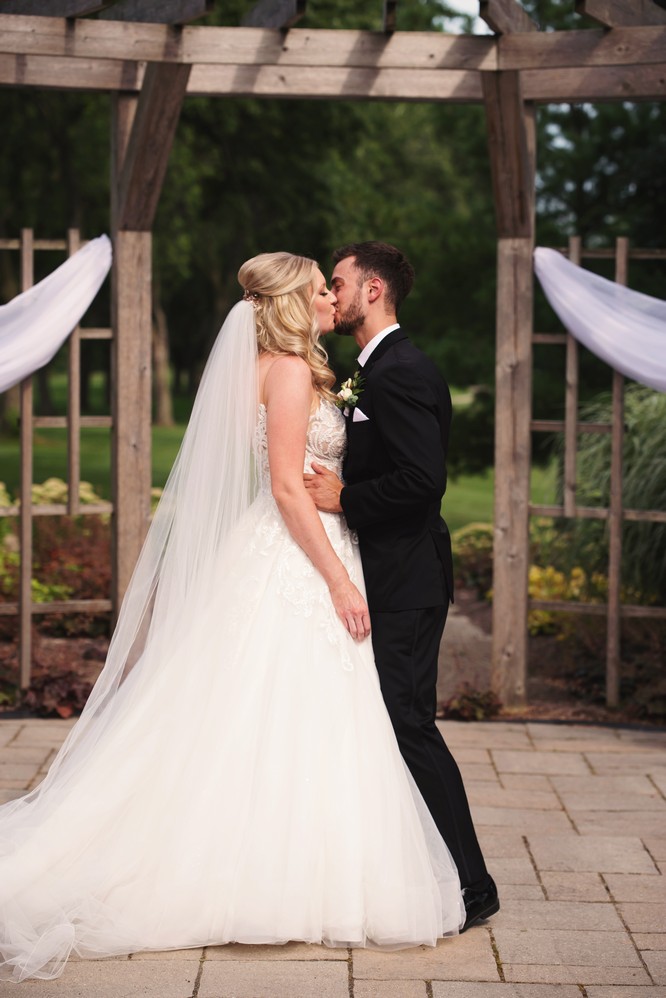 Featured in the Spring/Summer 2022 edition of The Wedding Ring Magazine
FIND OUT MORE ABOUT STRATFORD COUNTRY CLUB | To speak with Stratford Country Club about your wedding options, you can reach them using the form below.