Exploring The World of Tent Weddings is a guest post by A&B Event + Tent Rental (www.abeventrental.com)
Every little girl dreams of her wedding day, filled with luscious blooming flowers, sparkling décor, and elegant finishes. Turning that dream into reality just got easier! Here is a list of tent wedding ideas to help you capture your fairytale wedding with class and style.
WORK WITH YOUR SURROUNDINGS
The benefit of planning a luxurious outdoor wedding is the variety and selection you have to choose from when it comes to your location. Whether you are hosting an intimate waterfront ceremony or an extravagant special day under the shade of century-old trees, the grounds you select will provide a beautiful start to your wedding décor.
We are able to set up our tents at a variety of different locations. For most tents, we require a flat clear open grass space to install, but we do carry a few tent options that can be set up on a hard surface and weighted with concrete blocks.
With limits on the indoor capacity for events, we have received an above-average amount of requests for tented events on private properties, or outdoor venue spaces. We often suggest a 40′ x 60′ tent to accommodate up to 100 people. Many clients wish to add additional space for a dancefloor or catering area, so they move to a 40′ x 80′ tent.
If you are interested in a tent wedding, check with the building division of your municipality on the required permits. For clients of A&B, we provide stamped engineered drawings based on their tent size, as well as a certificate of flame.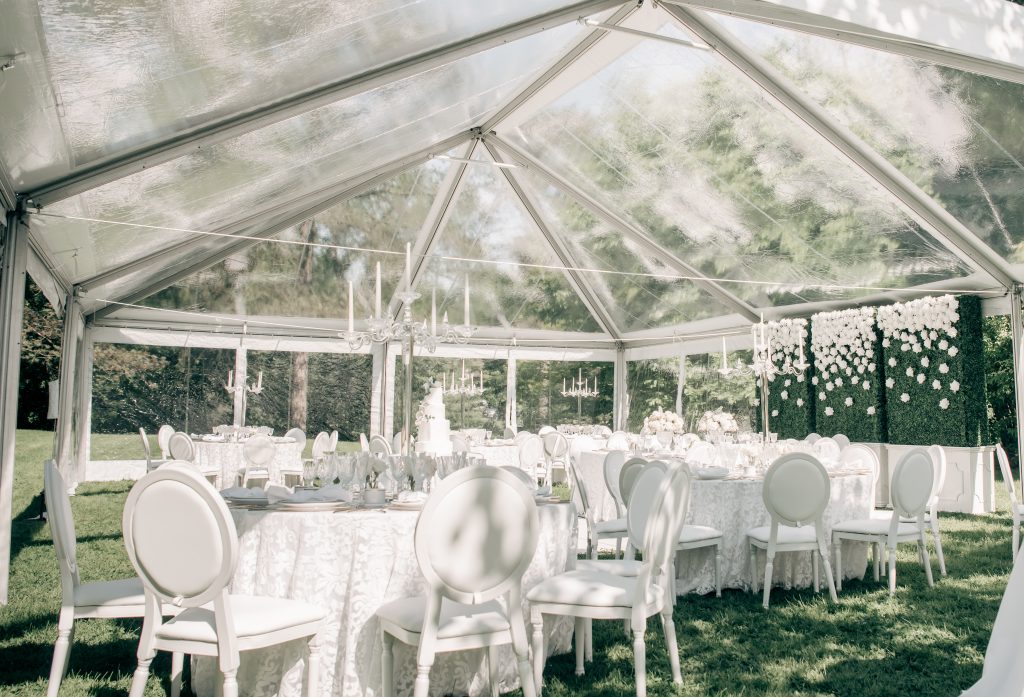 IT'S ALL IN THE DETAILS
Selectively adding touches of sparkle and shine throughout your venue will amplify your luxurious outdoor wedding theme. Incorporating a beautiful Corinthian Colonnade as a focal point for your venue will wow your guests. Replacing standard cotton table linens with rich, silky smooth fabrics, and selecting elegant candelabras for your wedding centerpieces will generate an unprecedented amount of ooh's and ahh's! Complimenting your natural surroundings with chic details will complete your luxurious outdoor wedding perfectly! We are a full event rental company so we carry anything from tables, chairs, table linen, dance floor, dishes, etc. As a full-service event rental supplier, we carry thousands of on-trend items to suit any theme or budget. We also have a team of event specialists to help you pull together your dream look.
ALL EYES ARE ON YOU
Your wedding day will be one of the most memorable days of your life. Celebrating the beautiful union between you and your new partner will generate special moments that will last a lifetime. What better way to begin your new chapter of matrimony than having your first dance under the stars?
Rent a beautiful wood floor and place it in the centre of your outdoor wedding, with your guest tables elegantly surrounding it. Sharing your first dance surrounded by all of your friends and family, exchanging heartfelt smiles with each of your guests, will allow you to capture an irreplaceable moment of love.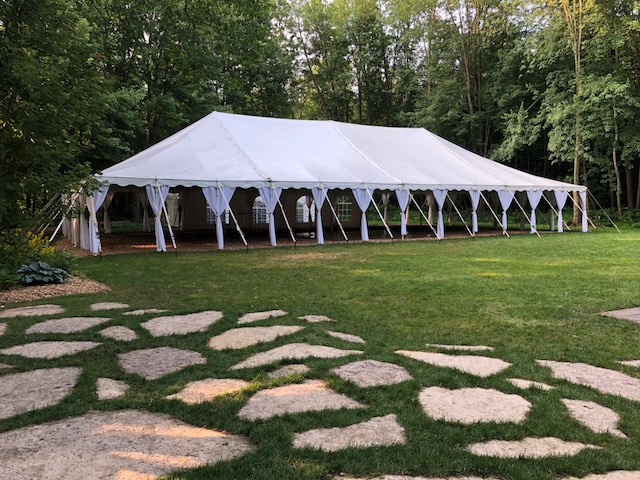 FIND OUT MORE ABOUT A&B PARTY RENTAL | Contact A&B Event and Tent Rental, and start brainstorming your luxurious outdoor and tent wedding ideas with the help of one of our event specialists, today! You can reach A&B Event and Tent Rental using the form below.
Find the ideal location for your outdoor or tent wedding here.