EXPERT TIP BY MAXIMUM MUSIC (www.maximumdj.com) Toronto, ON | Photos: courtesy of Maximum Music
Think of your wedding day as a series of events: ceremony, cocktails, dinner, speeches, and the dance. Added together each of these events makes up your entire wedding day. Music connects these events together, and your DJ and live musicians can help all the parts of your ceremony and reception flow perfectly. Rod from Maximum Music tells us how to achieve the perfect wedding flow.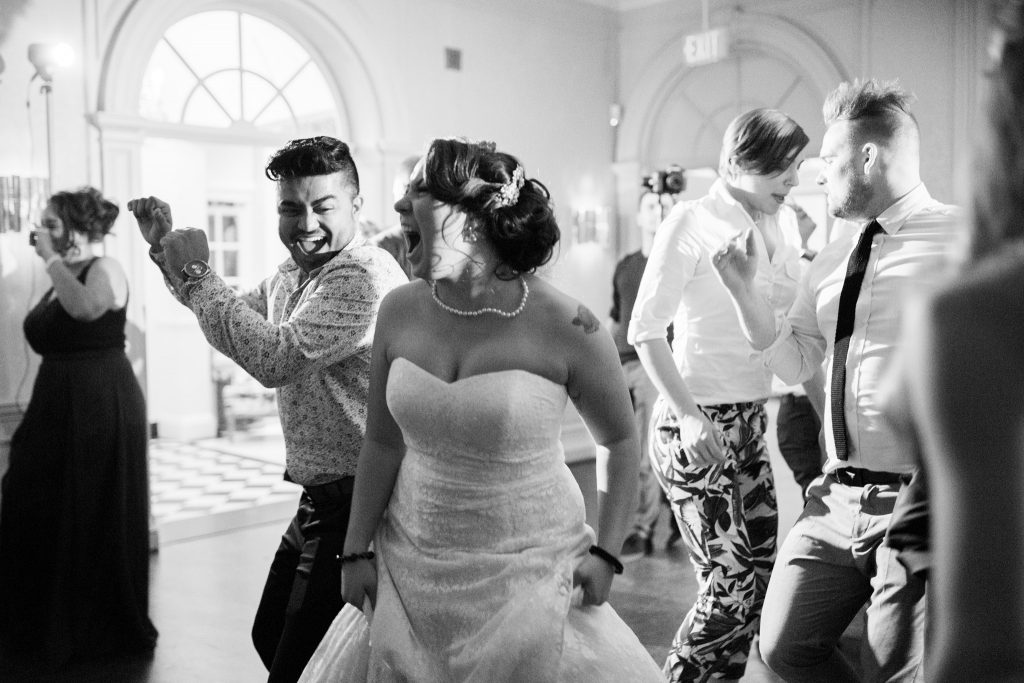 Pre-ceremony: Let your DJ or your live musicians play for 30 minutes as guests arrive so there is a sense of being in the right place. Music is also welcoming and provides an atmosphere.
Ceremony: When it is time to start, the music fades down to silence for 10 to 20 seconds. Suspense is an amazing way to put an exclamation point on your processional into the ceremony. Your processional music is an intentional piece, not just a continuation of the pre-ceremony music. Once the ceremony is finished you have a burst of energy with a fun recessional song and then upbeat cocktail reception.
You're married! Now it is time to segue into the reception. This is a great opportunity for music to connect the cocktails to dinner to the dance.
Pre-dinner cocktail hour: If live music is in your plan keep them for cocktails as the cost for an extra hour or so is negligible once you have them there for the ceremony.
When planning the flow of your reception, you should bundle several elements together. Bundling makes sure that your guests are present and paying attention to key moments. It also helps to avoid you standing up and sitting down repeatedly. Pre-dinner cocktail hour starts off the reception, after that, you can mix a few elements up in your sequence. Do you want to have your first dance as you're introduced? Do you want speeches sprinkled throughout dinner or all at once at the end? Creating your reception plan is a lot like creating a recipe. Creating a sequence with a logical order will create a great flow.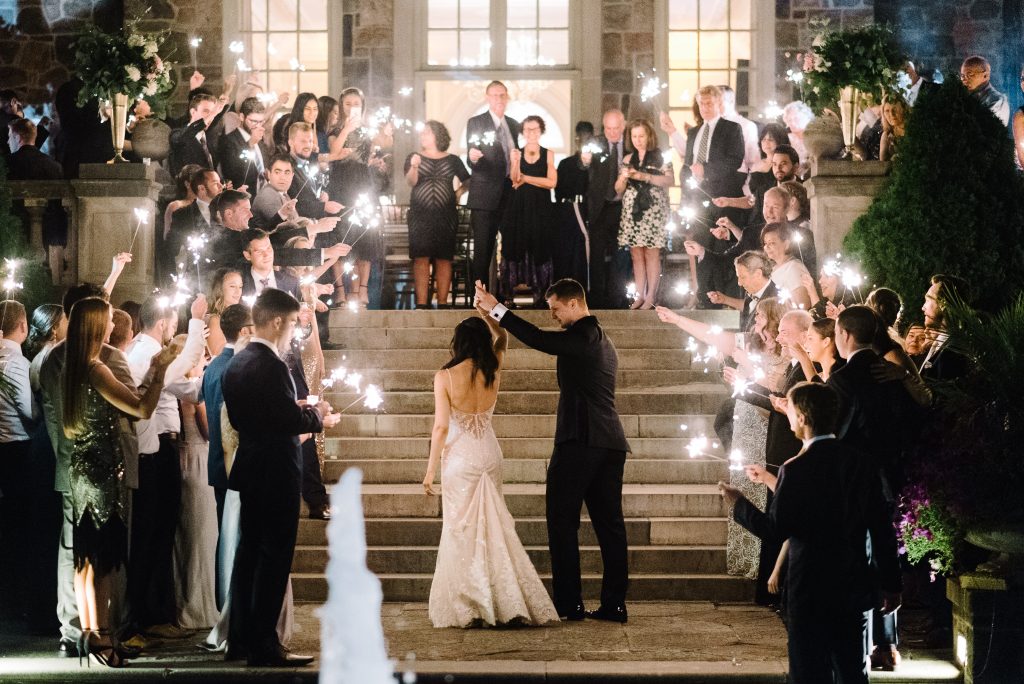 You'll also want to group the traditional dances in your sequencing. Your first dance as a married couple, parent dances, wedding party dances, and other special dances can be bundled together at the beginning or end of dinner.
The kissing game, centrepiece giveaway, shoe game, slide shows, and all that other traditional wedding stuff… For a while, weddings were trending away from these types of add-ons. With all the changes that COVID has wrought in weddings, we're seeing a resurgence of these as a way to
entertain guests when dancing isn't allowed due to restrictions. Including these is entirely optional depending on how you envision your wedding.
Flow in the dancing: In the earlier part of the evening, the music is often not as loud. We play a bit more to the older guests so they have the fun wedding reception experience and then work towards your personal music taste as the night progresses and the volume can increase. During the early evening is when you will see a set of those Greek dances or polkas if that is your family's thing.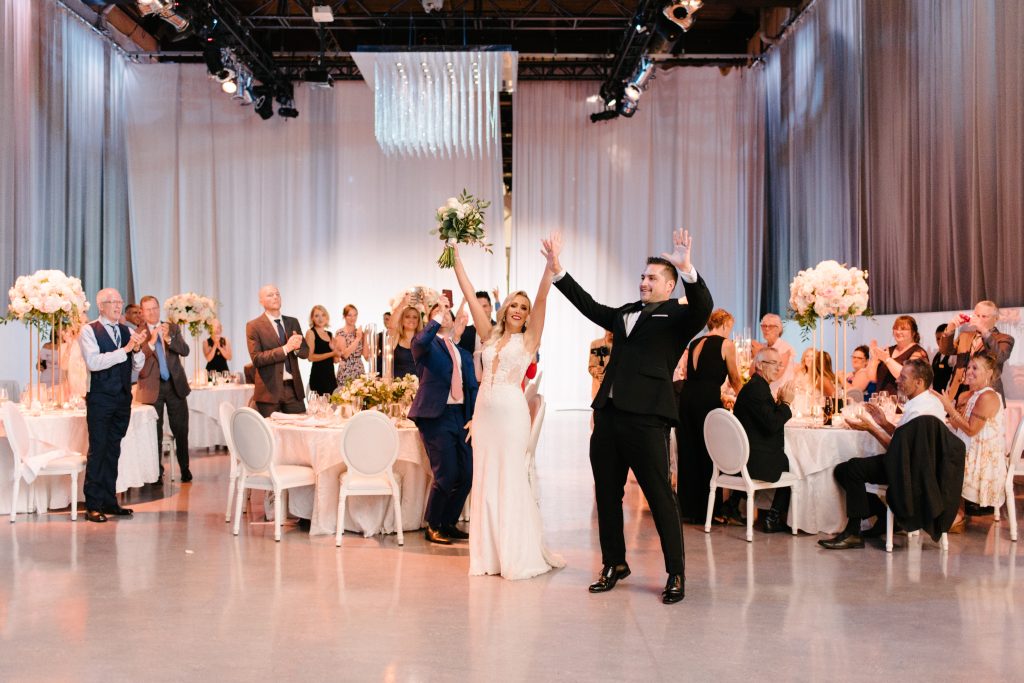 We like to play the music in sets of 2 or 3 songs so that the party does not feel disjointed. Sets allow people who like a type of music to hit the dance floor and get 10 to 15 minutes of dancing before we segue to something different. We work with the requests you provided us and weave the music into something awesome.
We are cool with requests on the fly but also this is the time to have fun and trust that we will make the right choices for music based on what is happening in real-time. We are not there to break new music or be artistic. We are there to build a soundtrack that is unique to you and your guests.
If you want to do the bouquet and/or garter toss bundle them with announcing the late-night food service just before the photographer leaves around 10:30 or 11:00 pm. We will follow the lead of your catering team but typically this is a simple announcement and not a full stop to the party.
1:00 am finish. End on a high note and finish off big rather than trying to keep high energy until 2:00 am. There are exceptions but for most couples, it has been a long day and they are happy to tidy things up at 1:00 am and get back to the hotel room.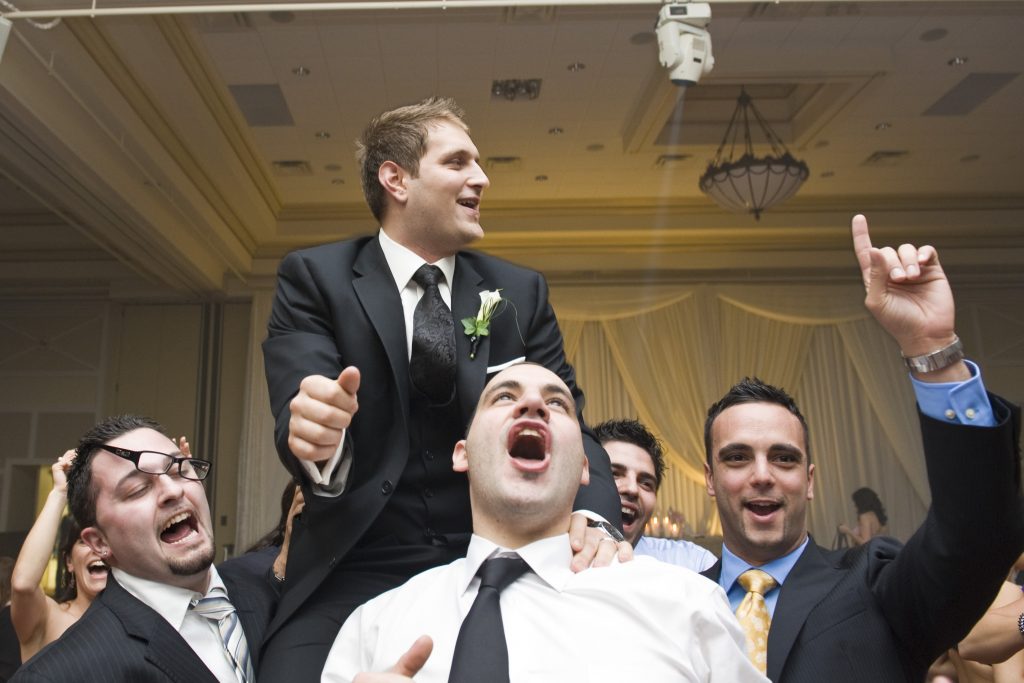 Featured in the January 2021: Covid Edition issue of The Wedding Ring Magazine
FIND OUT MORE ABOUT MAXIMUM MUSIC | To speak with Maximum Music about your wedding options, you can reach them using the form below.