How to Find the Perfect Shaped Ring is a guest post by Lori Wade | Photos courtesy of Pexels.com
Are you struggling to find an engagement ring for yourself or your fiancé? Don't worry; you are not alone in this. With countless styles and materials of rings and dozens of designs entering and exiting the fashion market every day, choosing the best ring for yourself or your partner can be tricky!
Although buying an engagement ring is a personal decision, we are here to make it a little less complicated for you. Here's how to find the perfect shaped ring.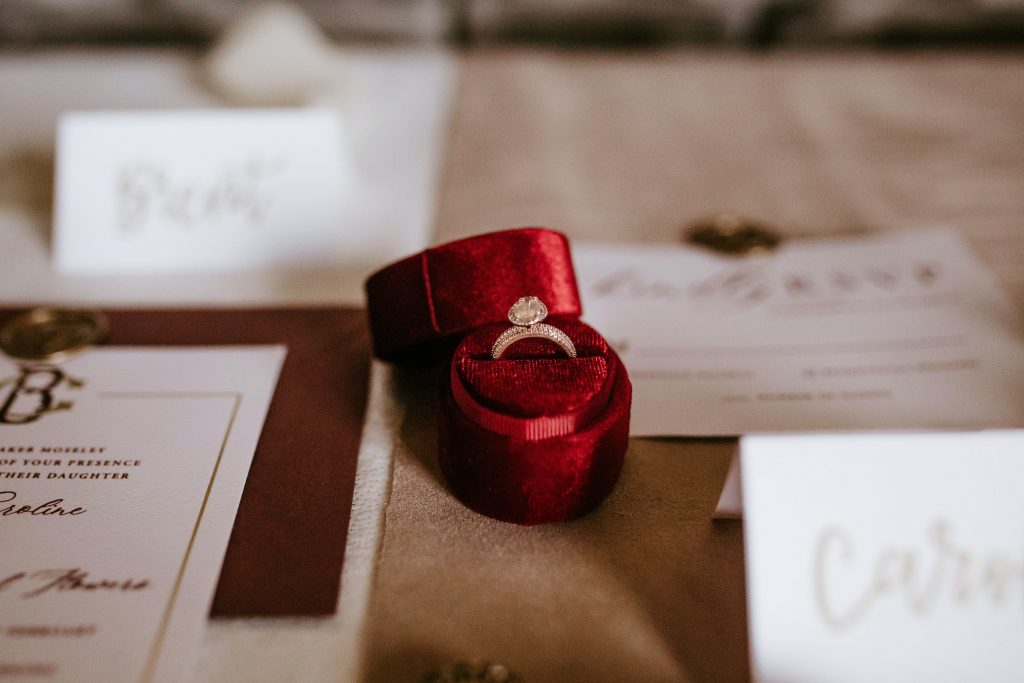 What factors should affect selecting the best style for an engagement ring?
Not every ring looks as good in every hand as it looks in the showcase. Why? Because how it would look on your hand depends on several factors like the size and width of the finger, size of nails, size, and shape of the stone, width, and style of ring, personal style, and lifestyle. But it's as important to choose the right ring for the finger as it is to choose the right shoe for your foot or the right swimsuit for your body.
So, here are a few factors that would help you pick the perfect shaped ring for your finger: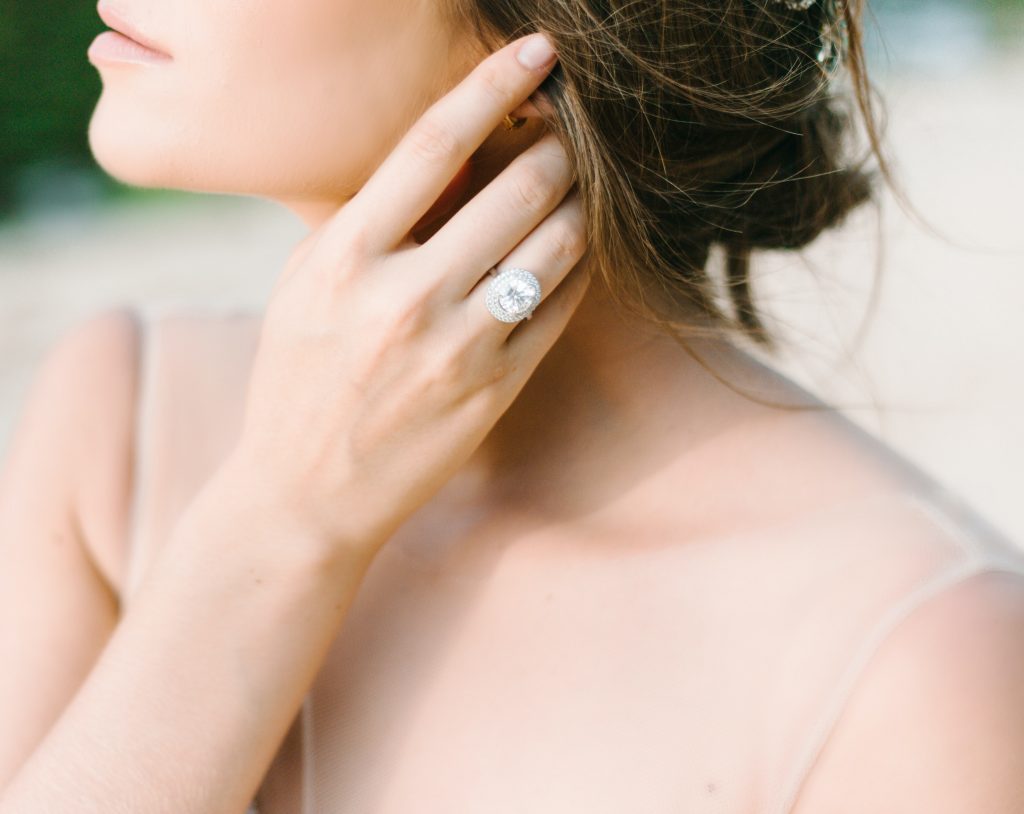 Size of finger
The size of your finger affects how a ring would look on it. This is because you may not want your finger to look excessively short or long or bulky or skinny, and a ring has the power to balance it. (Given that you choose the right one).
Long fingers
Having long fingers is bliss when finding a ring, as most styles and sizes go well for long and thin fingers. However, here are a few things you may consider:
Picking a wider ring would be a great choice as it complements the long length of the fingers.
Bold styles go well on long fingers.
An oval, cushion, and asscher all would do fine.
Stones that are round or princess-cut look more flattering.
Long and slender fingers
As mentioned above, most shapes go well on long fingers. But when fingers are both long and slender, they look more graceful! In that case, almost every shape and style of diamond looks good!
Going for a wide ring can give it the perfect statement look though you can try out anything and everything and see what accentuates the best on your fingers.
Smaller stones will be a great choice as they help make slender fingers appear wider.
Similarly, wearing a thick band would widen the appearance of your finger.
Long and chubby fingers
If you have long and chubby fingers that you wish to give a slender look, you can go for the following:
A prominent ring or one with a wide band
Multiple stone diamond rings and graduated rings also look flattering and draw attention to the ring rather than the finger shape.
Narrow stones will make wide fingers look even wider. So, go for emerald or rectangular stones.
Multiple round stones in a wide setting would also go well, as they would hide the finger space from both sides.
Short and chubby fingers
An oval or pear-shaped finger ring would be best to flaunt.
Marquise stone rings would also help lengthen the appearance of your finger.
You can also consider getting one with round diamonds.
Angular shapes and asymmetrical designs both minimize the width of the finger.
Short and thin fingers
Do you have small and thin fingers and always worry if any ring would go well? You do not need to think much. Here's a hack for you!
Oval and pear-shaped diamond rings would go well.
Make sure you don't overdo it. Keep the setting light, and it would complement well with your fingers.
Pick narrow bands to make your finger look wider and longer.
Rectangular emerald-shaped stones can also give a lengthy and wider look to your short finger.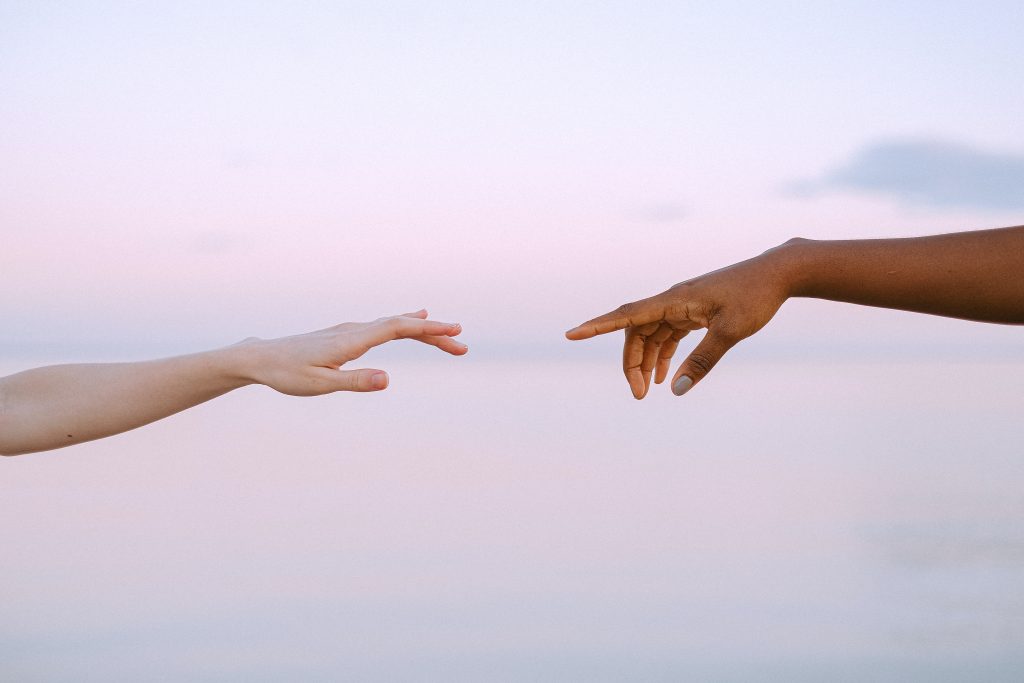 Size of hands
Finger size is not the only thing you need to consider. You also need to consider your hand size while choosing the perfect shaped ring for engagement. The ideal ring would be the one that looks good on your hand, irrespective of your hand size.
Small hands
If you have small hands, it is better to go for small rings. The ring should have a small stone as well as a hand, i.e., overall small.
So, in that case, the following rings would go well:
Small round stones
Oval
Princess-cut
Heart-shaped stone rings
Large hands
As someone with a large hand, you would want to make it look shorter.
So, going for wider and larger-stone rings would be a great choice.
You can try out different styles of rings with large hands such as big-sized, funky, and bulky rings with large hands.
Bold knuckles
If you have strong knuckles which you want to get noticed, go for a heavy/wide brand and bolder ring stone.
By doing this, there are very slight chances of your strong knuckles being noticed. This is because the attention gets diverted toward the bold ring.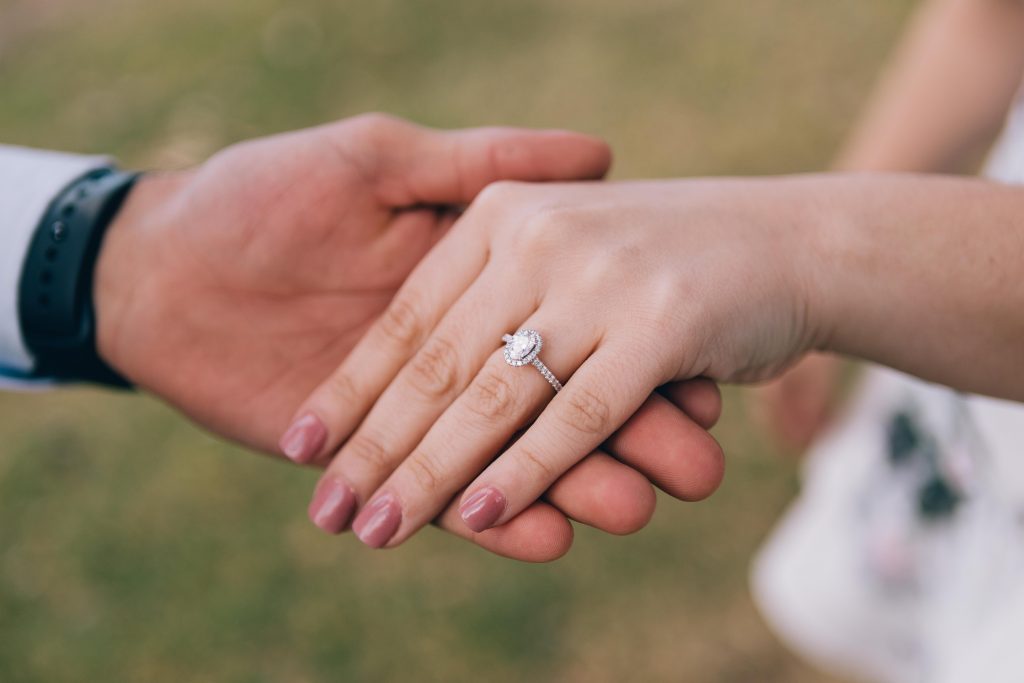 Nails
Nails do not directly influence your ring choice, but indirectly, they do! Because nails can make your finger look short or long.
Long nails or short nails
If you keep long nails or would be getting manicure or nail extensions done at the time of your engagement, keep that in mind while selecting a ring.
This is because long nails make the finger look elongated. Depending upon that, you can follow the guidelines mentioned above.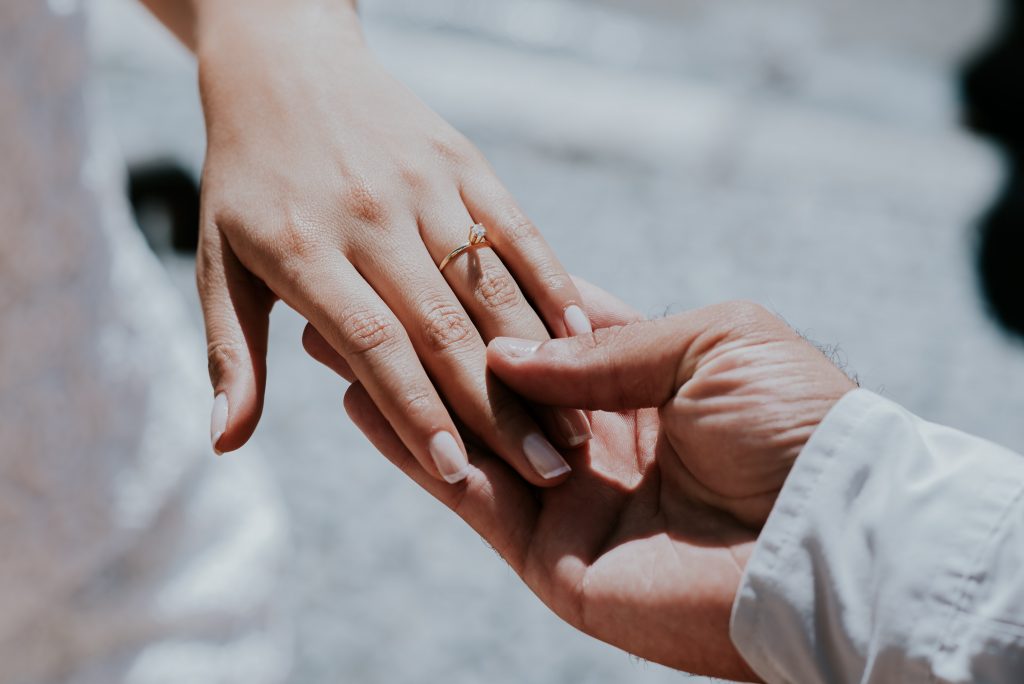 Best styles of engagement rings
Still not sure what ring to buy? Here are a few best shapes and styles for engagement rings.
Solitaire
Solitaire is one of the most timeless and evergreen diamond shapes for rings. It has one stone in the center of the band with 4-6 prongs that keep it intact.
If you are looking for something traditional, solitaire should be your go-to option.
Bezel
The bezel is another popular choice for engagement rings. If you are looking for a durable ring that does not fade away for years, the bezel is the thing! In the bezel, you won't find any prongs yet stays firmly embedded in the center.
Channel
Channel is a ring style that would take away your heart with its cuteness. It has a stone in the center and is surrounded by small stones and diamonds from both sides that accentuate and add to its beauty.
Halo
Whether you want a small-sized stone ring or a bold-sized stone ring, Halo is the one! With sparkling top-center stone surrounded by mini diamonds, it gives you a charming look.
Vintage
What can be better than buying sustainable rings? Vintage rings are old-fashioned rings that are still so much in trend. The charm that comes from vintage rings is unbeatable and unmatchable. You can go for any emerald rings, sapphire, and diamond cluster rings, aquamarine rings (flaunted by Meghan Markle), or any other antique engagement ring.
But avoid going for emerald rings if you are looking for durability.
Three-stone diamond rings
As the name suggests, it has three stones. The center stone is the biggest, and it has one smaller stone on each side. The left stone is said to reflect the past of the couple, the middle one represents the present, and the right stone reflects the couple's future.
Eternity
An eternity or infinity ring comprises a band with small diamonds embedded across the ring, reflecting "never-ending love". The gemstones studded continually give a FOREVER feeling.
However, eternity rings look more subtle, so if that is what you are looking for, don't wait to get one!
Gemstone
Gemstone rings are mostly gold ring bands with precious stones embedded. These stones can be emerald, sapphire, ruby, or any other. These are mostly colorful and give you a whole new look.
Tension
Please do not go by the name; it would not create tension in your relationship.
Tension rings are those which hold a gemstone in the middle without any prong but instead pressure. If you are looking for something out of the box, this should be your choice.
Pave
The pave setting ring has the keystone in the center and has various mini diamonds embedded in the band and around the circumference that gives it an exquisite look.
Split shank
As the term 'split' says, it is divided into two. The ring band is thick from the bottom, and as it goes up and touches the center stone, it starts splitting into two thin bands. It is another great option to buy for engagement as it is slightly tweaked, making it unique.
Conclusion
There is no single perfect ring shape or design for engagement. What would suit you the best depends upon factors like your finger size and width, nail length, hand size, ring size, and style.
You should also consider durability as a factor in choosing your ring shape and style.
The above-mentioned points would help you make a better choice to buy that Perfect Engagement Ring and make it look flattering.
But above all, the best ring for you is the one you feel comfortable and confident in. Also, make sure you check out the promise around wedding ring exchanges.
Lori Wade is a content writer for sylviecollection.com who is interested in a wide range of spheres from wedding design and fashion trends to wedding business and sharing her ideas. If you are interested in relationships, weddings & fashion, you can find her on Twitter and LinkedIn.
Searching for more inspiration? Check out the Expert Tips section!