WEDDING CAKE EXPERT TIP BY: Jenn Bonner, Decadently Yours (decadentlyyours.ca) 
Choosing the right cake for your wedding is more than just choosing between chocolate and vanilla, fondant and buttercream. With nine years of creating the sweetest wedding cake confections, Decadently Yours knows all the questions that you want to ask. Here are the answers to some of their most common, and a few unique, questions.
Q: CAN I HAVE FRESH OR DRIED FLOWERS ON MY WEDDING CAKE?
A: Absolutely! Flowers are naturally beautiful and can enhance almost any cake design. Fresh flowers can be easily matched to the rest of your wedding flowers. Dried flowers are a popular choice and lend a beautiful retro/boho vibe to your cake.
Q: DO YOU OFFER CAKE TASTINGS?
A: Yes. You'll get to pick a set number of flavours or flavour combinations and indulge with your fiancé. Taste each one together and decide what each of you wants. Like most bakeries, we'll allow you to choose different flavours for different layers if you can't or don't want to pick just one.
Q: WHEN SHOULD I START HUNTING FOR WEDDING CAKE INSPIRATION?
A: ASAP! It's never too early to start looking for wedding cake inspiration, so get started early on. It's one of the sweetest items on your wedding planning to-do list and early research will save you from getting super stressed later. If you're a procrastinator, a safe bet is about six months in advance of your wedding so that you know what you're looking for when meeting with bakers and doing tastings.
Q: WE HAVE A FAMILY RECIPE; CAN YOU USE IT FOR OUR CAKE?
A: As much as we would love to replicate your grandma's special recipe, we cannot. She has taken the time to perfect that recipe. We have never baked it before and have no idea how it should actually taste. You know the saying: "It's not quite like Grandma's cake, but almost."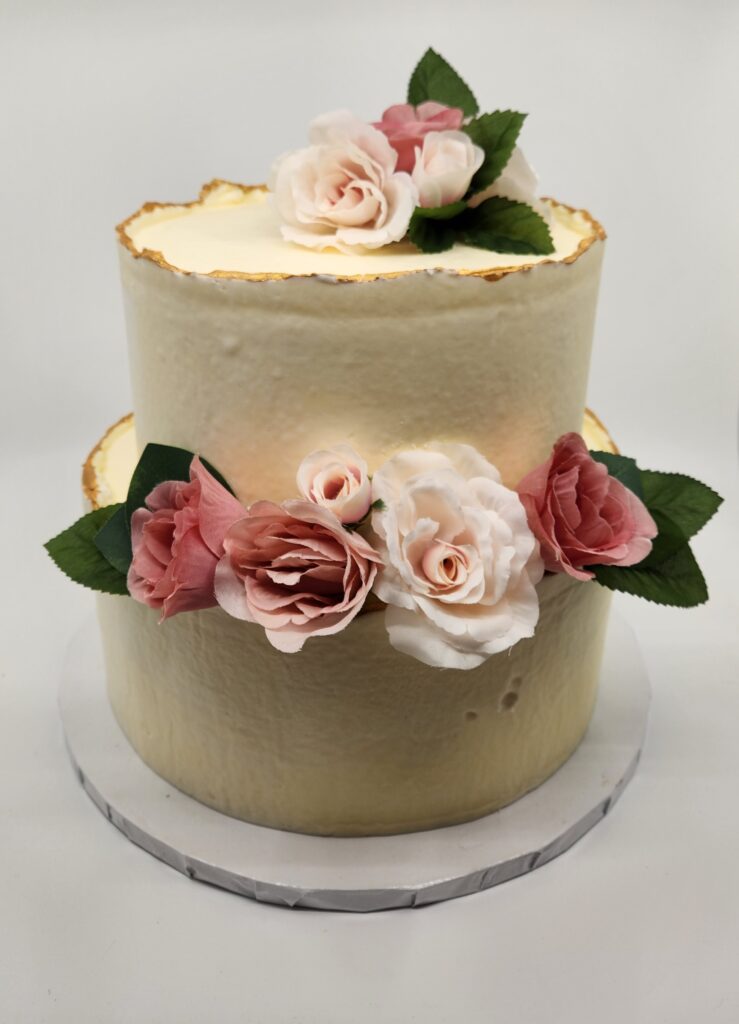 Q: THAT IS OUT OF OUR PRICE RANGE, OUR FRIEND SAID SHE WILL BAKE OUR CAKE.
A: Of course, this is your choice to have a friend or family member bake your special cake for you. However, has she ever baked or decorated a wedding cake before? Does she know how to work with buttercream and/or fondant or know how to place flowers on a cake? Is she certified to know how to work with food? Has her place been inspected or does she have insurance? Many times (not all) something comes up and there are reasons why "this cannot be done" or "I just ran out of time and really sorry, but I cannot do this anymore" and leaves you with no cake. You'll be scrambling at the last minute to find someone on short notice to help and that could leave you with no cake at all.
Q: MY COLOURS ARE DEEP AND RICH COLOURS. CAN YOU DO THAT IN BUTTERCREAM? I REALLY DON'T LIKE FONDANT.
A: The answer is yes but we do not recommend dark icing for weddings. The icing requires a lot of dye to achieve a rich colour and it will colour your teeth, your tongue, and anything it may fall on. If one spouse smashes it into the other spouse's face and it falls on a beautiful white gown, that dress will be permanently stained.
Q: HOW DO I DECIDE ON MY WEDDING CAKE STYLE?
A: Ideally, you'll want your wedding cake to match the style of your wedding. Don't pick your cake style before you've made your other design decisions including colours, theme, feel, etc. You don't want a simple white cake if you're having a bold, colourful event. You want your cake to feature prominently but seamlessly into your wedding's overall aesthetic.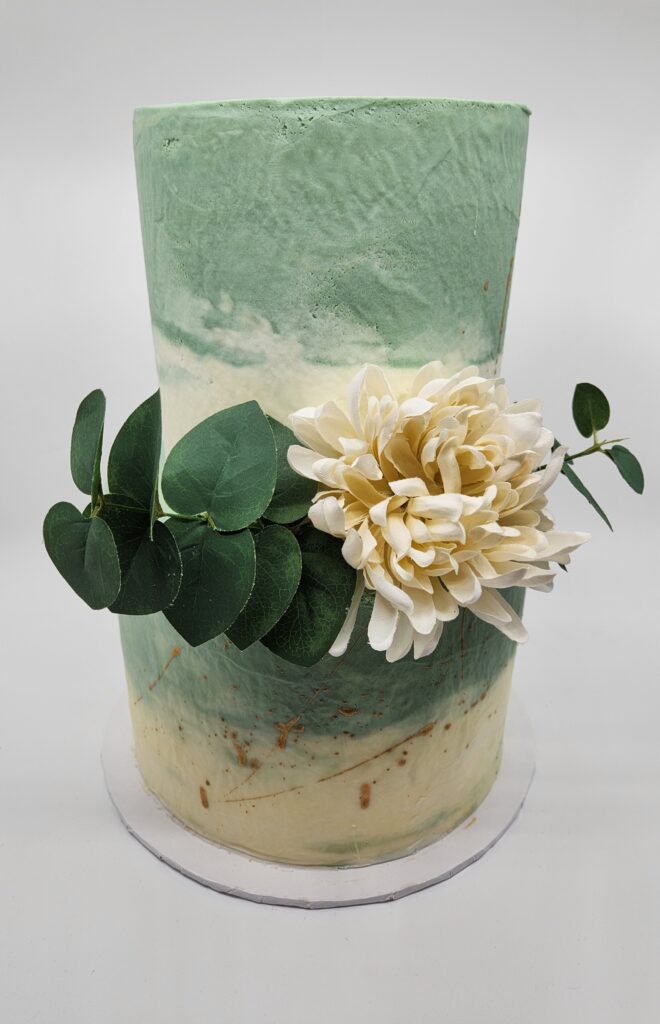 Q: HOW ARE YOUR CAKES PRICED?
A: Typically, cakes are priced based on the number of pieces and will increase depending on the complexity of your flavours, filling, and design. When determining your budget, you'll want to have a piece of cake for each guest. Consider paying the cutting fee and serving your cake as dessert. Not only does this make the very best use of your beautiful and carefully selected cake but it's great for your budget to not have to have to pay for a separate dessert. •
ABOUT DECADENTLY YOURS: Decadently Yours prides themselves on creating delicious handcrafted baked goods that will be the centerpiece at any event. They bake from scratch each and every day using locally sourced ingredients the best they can. Preservatives and store-bought mixes have no place in their bakery! Decadently Yours offers 120 different flavours in both cakes and cupcakes. Their custom-baked cupcakes, cakes, and baked goods are great for birthdays, showers, weddings, special events, sporting events, corporate functions and more!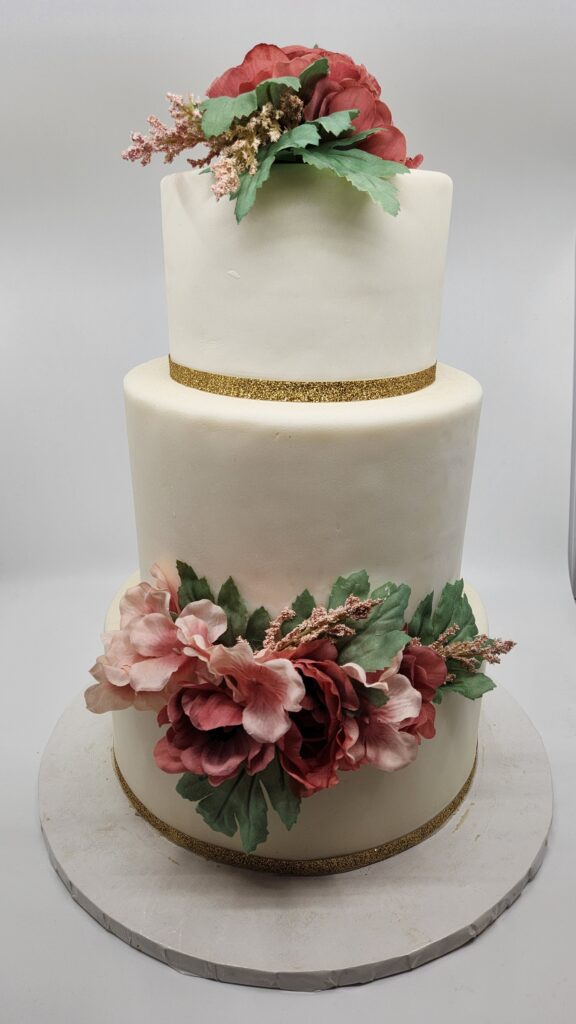 Featured in the Spring/Summer 2023 edition of The Wedding Ring Magazine
FIND OUT MORE ABOUT DECADENTLY YOURS | To speak with Decadently Yours about your wedding options, you can reach them using the form below.