EXPERT TIP BY SOMETHING NEW OFFICIANT (www.somethingnewofficiant.ca) London, ON
"The vow writing process is an area of ceremony planning my clients often feel the most intimidated by, and most at a loss with where to begin. Here I share some of my suggestions and tips I offer my own officiant clients to ensure their "I dos" capture their uniqueness, while also honouring the sacredness of making vows intended to be lived out forevermore."
Generally speaking, there are three different styles to doing one's vows, each having their own benefits and drawbacks depending on your comfort with public speaking, displays of possible vulnerability (e.g. crying), desired length of your ceremony, and important customs or traditions you'd like to carry forward:
ECHO OR REPEAT YOUR VOWS AFTER YOUR OFFICIANT: Together with your officiant you decide on a few sentences, I would say no more than 5, where the officiant would read a few words or a short sentence, and then you'd repeat it after them. You'd go back and forth until the paragraph is complete. The officiant would then repeat this pattern with the other partner.
TAKE A MORE TRADITIONAL APPROACH: This format is where the officiant would ask a series of questions after which you would reply with "I will" or "I do". For example: Do you _ take _ to be your husband/wife/spouse?
PERSONAL VOWS: Finally, the reading or speaking of personal vows. The sky's the limit in terms of personal vows, and they can be a very playful part of a ceremony where the couple's 'personality' shines.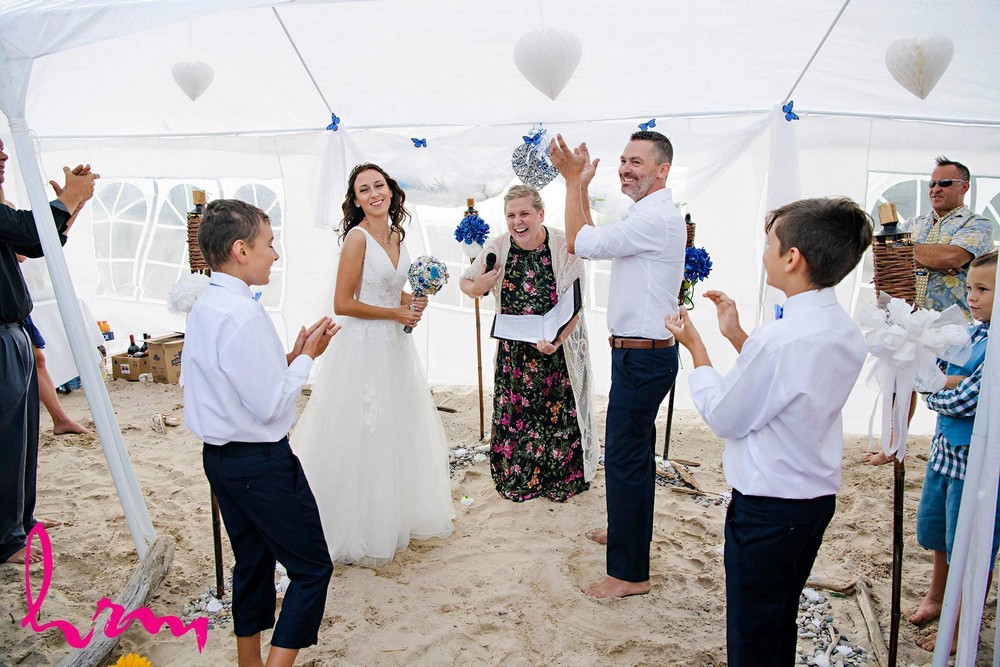 Increasingly couples are opting for a hybrid approach, where they will include the traditional approach to their vows and then proceed to read their personal vows; they may first do the echo/repeat after me approach, then do the traditional vows or any combination of the three. So if you're struggling with a place to begin with crafting your personal vows, start with writing from your heart, unfiltered, and in bullet format responding to the following prompts:
• How did you feel the first time you met your partner?
• How did you know that your partner was the one?
• What are the strengths and capabilities you witness in your partner that you most admire?
• How has your partner challenged you, supported you, and encouraged you to grow personally and/or professionally/
occupationally?
• What resources do you draw on your partner for to move through difficult or challenging times?
• What have been some of your favorite shared memories?
• What have you most learned about yourself and your relationship during the time you've been together?
Then I suggest you move into the commitments you are declaring moving forward, aka the "vows". Next, it's time to flush out those bullet points into full paragraph format. If your officiant doesn't offer editing and feedback support, then ask a member of your wedding party or a family member who can get their eyes on the draft of your vows and offer feedback.
Practically speaking, you're going to want to decide with your partner ahead of time how long you want your vows to be in terms of duration. On average, my clients usually write personal vows between 10 to 15 sentences; however, clients have read vows with just a couple of heartfelt written sentences, and others who've read pages sharing a fully flushed story of the beginning, middle, and next steps of their relationship.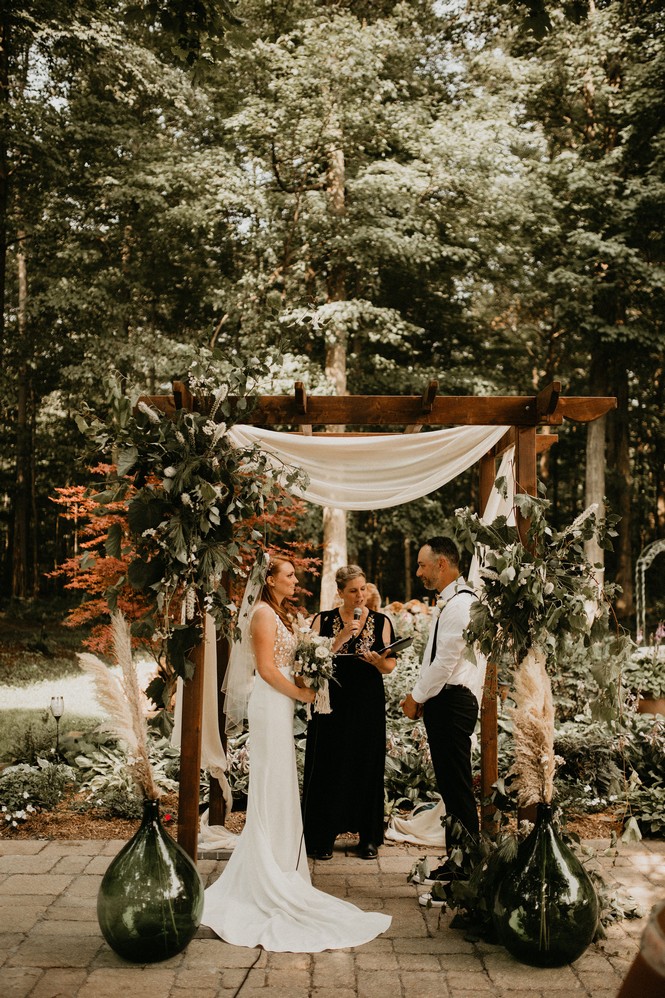 Consider the tone you're looking for in your vows, what would you like to convey, and are you and your partner on the same page. Take a look together at some online examples, and while you may not like them word for word you can wordsmith them so they fit the tone and temperament of who you are and what you'd like to say.
Lastly, give yourself permission to try out the various approaches. Speak them out loud to one another or in front of friends. Explore what feels right for you. There is no need to rush into a decision; in fact, I've worked with clients on personal vows the morning of their ceremonies when they've had a change of heart.
If there is anything to even remotely be grateful for about weddings during a global pandemic, it would be that ceremonies became really important to couples and their families as they might have been the only part of wedding gathering that was allowed throughout the various stages. We've gotten creative about how we do vows, and how we elongate moments in the ceremony that really celebrate a partnership, which is why we're all gathering in the first place!
*Note, there likely is a sentence with specific language required by the Marriage Act within your province that must be repeated by the marrying parties at the outset of the vow section regardless of the style chosen. Check with your officiant regarding what is required to be said according to this legislation.
ABOUT SOMETHING NEW OFFICIANT: Something New Officiants are licensed to perform weddings in the province of Ontario and are licensed, ordained Metaphysical Ministers with C.I.M.M. (a.k.a. contemporary spiritual ministers who holds space for all belief systems) honouring all relationships; with a strong commitment to serving 2SLGBTQIA+ partnerships, unions, baby blessings, celebrations of life, transitions, and wedding ceremonies.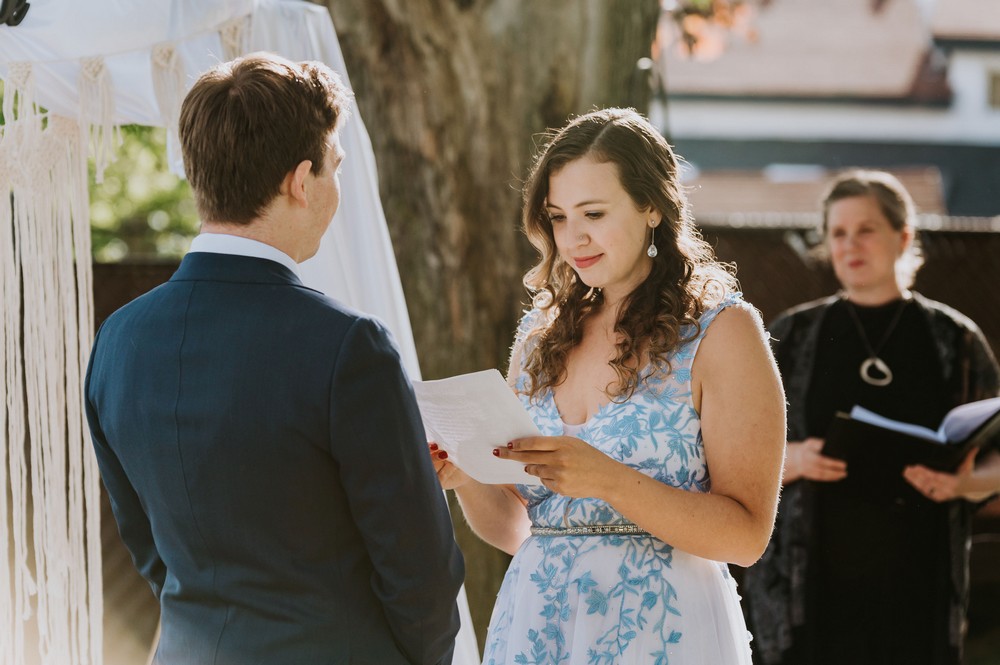 Featured in the Fall/Winter 2021 issue of The Wedding Ring Magazine
FIND OUT MORE ABOUT SOMETHING NEW OFFICIANT | To speak with Something New Officiants about your wedding options, you can reach them using the form below.