ECO-FRIENDLY DESTINATION WEDDING EXPERT TIP BY: Nicole Bedard, A-Destination Wedding (a-destinationwedding.com)
Did you know the average wedding of 120 people can produce as much as 400 pounds of garbage? With an average 2.5 million weddings between Canada and the USA each year, that can add up to more than 1 billion pounds of trash annually!
Day-to-day living has changed over the last decade. Acknowledging how society has impacted the planet has put a greater focus on how we as humans can make a conscious effort to reduce our footprint. This affects our choices in everything from the food we eat and the way we shop, to the way we celebrate special events.
If you're concerned that you can't host a destination wedding in an eco-friendly and sustainable way, think again. We've put together some key points to consider when planning your wedding that will help you and your guests enjoy a "green" celebration. And many of these can apply to weddings at home too!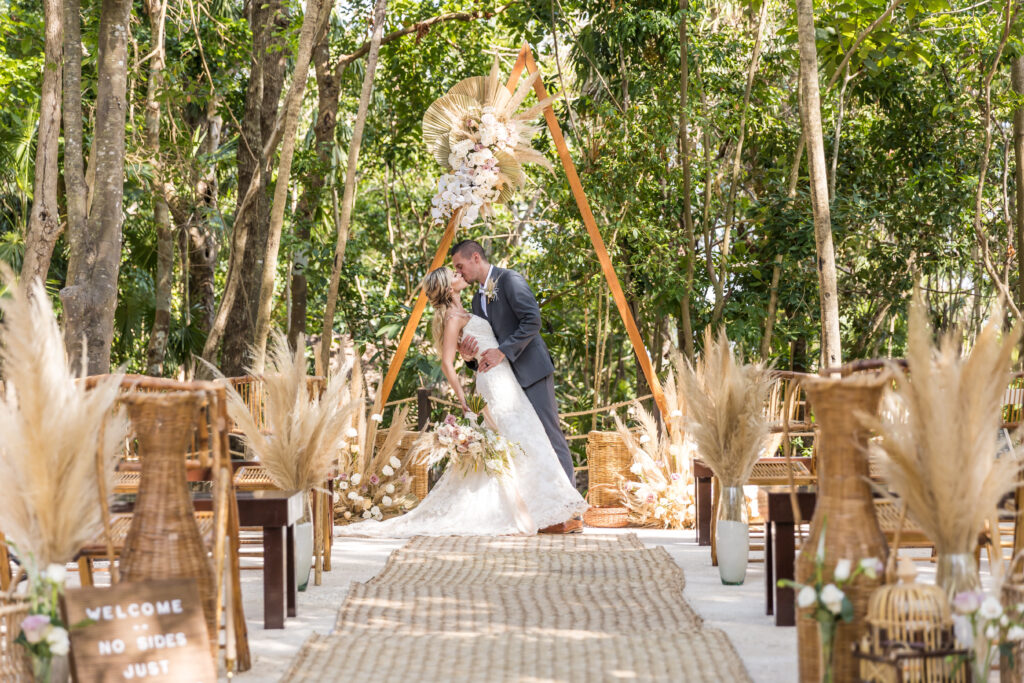 1. CHOOSE A RESORT THAT IS ALREADY COMMITTED TO THE ENVIRONMENT. As an example, Iberostar Hotels & Resorts' "Wave of Change" has eliminated single-use plastics at all resorts. Ask us about their "Ever Green" program, which includes onsite coordinators to help you make sustainable choices. without compromising on style.
2. USE DIGITAL INVITATIONS instead of paper.
3. If bridesmaids were able to choose any dress within your wedding colour palette, they might WEAR IT AGAIN. Plus, who doesn't love the ombre dress trend?
4. At the resort, REUSE TOWELS & SAVE ENERGY by adjusting the thermostat a few degrees, and use the appropriate containers for recycling, organic waste, etc.
5. CHOOSE A PLATED DINNER over a buffet to eliminate food waste.
6. USE LEAVES FOR PLACE CARDS instead of paper (not only tropical but biodegradeable too!)
7. LIMIT ADDITIONAL DÉCOR OR USE LOCAL ELEMENTS and local florals in your wedding design.
8. In general, a destination wedding is a smaller event than a wedding at home, which means LESS RESOURCES.
BONUS: Concerned about the CO2 emissions of the flight to your destination wedding? There are resources that can calculate your travel footprint and can offer you and your guests an easy way to contribute to an affordable carbon offset project.
Remember, creating the perfect marriage between beauty and eco-essence isn't impossible, it just means planning every detail thoroughly and thoughtfully. •
ABOUT A-DESTINATION WEDDING:
A-Destination Wedding assists couples from all over Ontario to plan a destination wedding designed to match their personalities and wedding style. They will help you find the perfect location to give you that intimate, fun, and completely stress-free wedding.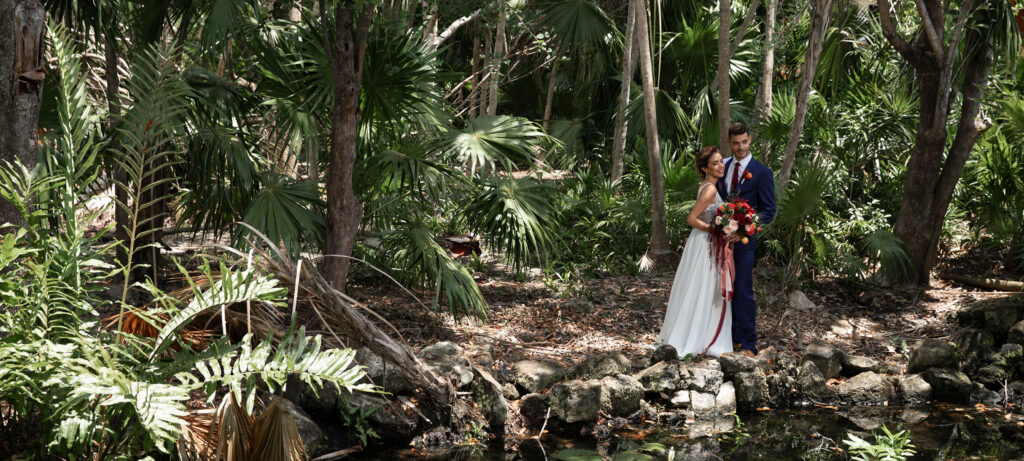 Featured in the Spring/Summer 2023 edition of The Wedding Ring Magazine
FIND OUT MORE ABOUT A-DESTINATION WEDDING | To speak with A-Destination Wedding about your wedding options, you can reach them using the form below.