Should I tip my wedding vendors? This is one of the questions that we hear most often. When it comes to tipping wedding vendors, there is no hard and fast rule. It is ultimately up to the couple's discretion. However, there are several factors to consider before deciding whether or not to tip.
First and foremost, it's essential to understand that tipping is a gesture of gratitude for exceptional service. If a vendor has gone above and beyond to make your wedding day special, it may be appropriate to show your appreciation with a tip.
The amount you tip will depend on various factors, including the vendor's level of service, the size of your wedding, and your budget.
PRO TIP:
Using The Wedding Ring Vendor Tipping Guide (see below), factor in gratuities into your wedding budget. This should help you answer Should I tip my wedding vendors?
It's also important to note that some vendors may already include a gratuity fee in their contracts. In this case, tipping may not be necessary, but it's always a good idea to double-check with the vendor to avoid any confusion.
When deciding which vendors to tip, consider those who have had a significant impact on your wedding day. For example, your wedding planner, photographer, and DJ or band may have worked tirelessly to ensure everything runs smoothly.
On the other hand, some vendors may not expect a tip, such as your florist or seamstress. However, if they have provided exceptional service or gone above and beyond the call of duty, you may want to consider tipping them as well.
If you do decide to tip your vendors, it's important to do so discreetly and in a way that is convenient for you and the vendor. For example, you may choose to provide cash in an envelope or add a tip to your final payment.
Ultimately, tipping your wedding vendors is a personal decision. Use The Wedding Ring Tipping Guide as a quick reference to determine the who, how much, and when of wedding gratuities. This should help you answer, 'Should I tip my wedding vendors?'
DON'T FORGET THE BEST WEDDING VENDOR TIP OF ALL
A review! After the wedding be sure to leave reviews on the various platforms that your vendors are active on: Google, Facebook, & TheWeddingRing.ca are three of the most common.
Don't Forget to Feed Your Vendors! It is not just an etiquette courtesy to give your vendors a hot meal during your wedding, it is a necessity if you want them to give you their all. While vendors rarely have the time to stop for a meal, if they can get a quick break for some nourishment, that will allow them to put their best foot forward during your event!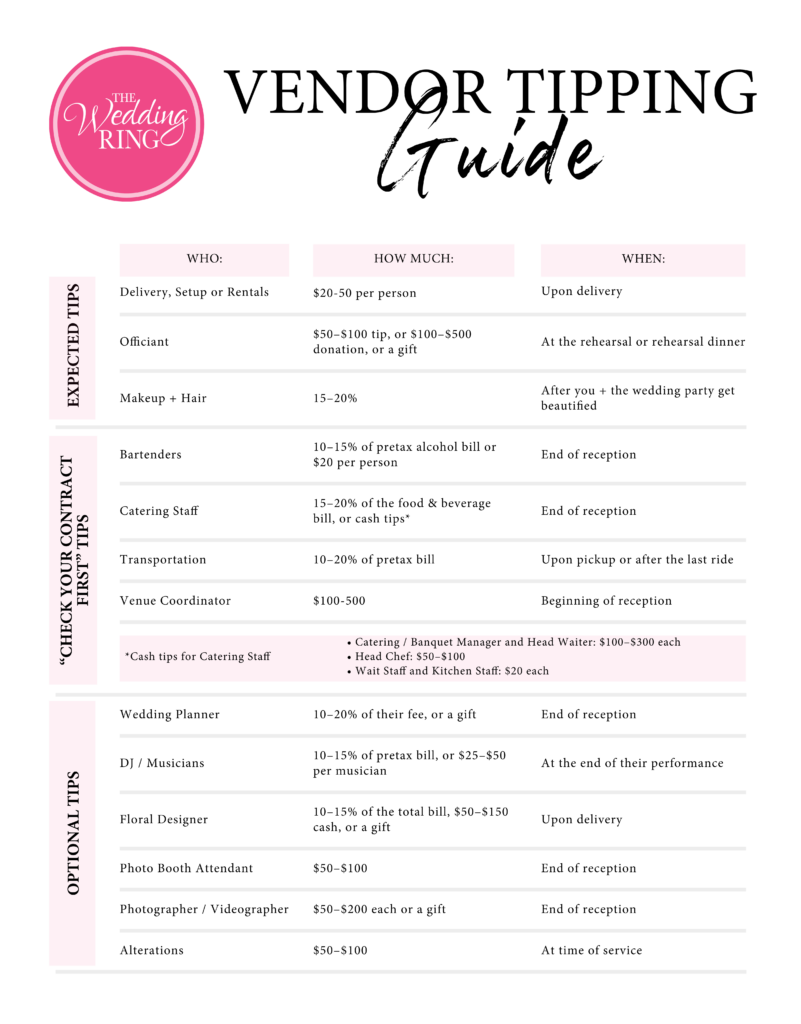 As seen in the Fall/Winter 2023 issue of The Wedding Ring Magazine