LOCATION: Oakwood Resort (www.oakwoodresort.ca) Grand Bend, ON
PHOTOGRAPHY: Woodgate Photography (www.woodgatephotography.com) London, ON
FLORAL: Time 4 Flowers (www.time4flowers.ca) London, ON
DÉCOR: Devine Wedding Design (♥) (www.devineweddingdesign.ca) Mitchell, ON
GOWN: Once Upon a Time Weddings (www.onceuponatimeweddings.ca) Strathroy, ON
HAIR & MAKEUP: Blush (www.blushhmua.com) London, ON
COORDINATION: Events with Kait (@eventswithkait) London, ON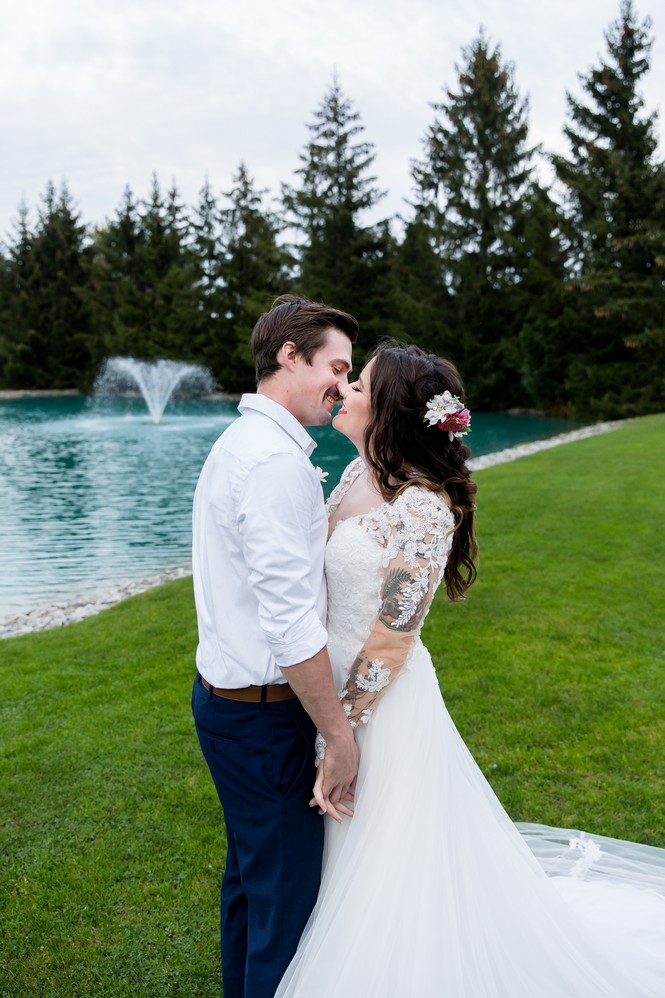 INSPIRATION: "When we decided to create a style shoot, we wanted something that embodies the current attitude of our wedding planning couples. After two years of cancellations and postponements, we love seeing so many couples embracing wedding planning with enthusiasm again. This return to optimistic wedding planning brings with it a flexible "anything goes" attitude. There are no rules anymore. If you want spring flowers and classic gold cutlery and candlesticks, you can have them. If you want the richness of hunter green with the lightness of pale blue, it's yours. If you want rustic elegance and modern chic combined, you can have that too!" – Erin from Woodgate Photography
"The versatile Oakwood Resort offers a backdrop that allows couples to imagine their 'destination wedding close to home' in whatever style or theme they're dreaming of." – Oakwood Resort. Jumping on the anything-goes theme, Rosemary from Time 4 Flowers incorporated soft romantic spring florals with lots of texture to compliment the pale blue linens and rich green accents. Wendy from Devine Wedding Design added gold candlesticks and cutlery to tie in the beautiful chandeliers. The woven placements and wood name tags unite the wood beam ceiling and stone fireplace.
For the bride, Erica from Blush went with a classic, natural look to complement the timeless elegance of the lace gown from Once Upon a Time. "Soft cascading curls with a rosy, red lip and luscious eyelashes really set off this look." "No matter what your style or theme or overall look is, remember, the ultimate goal of your wedding is to marry you person, your partner, your one. And that will always be beautiful." – Events With Kait
Special Thanks to Georgia and her fiancé Garrett (and their daughter, Rowen) who are springing into their own wedding plans in 2022.
Featured in the Spring/Summer 2022 edition of The Wedding Ring Magazine
FIND OUT MORE ABOUT OAKWOOD RESORT | To speak with Oakwood Resort about your wedding options, you can reach them using the form below.