Inspiration
Step into a world where enchantment and elegance intertwine. Where every petal holds a secret and the air is tinged with a touch of magic. Welcome to our Whimsical Garden Fairytale wedding. A mesmerizing journey into a realm where dreams come alive and love blossoms like the most delicate of flowers.
In this garden fairytale wedding setting, the bride becomes the heroine of her own story. Dressed in gowns that mirror the romance of the garden itself. Soft tulle and intricate lace embrace her like the embrace of nature, while each gown carries the whispers of a timeless love story. As sunlight filters through leaves and flowers, it casts a gentle glow upon her, illuminating the joy and anticipation in her eyes.  
Trends
A notable trend in the bridal bouquet world is the shift towards smaller, more impactful bouquets, often featuring a single type of flower in abundance. This allows the bouquet to accent the bride's wedding gown rather than overpower or detract from it. Inspired by the lush greenery and white blossoms of the Crystal Garden, these bouquets embody simplicity and sophistication featuring elegant white roses and fresh eucalyptus.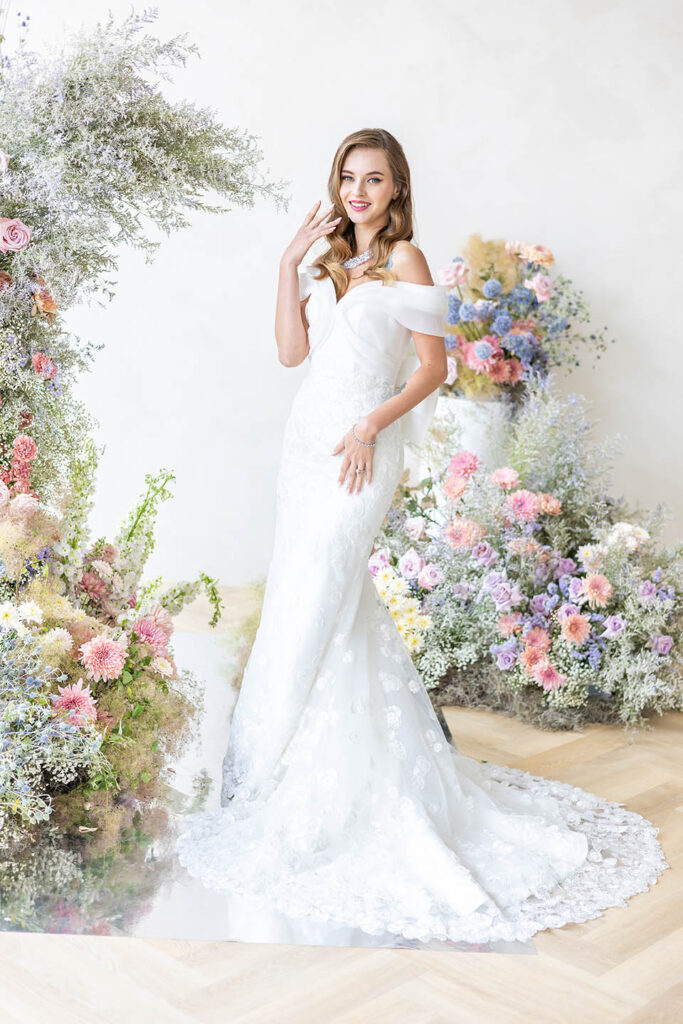 Join us as we capture the essence of love in this enchanted garden. Where every gown tells a tale and every photograph captures a moment suspended in time. Let the flowers and the rustling of leaves be the inspiration to our visual fairytale, as we unveil the delicate details and sweeping silhouettes that embody the spirit of this whimsical celebration of love.
Photography: Ocean Blast Photography
Make-up: Make-up by Anu
Hair: Instyle by Myriam
Wedding Gowns: Chicely
Accessories: Shop Olaeda
Models: @rocksa_ustynenko
Bridal bouquets: Token Blooms
Floral decor: Blush and Bloom
Studio: Mint Room
See more wedding inspiration on theweddingring.ca
FIND OUT MORE ABOUT OCEAN BLAST PHOTOGRAPHY | To speak with Ocean Blast Photography about your wedding options, you can reach them using the form below.