If you're looking for a black and white wedding theme, Ironwood Cider House might be the perfect spot! Ironwood is a new wedding venue in Niagara-on-the-Lake. The building is Hudson Yards-inspired with a black and white aesthetic, floor-to-ceiling windows, and concrete bars. This minimal aesthetic ensures the art being featured in the gallery as well as your wedding decor becomes the main focal point. Ironwood Cider House is beautiful all year round. With the large windows you can see a winter wonderland or a beautiful green landscape. They will be able to accommodate you anytime of year. Can you imagine standing in front of a wall of floor-to-ceiling windows looking out on beautiful scenery and saying your vows?!
The Art
The art exhibits change throughout the year and give a different feel to the space and will enhance your wedding theme. Let the art and space at Ironwood Cider House play a role in your wedding decor and enhance your wedding day. Your guests can enjoy looking at the art exhibits while they enjoy your wedding decor. They might find a new found love of art and will have you to thank!
Black and white wedding details
Venue: Ironwood Cider House
Exhibiting pieces by: Chris Louis & Dillon Douglas
Photography: Young Glass Photography
Videography: inatillreece
Decor: Presence Events
Hair: Hair We Go Styling
Makeup: Christynesfaces
Dress: Love Story Bridal
Suit: Collins Clothiers
Florals: Rose and twine floral
Cake: Ali Bakes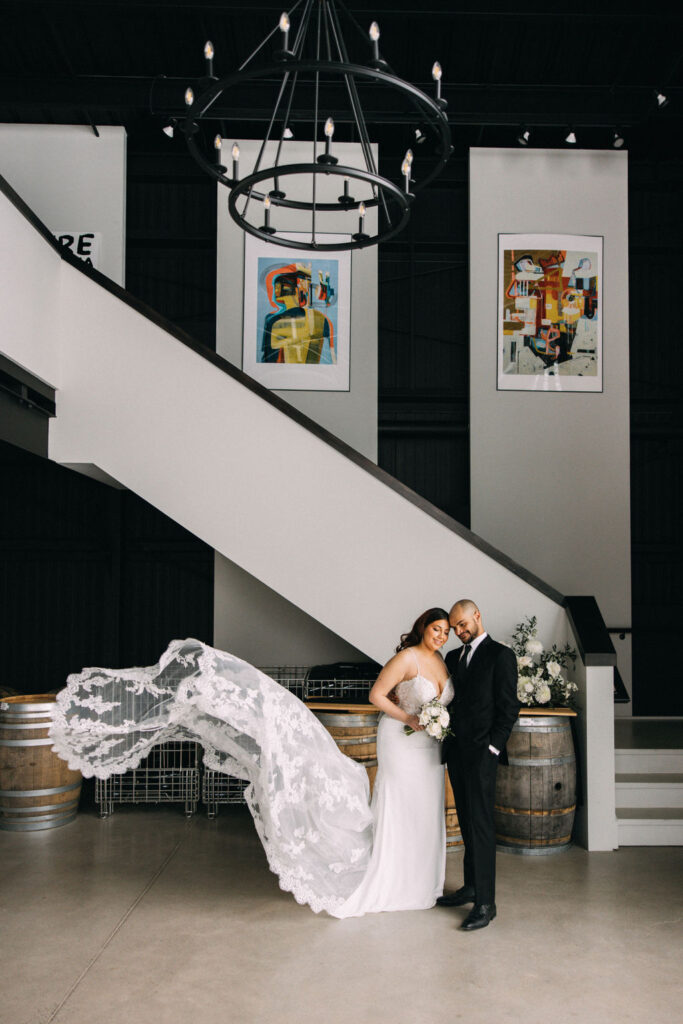 You can find more wedding inspiration on theweddingring.ca!
FIND OUT MORE ABOUT IRONWOOD CIDER HOUSE | To speak with Ironwood Cider House about your wedding options, you can reach them using the form below.