VENUE: Knottingwood (www.knottingwood.ca) Ilderton, ON
COLOUR/THEME: Terracotta, ruby red, dramatic greens & muted yellow
PLANNING, DÉCOR & FLORAL: Rachel & Co Wedding & Event Decor (♥) (www.rachelandco.ca) London, ON
PHOTOGRAPHY: Red Button Photography (www.redbuttonphotography.com) London, ON
VIDEOGRAPHY: Lively Film Creations (www.livelyfilmcreations.com) Grand Bend, ON
CAKE: Angelo's Bakery (www.angelosbakery.com) London, ON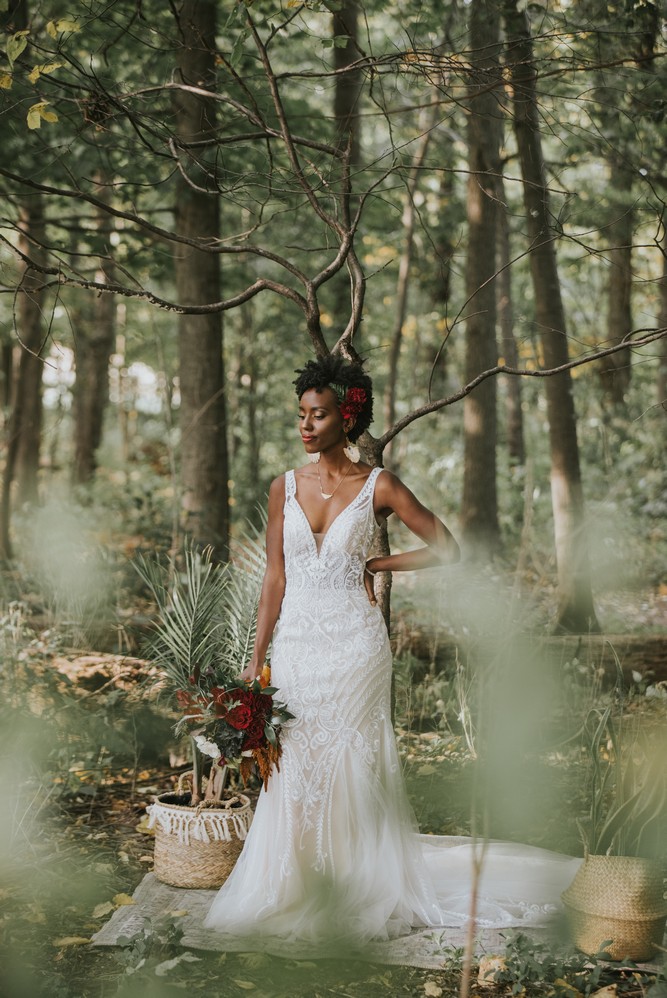 STATIONERY: Lilypad Designs (@lilypadinvitations) London, ON
GOWN: Ballett's Bridal (www.balletts.com) London, ON
ACCESSORIES: Hen + Bear (www.henandbear.com) Neustadt, ON
MAKEUP: Nicole Dupuis Artistry (www.nicoledupuisartistry.ca) London, ON
BAND: MissFly & Groove Therapy (www.agirlnamedmissfly.com) Hamilton, ON
INSPIRATION: "When we started our planning for this styled shoot we knew we wanted to create a visual story with warm and vibrant elements brought together to compliment the natural beauty of the Fall season. In our palette, we choose terracotta, ruby red, dramatic greens, and muted yellow as all of these colours play a significant role in the magic of this season. We choose our vendors based on their ability to "tell stories" and create memories that would last a lifetime regardless of the number of people on your guest list…and they did so effortlessly." – Rachel & Co.
Featured in the Fall/Winter 2021 issue of The Wedding Ring Magazine
FIND OUT MORE ABOUT RACHEL & CO. WEDDING & EVENT DECOR | To speak with Rachel & Co. Wedding & Event Decor about your wedding options, you can reach them using the form below.