Devine Wedding Design (♥) (www.devineweddingdesign.ca) Mitchell, ON tells us how they transformed this family farm drive shed to a chic wedding venue.
"Jordanna and Scott were married on July 31st, 2021 on their family farm and it was a design we won't soon forget! Coming to us with a specific vision in mind, our team was shown photos for inspiration and were asked if we could execute it… The answer was "of course, we could" and we were busting at the seams to see it come together for this lovely couple.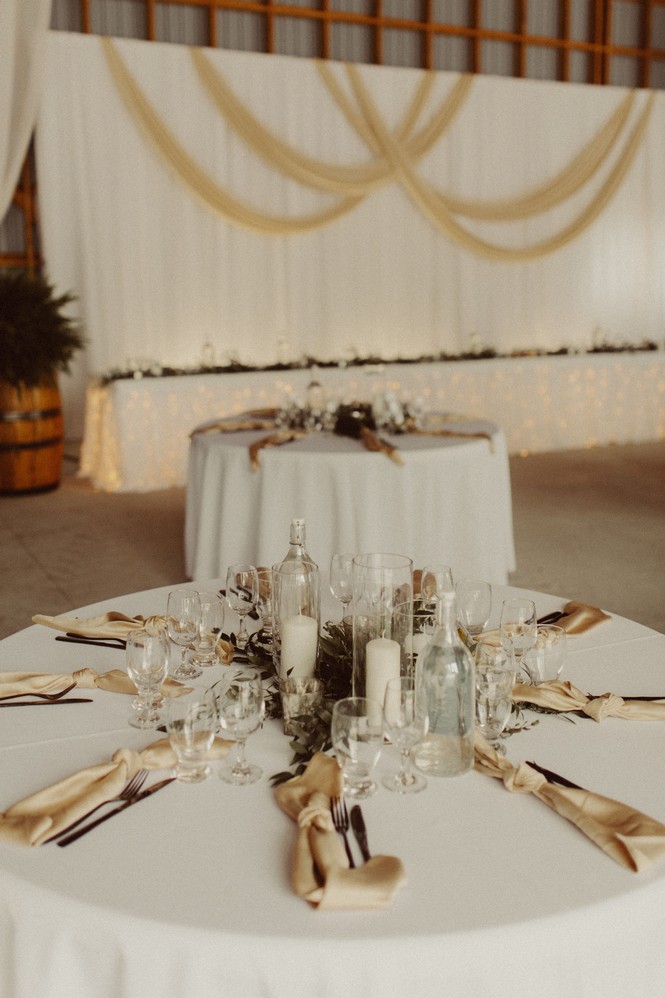 We created a stunning whimsical backdrop in champagne and cream emphasizing the head table and installed wall draping over the entire space to soften the rustic wood of the drive shed. To welcome guests into the romantic evening, we designed custom fabric draping on the large shed doors making it the ideal photo-worthy landscape.
Keeping their vision top of mind, we selected tables, chairs, linens, and dinnerware accordingly from our vast line of rental items and the room was flawless. With some black draping to close off the space, and ceiling lighting to emulate a fantastic starry night atmosphere, this event was one for the books! It truly couldn't have been more magical.
There is something about COVID weddings that have brought out the best in creativity and design! Changing a not-so-wedding-worthy space into a stunning décor scape leaves a beautiful reminder that home is the best place to be with family and friends when celebrating any special occasion. Sheds were popular before, but now… homegrown weddings are taking the industry by storm and the blank canvas allows everyone to dive deep into their imagination." – Devine Wedding Design
Featured in the Spring/Summer 2022 edition of The Wedding Ring Magazine
FIND OUT MORE ABOUT DEVINE WEDDING DESIGN | To speak with Devine Wedding Design about your wedding options, you can reach them using the form below.