The Financial Diva helps you plan the wedding of your dreams without going into debt
Reviewing Risa Andersen, The Financial Diva| Photo above: Beatriz Pérez Moya

The Financial Diva helps take the financial worry out of wedding budgeting. Wedding planning is filled with exciting choices, from choosing the venue, photographer and caterer to finding your perfect dress, cake, flowers and décor. Together, all these decisions make up the wedding of your dreams, but how many brides dream of being in debt?
As a financial advisor and certified wedding planner, Risa Andersen is licensed in all aspects of insurance and savings plans. As the Financial Diva, Risa has been helping clients since 2002. Not only does she help couples determine a realistic wedding budget, she also helps them determine a plan to ensure the cash is readily available on their wedding day, so they can avoid incurring debt.
Staff at the Ring sat down with Risa Andersen to learn how brides can have the wedding of their dreams without incurring debt.
About the Financial Diva…
For over 14 years, Risa has enjoyed helping clients with their insurance and financial planning.
"When helping with debt management, I found that the debt had all started with their one big day – the wedding. I decided that there had to be a better way, so I started working with couples prior to the wedding to assist in not going into debt and starting their new life, debt-free.
Risa knows that getting married can be expensive, but she also knows that you don't have to go into debt. "I saved and planned for my own wedding which was all paid in cash," she says.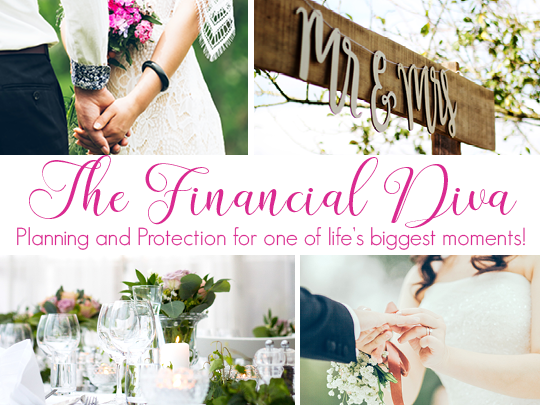 What the Financial Diva does…
Risa assists couples with their wedding budgets. Everything from what they want to spend, determining whether it's a realistic spend, and ensuring that the cash is ready by the day of the wedding. But that's not all Risa does. "If everyone is happy with our services, we are able to assist further along the way up till retirement," Risa explains.
What inspires Risa about what she does is knowing that what she does helps couples start their new life debt free and with less stress. After so many weddings, giving her clients a better head start on their happily ever after is Risa's reason for going to work each morning. "I have worked with many couples in the planning and saving aspects," she says, adding that she's picked up many tips and tricks along the way to reduce cost, without having to sacrifice their special day. "They are still able to have the wedding they desire and dream of."
Risa describes herself as a very creative and organized person who thinks outside of the box in order to provide all clients a plan in the most efficient and effective way. "I think couples see the value in me handling the financial aspect of the wedding," Risa admits. "It allows them to focus on the fun part of the wedding."
Planning a debt-free wedding…
According to Risa, the two most important products she offers are the saving plans and the wedding insurance.
The saving plan allows Risa to determine where a couple is with their savings, so she can keep them accountable and adhere to the budget of what they want to spend for the wedding and how much they have set aside.
The wedding insurance is to ensure a couple has insurance coverage in case of unexpected or unforeseen issues or situations. "No one budgets for two dresses, two venues, two cakes, two photographer," admits Risa. "If bad things happen, the couple will not have to be responsible for the second item."
"I provide an interactive budget that we are all able to see, update and manage," she says. A plan of what needs to be saved or paid each month. The money is then set aside in a savings plan until the vendors require payment.
How much do financial services cost?
"There is no cost to the couple for my services," Risa explains. "I choose to be a complimentary service and all the insurance and investment companies pay me for the services that I am able to provide to couples." I also provide free budget tools on my website www.thefinancialdiva.ca and I have just released my new blog to help provide my clients with tips and tricks to keep them on the right financial path.
Three biggest selling points…
She's all about weddings: With the completion of her wedding planning certification, Risa is equipped with the knowledge of the wedding industry and can help her clients cut out needless costs and still plan the wedding of their dreams. She's unaware of other financial advisors that are specifically focused on financial wedding planning, which makes her unique.
No one is as passionate about wedding finances as Risa!! The Team at The Ring have worked with Risa on a multitude of wedding shows, and have no doubt that Risa loves what she does. She enjoys watching couples plan their big day while she takes care of the financial planning for them.
Experience: The Financial Diva has been in business since 2002 and has also obtained her wedding planning certification and FIC designation. Throughout the years she has helped many clients eliminate the financial stress normally associated with weddings. As your financial coach Risa is your resource as you embark on all adventures that will unfold.
Contacting The Financial Diva
To learn more about The Financial Diva, contact Risa Andersen directly by email using the form below. 🙂 You can also visit The Financial Diva online at www.thefinancialdiva.ca and follow her on instagram @thefinancialdiva.