Guest post by Moissy Fine Jewellery
Despite one of the happiest industries being hit hard by the COVID-19 outbreak, brides and grooms around the world have continued to pop the question and walk down the (albeit virtual) aisle, and the team at Moissy Fine Jewellery want to ensure this trend continues!
It goes without saying that budgets have been tightened as a result of the uncertainty, but that doesn't mean the sparkle of a dream wedding needs to fade. Moissy Fine Jewellery brings the latest bridal trend in the industry – moissanite engagement and wedding rings – at an affordable price.
For the ethically and eco-conscious brides and grooms out there, non-traditional – including lab-created diamonds – are increasing in popularity and moissanite is quickly gaining traction among this predominantly millennial generation.
So what exactly is moissanite, I hear you ask?
Moissanite is a naturally occurring gemstone that is created in a lab, which means it has significantly less environmental impact than diamonds do. It's high refractive index (sparkle, to you and I) is higher than any other gemstone on the market and is the second hardest.
Costing 80-90% less than a traditional diamond, moissanite still tests like a diamond in that it is guaranteed to never cloud or change colour and for the eco-friendly bride who wants to cut down on her carbon footprint, moissanite is the perfect alternative.
About Moissy Fine Jewellery
Moissy Fine Jewellery is the brainchild of co-owner Colleen Montague aka Mrs. Moissanite. Colleen and her husband Lloyd own a store in Toronto, one in Arizona (which is the birthplace of moissanite) and are opening a new location in Ottawa on November 6th, 2020.
Colleen is a gem expert who is disrupting the multi-billion dollar industry with her designs, and she is proud to be the owner of the only fine jewellery company in North America that specializes in 100% moissanite. However, Moissy works with a wide array of gems, including 14K, 18K and Platinum metals for all jewellery pieces. You may be surprised at how many red carpet celebrities and music artists are dripping in bling that is actually moissanite. The secret is slowly getting out on how to shine without breaking the bank – and the millennial bride is leading the way in this industry trend.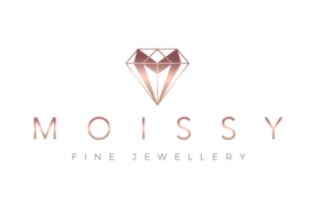 Website: www.moissyfinejewellery.com
Facebook: @moissyfinejewellery
Instagram: @moissyfinejewellery