Online Marketing in The Wedding Ring has always been a game-changer. Our new packages ensure that everyone has an opportunity to show off their expertise to our enormous communities of local, engaged couples.
These packages are all you need to share your brand, products, expertise, and news with the wedding community of your choice, year-round. TheWeddingRing.ca offers vendor profiles and listings, with a variety of options depending on your budget. From our platinum concierge online marketing package where we take care of it all for you the more DIY approach of the Silver and Gold package, you'll find the package that is right for you.
Online features renew every 365 days with price points starting at complimentary ($0) to platinum ($1400). Our new Gold package is only $695 and is sure to be a huge hit with Expo Exhibitors who want to extend their targeted reach from the one-day wedding expo to the almost unlimited reach that online can deliver. Here is what is included in each option.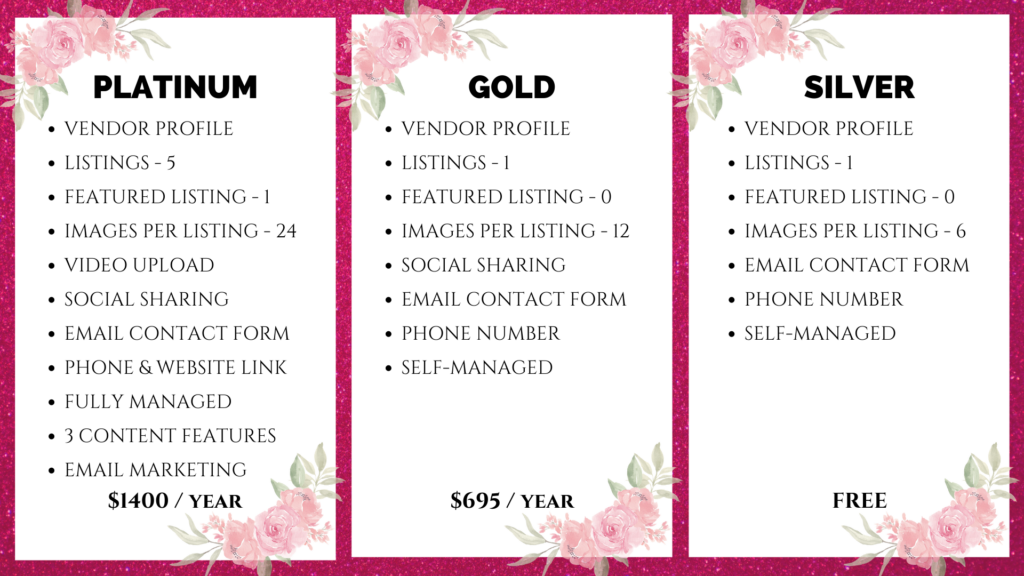 (Limited number of packages available per category per city.)
FAQs
What is a Listing? Do I need more than one? A listing tells the story of your business and the product and service you wish to offer. Who you are, how long you've been in business, specifics, and prices, booking details, etc. While one listing could be enough, some companies may wish to feature their expertise separately. For example, a DJ may wish to feature photo booths and DJ services. A hotel may wish to feature both its venue well as its accommodations.
What is a Featured Listing? Featured listings show on the main page of The Wedding Ring. Featured listings are only available as part of the Platinum package.
Self-managed vs Fully Managed? When you select the platinum, fully managed online campaign, the team at the Ring takes care of everything! Writing, editing, uploading photos and videos, etc, as well as edits throughout the year. You provide the materials, we'll take care of the rest. Perfect for the busy vendor with enough on their to-do list. Self-managed works for the vendor who wants to be in control of all the details. Log in to your vendor profile to create and edit your listing.
3 online content pieces are included in the Platinum Package ($1400). These content features are also fully managed by the Ring team and can include real weddings, design palettes, favourite things galleries, or expert tips. Content opportunities may also be available at select times of year for everyone. See examples of content pieces here:
Social sharing is included in both the Gold and Platinum Packages. Here is a great example of a content piece that tags and links to wedding experts. Your listings may also be shared.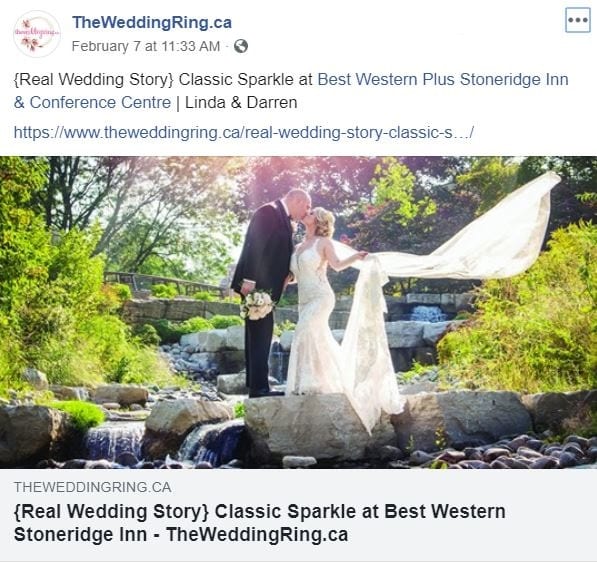 Want to know more? Email Anne at The Ring or fill out the form below!