Guest Post by: Isabelle Marinier associate editor at EyeBuyDirect
Photos courtesy of Pexels.com
Looking for destination wedding ideas to fit any budget? Beneath the rainbow-colored bliss, somewhere in a foreign land, couples tie the knot. Whether on a tropical beach or amidst the mountains, the scenery serves as a stunning backdrop for the celebration of love. However, choosing the right decor to complement the surroundings can be challenging, especially with a limited budget.
This article will guide engaged couples on decorating a destination wedding venue within budget.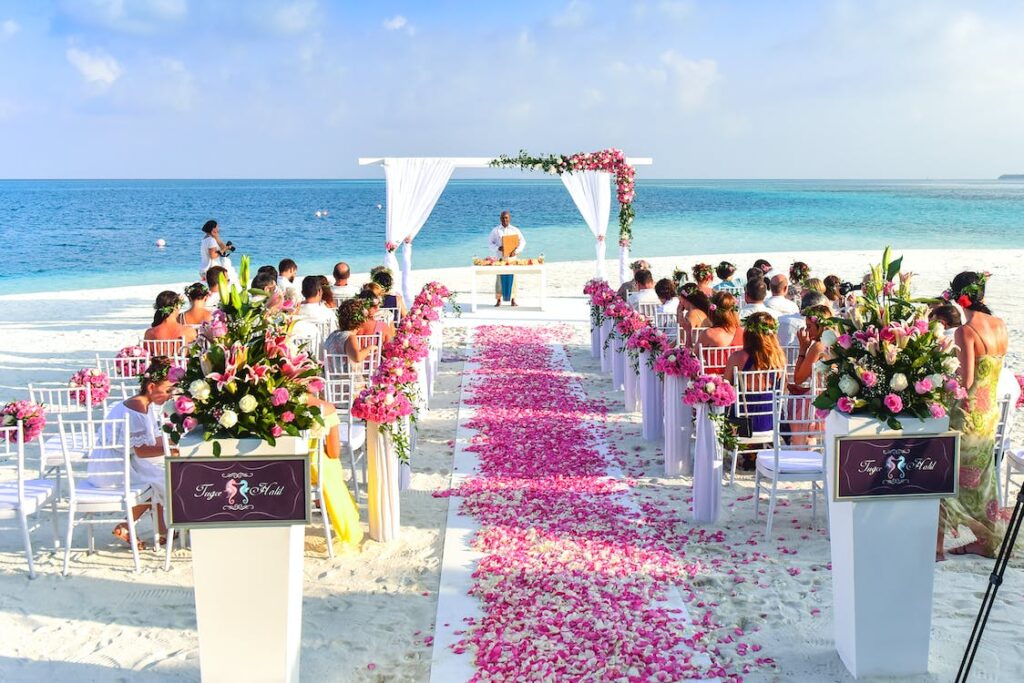 What is a Destination Wedding?
Unlike a traditional wedding, a destination wedding is held in a different country than the couple's hometown. Destination weddings typically involve traveling for couples, family members, and guests. However, deciding whether a destination wedding is right for you can be a challenging task. It's important to remember that a destination wedding can also be more costly than a traditional wedding, as it involves additional travel expenses and accommodation for both the couple and their guests. Overall, whether a destination wedding is right for you depends on your preferences, priorities, and budget.
Destination weddings have gained popularity in recent years as they offer a unique experience beyond traditional ceremonies. It offers an intimate and personal celebration, surrounded by breathtaking scenery and new cultural experiences.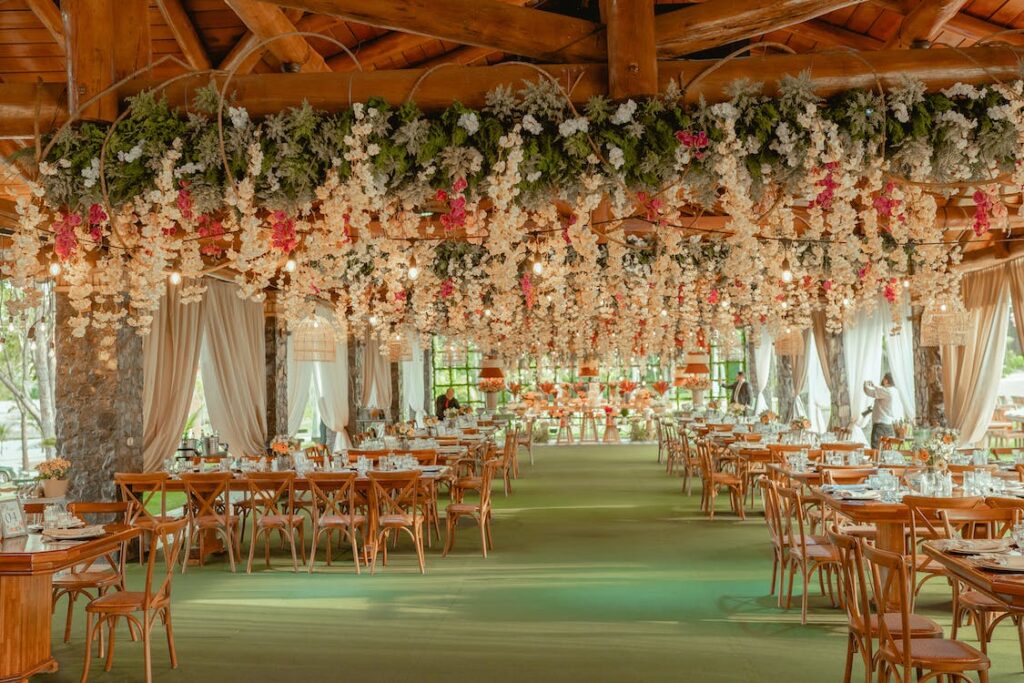 Understanding Your Destination and Venue
Once a location is set, brides and grooms should familiarize themselves with the destination's culture, weather patterns, and language barriers. Next, it's time to research venues by gathering information about the available options, such as services, amenities, and capacity; it helps couples determine the scope of their wedding plans and make informed decisions. It's also important to research local holidays and events to ensure all necessary arrangements are made well in advance, avoiding unexpected surprises.
Seaside Soiree – A Dreamy Beach Wedding
A beach-themed wedding is quite endearing; something about the blue inspires warmth. The good thing about a beach wedding is that the landscape can be incorporated into a decorative backdrop. With a few chairs and a lovely arch, throw in some floral stands and decorate the table with seashells to set the scene.
Brides can match their dress to the beach theme by wearing a blue-tinted underskirt, adding a blue hue. However, the lovely beach has an extra side dish of UV rays. We implore brides to wear UVA and UVB rays-blocking sunglasses to guard their eyes against the harsh sun.
Not only do sunglasses provide protection from the sun, but they can also add a touch of style and sophistication to a beach wedding. Brides can opt for glamorous oversized sunglasses with embellishments such as crystals or pearls, while grooms can choose stylish and modern frames that match their attire. Having fashionable sunglasses can also make for great photo opportunities, especially during a beach wedding ceremony. A candid shot of the couple or the bridal party wearing matching sunglasses can add a fun and playful element to the wedding album.
In addition to style and aesthetics, sunglasses can also serve as thoughtful wedding favors for guests. Providing customized sunglasses with the couple's names or wedding date can be a practical and memorable keepsake for guests to take home. It can be a fun and unique way to make your wedding stand out while also providing practical benefits for you and your guests.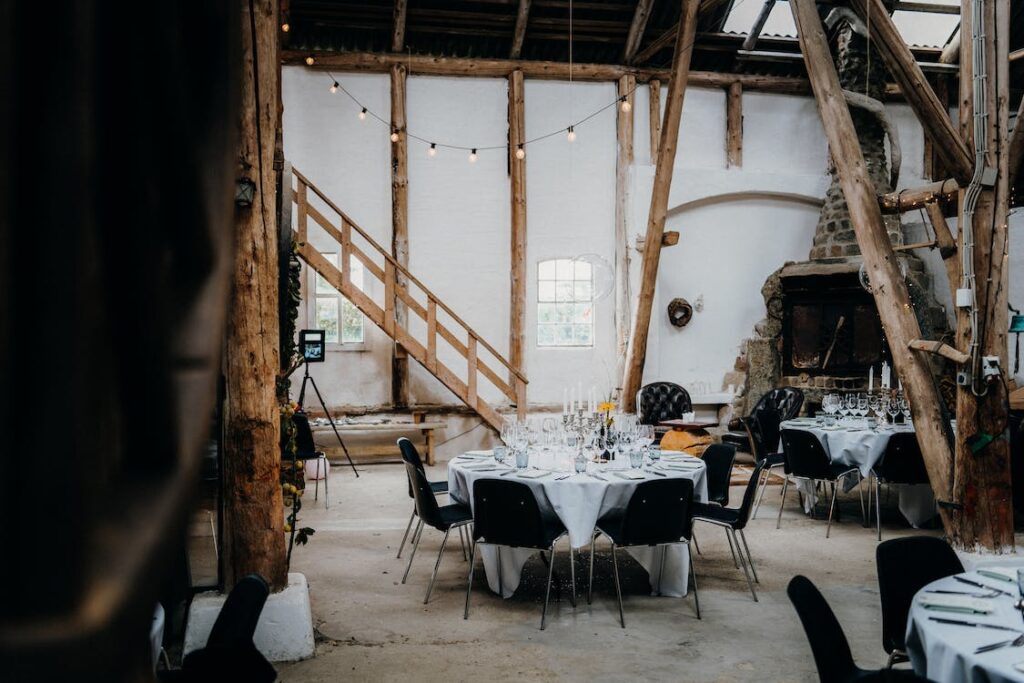 Vineyard Vows – Creating a Romantic Wedding Among the Grapes
Surrounded by the burgundy among the grapes, a vineyard wedding doesn't have to be costly. Some vineyards offer an affordable deal for hosting wedding ceremonies. It's important to consider a few key factors, such as the types of wine they offer, whether the venue is all-inclusive, and whether children are allowed.
In terms of decor, it's wise to inquire about both indoor and outdoor options, as well as seating arrangements. A fun and creative idea is to incorporate vineyard elements into the overall theme of the wedding. For instance, wine barrels can be repurposed as seats, while custom wedding invitations can feature illustrations of grape clusters to set the tone for the special day. Photographers can implement wine bottles into the photos for a rustic vibe when taking wedding shots.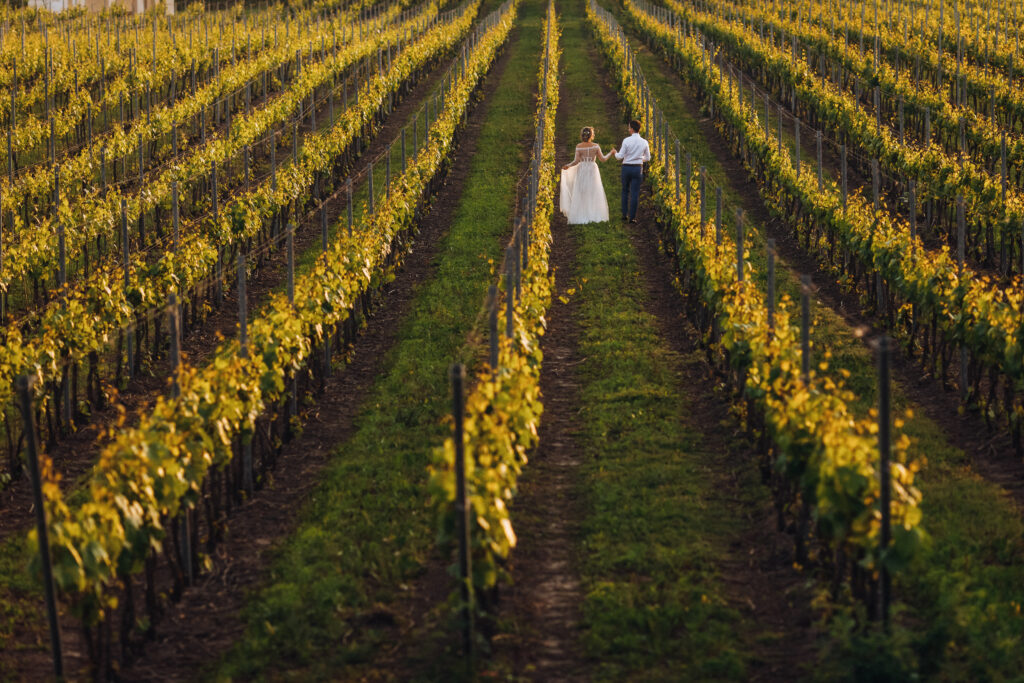 Destination Paradise – A Non-Inclusive Resort Wedding
Opt for a resort wedding to exchange vows in a paradise-like theme. When selecting a non-inclusive resort for the wedding, it's important to research the location and the available accommodations for the guests. Moreover, consider the weather and the season when planning the wedding.
Unlike an all-inclusive wedding venue, a non-inclusive allows room for creativity and preferred choices. A bride can mix and match her wishes and plan her dream wedding on a budget and stick to resort prices. Brides can also choose their decorations and hire vendors for different options and prices.
Sky-High Nuptials – A Stunning Rooftop Wedding
With the view as the focal point of this wedding, the modern set of a rooftop naturally suggests a certain theme. Brides should stick to a color palette that's natural and suggestive of the location. Use minimal décor. Brides can play around with table settings and fashion a natural accent to the location with some greenery.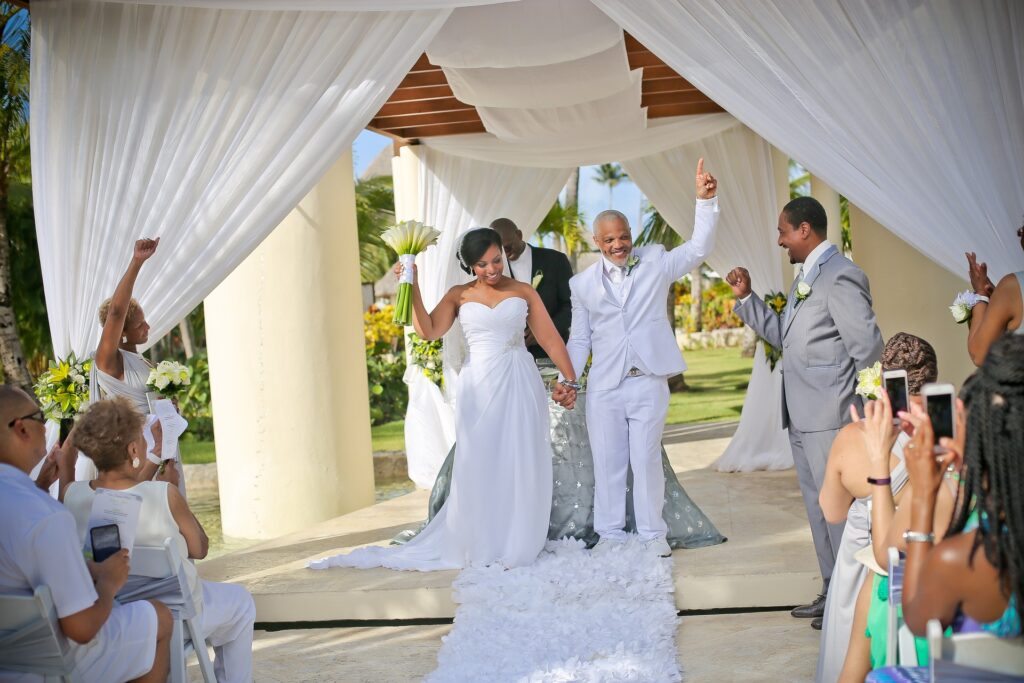 Factors to Consider When Planning Destination Wedding Décor
Keep it simple, and remember that sophistication is best expressed with minimal effort. When planning your destination wedding decor, consider the venue and location, as they will play a significant role in setting the aesthetic tone. You can use the natural beauty of the surroundings to your advantage and keep the decor understated.
Balancing Your Wedding Decor with the Natural Surroundings
The venue will provide various distinct features depending on the location. Engaged couples may want to add their touch, and they can achieve that with simple decorative handmade pieces and floral bouquets that match the season and colors of the venue. For extra ambiance, couples can use candles to light the aisle or decorate tables.
Choosing a Color Palette That Works with Your Wedding Style
Brides can surprise guests and let their diamond ring be the motivation behind the color palette of the wedding. If the bride has a white gold or platinum ring, then tones like blues, grays, and silvers are best suited for the wedding decor. If the ring is goldish, then warm color pallets are a great match for the wedding theme.
Remember to customize your diamond wedding ring ahead of time to fit the decor, weather, and bride's personal style is an excellent way to ensure that the ring will shine on the big day.
It's also worth considering the season in which the wedding will take place. For a winter wedding, jewel-toned colors like emerald green or deep navy may accentuate a white gold or platinum ring, while a summer wedding may call for brighter, pastel shades to complement a yellow gold ring. Ultimately, choosing colors that complement the ring can help create a cohesive and polished look for the entire wedding celebration.
Overall, personalizing the wedding ring allows the couple to express their individual style and create a one-of-a-kind piece that will be treasured for years to come. By considering the decor, weather, and bride's preferences, the ring can be tailored to fit seamlessly into the wedding day and make the moment even more special.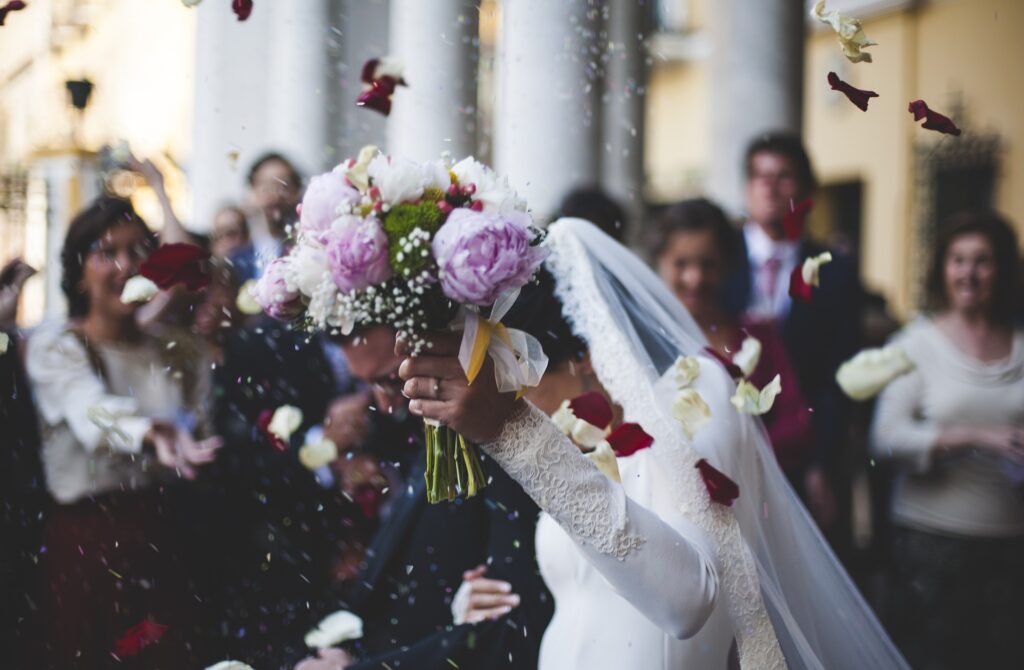 Tips for Choosing the Right Budget-Friendly Destination Wedding Décor
Engaged couples should prioritize simple but important details. Simple things like table linens, runners, and centerpieces can go a long way and create the ideal essence. Brides and grooms can toy around with vases holding centerpieces and use glass bud vases for a tight budget.
Here is a short list of tips we put together for couples aiming for a destination wedding on a budget:
1. Look for locations with natural beauty
2. Use local flowers and greenery
3. Choose a theme that complements your destination
4. Rent décor items rather than purchasing
5. Get creative to save money
6. Consider DIY options
7. Work with the natural surroundings
8. Keep your guest count in mind when choosing décor
Lastly, remember that the location will cover most decorative items, so simple and basic elements are key to a successful destination wedding for the happy couple.
Searching for more Destination Wedding inspiration? Check out the Destination Wedding section!