About
The Windsor Arms first opened in 1927, when hotelier William Arthur Price wanted to create a stylish new hotel in Toronto. It is said that he wanted a design that fused together the classic Victorian architecture that could be seen in the buildings of nearby University of Toronto with a neo-Gothic style that spoke of history and elaborate design. After years of operating as a successful hotel and culinary establishment, the Windsor Arms fell into disrepair and closed in 1991. It was later reopened in 1999, after complete renovations. The renovations were done with a similar philosophy to what its original proprietor had in mind: to fuse together two striking styles. This time, however, it would be a melding of historical elegance surged with modern amenities.
Some of the main reasons that brides come to us is because of the décor, the ambiance, and the character. Our brides are looking for something intimate and personable. With soaring fifty-foot ceilings, expansive crystal chandeliers, and both regal and contemporary furnishings, the Windsor Arms' style creates a lasting impression. With a look like this, it's no wonder that the first Toronto International Film Festival was held here or that it's the site of many fashion shoots. "It's got a really nice history behind it,".
And beyond that, it's situated in a great location. Nestled on St. Thomas Street, in the heart of Yorkville, this venue is easily accessible by multiple routes of transportation. With the charming shops of Yorkville nearby, as well as the vine-covered buildings of U of T, it's no wonder that many a bride falls in love with the neighbourhood, too. "We've got a great surrounding area for pictures, it really is the perfect location, both inside and out."
Products & Services
The look and feel of your wedding location is of the utmost importance to a bride and groom looking for a gala affair. That said, the nature and service of those that work behind the scenes at your venue counts too. So added to the Windsor Arms' amazing look is that the staff give each couple their undivided attention, from the day you book with this venue, right until you exit the hotel following your wedding night stay in a complementary suite. "We're with you from the start of wedding planning until the end. I think it's extremely important that I'm there from day one so that I know everything that should happen,". That includes being there on the actual day to ensure things run as planned, as well as soothing the honoured guest's nerves. "There have been times when I literally had to get a bride down the aisle. I feel like a psychiatrist sometimes!" she adds.
The Special Event Coordinator does her best to "get to know you," so she can do her best to fulfil your needs and wishes. In order to do this, they book weddings in a way that makes you feel like you're their exclusive client. "If you book with us, you're the one and only wedding on that day. We don't do five at one time. Your event is our focus,".
They work hard to arrange everything suited to you because, like they say, "this is about making it your day." That includes offering a customized menu, including their well-known kosher catering, bar packages, services from their stunning spa, rooms for your rehearsal dinner, and hair and make-up services. "We can get everything under one roof. I like to say that we're one-stop shopping for you and your guests,".
The various rooms and spaces available at this venue allow you to book your ceremony, reception, shower, and rehearsal dinner all at one location. The Courtyard Café is suited to large weddings, while the remaining options are more fitting for rehearsal dinners, showers, and more intimate celebrations.

THE COURTYARD CAFÉ
This space is the main room offered for nuptials. It can be used as both a ceremony and reception space and features massive pillars, a mammoth circle chandelier, and a stunning landscape-portrait painting.
Capacity: 500 for a cocktail reception; 200 people for a dinner reception (with a dance floor)
THE TEA ROOM
One of things the Windsor Arms is known for is its afternoon tea service. But this room can be for more than just a tea party. With its imperial design and stained-glass windows, it calls to mind a royal affair.
Capacity: 30-40 people for a cocktail reception; 18-24 people for a dinner reception
Afternoon Tea: Up to 50 guests

PRIME
This award-winning restaurant has a highly romantic atmosphere. Featuring a grand piano, a wine vault, a room-length bar, and the option of an outdoor patio in the warmer months, Prime is a great spot if you're looking for a melding of contemporary and traditional design.
Capacity: 150-250 for a cocktail reception; 70 people for a dinner reception
THE MEETING ROOMS
These spaces are ideal for small groups, and when used for a cocktail reception, offer guests the option of expanding into the upstairs mezzanine. A satellite bar can be arranged that overlooks the colossal crystal chandelier that hangs over the lobby.
Capacity: 14-70 people, depending on room and set-up
Packages & Pricing
Catering is done onsite and includes an extensive menu that is suited to your tastes. Menu options begin at $65 per guests and includes staffing, but is exclusive of room rental, taxes, and gratuities.
Another option is their dinner buffet, which comes with an appetizers, entrees, and desserts, and includes coffee and tea. It usually costs around $98 per guest.
Finally, the Windsor Arms offers a reception featuring food stations, such as Artisanal Cheeses, Vegetable, Sushi, Risotto, and Caviar and Vodka stations. A minimum of three stations must be selected and station pricing begins at $20 per guest.
The Windsor Arms also features Sweets Tables, which offer a selection of four cakes for $20 per guest, or six cakes for $25 per guest. A Flans & Tarts option is also available, as is an Assorted Cookies, Biscotti & Truffles option, which is $6 per guest.
Details, Details, Details
● Some bonuses offered at the Windsor Arms include: An extensive gym, complete with modern equipment and personal training options; an award-winning twenty-four hour spa, which offers romantic couples' massages (in addition to many other treatments); a salt-water pool, accented by a fireplace, tile mosaics, and marbled pillars.
● An outdoor terrace is located off of the gym area and is perfect for photo ops, as well as a quiet escape with stunning city views.
● Room blocking is offered for wedding bookings.
● Valet parking is available for an additional charge, as is wine corkage.
● Deposit amount is based on your contract and discussion with the team at Windsor Arms hotel.
● It's best to book at least one year ahead if you're hoping to get a wedding date in prime wedding season, but weddings in off-season can be booked on shorter notice.
● After you come in for a tour and have an initial chat with the coordinator, she says, "You'd be amazed how much of your wedding details can be done by email!" She is also available for visits and phone calls.
Couple Reviews
Please login to add your review
Vendor Profile : Windsor Arms Hotel
Luxurious castle setting and attentive service are pillars of the Windsor Arms Hotel
The Windsor Arms Hotel is well-known for its lavish and grand style. It's been the host of countless upscale events and parties and has won multiple awards for its onsite restaurants and spas. It's known to have the likes of George Clooney and other celebs meander it's halls during TIFF and, if that's not enough to convince you of this venue's eminence, then the devoted attitudes of the staff at the Windsor Arms surely will.
You May Consider These Items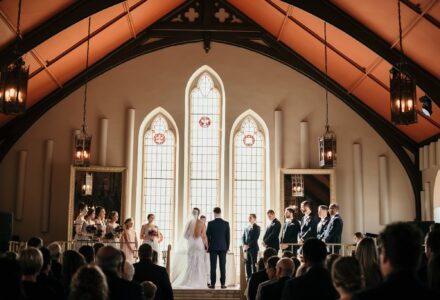 70 Brunswick St, Stratford, ON N5A 6V6
6015 Hwy #89 , Alliston, ON, Canada, ...
© 2023 The Wedding Ring All rights reserved.