About
The Grey Silo Golf Club has been in operation since 2001. It joined the GolfNorth Properties family in 2008. Grey Silo is now one of twenty-five golf courses in the area that is owned and operated by GolfNorth. Presenting golfers with 18 breathtaking holes of championship golf, the links styled course has gained an outstanding reputation and respect from players of all abilities. Grey Silo has hosted the LPGA Manulife Tournament from 2012 to 2014 and many world class female golfers frequent the greens. GolfNorth is also highly involved with the Grand River Hospital for various fundraising events.
You May Consider These Items
552 Ontario St, Stratford, ON N5A 3J3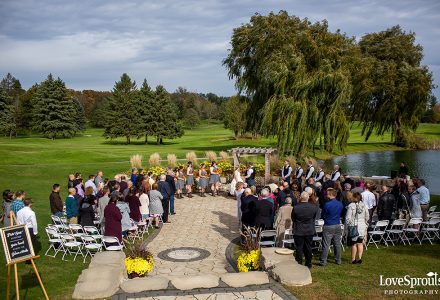 1801 Queen St, New Dundee, ON N0B 2E0
Products & Services
Products and Services
Grey Silo joined the GolfNorth Properties family in 2008. As the Hospitality Manager at Grey Silo, Rochelle is a wealth of information and experience with all things wedding. She is responsible for all events, functions, and weddings held at the club. From setting up the room, greeting the bride and groom and making sure everything goes smoothly for the entire day, Rochelle and her assistant strive to put everyone at ease so they can enjoy the day. It's Rochelle's responsibility to take care of the myriad of details necessary to ensure that brides and grooms can experience and cherish their day, without worrying about the wedding details.
Packages & Pricing
imber Room, the main hall at Grey Silo, features a high, vaulted ceiling supported by massive wooden posts and beams, anchored at one end of the room by a large oak bar and at the other, a magnificent fieldstone gas fireplace. This, the ideal setting for either your on-site ceremony or after service reception and dinner, or potentially both, can accommodate a maximum of 130 people. According to Rochelle, this huge, unique, rustic space, called the Timber Room, is the number one reason brides choose Grey Silo Golf Club, "Our banquet hall is very unique as it is a post and beam construction and is a rustic looking venue." For guests wanting a breath of fresh air during the celebration, the wrap-around deck opens off the Timber Room. Perched high above the golf course, the deck provides the perfect place to enjoy a quiet moment, a cocktail or an intimate conversation. And thirdly, for an afternoon or early evening function, the large windows of the Timber Room flood the hall with natural daylight creating a warm ambiance for weddings. Of course, the large windows also allow for a spectacular view of the manicured lawns of the golf course. All three of these combined elements attribute to a stunning venue.
Details, Details, Details
Vendor Profile : Grey Silo Golf Club
Having earned a reputation as one of the most sought after premium wedding locations in the Kitchener-Waterloo areas, Grey Silo Golf Club offers a rustically unique wedding venue surrounded by the natural beauty of the golf course. Situated along the shores of the Grand River and nestled in the scenic surroundings of Waterloo's RIM Park, Grey Silo offers a unique and memorable setting for that you and your guests will soon not forget.
Aside from the spectacular location, Grey Silo's full service facility offers first class amenities to wine and dine your guests – all delivered by competent professional staff that strive to ensure each and every wedding held at Grey Silo Golf Club helps to continue a couple's journey to happily ever after.
General Questions & Answers
Video
Sorry, No video added by vendor
Couple Reviews
Please login to add your review
© 2023 The Wedding Ring All rights reserved.