About
Rose Bushes, A Fountain and an In House Chapel; No Detail is Overlooked at Graydon Hall Manor.
It was an unseasonably warm autumn day and as such we arrived early to the Graydon Hall Manor, excited to take advantage of the weather and wander the grounds. Scanning the photos on the website we were taken aback by how unbelievably perfect it looked and couldn't imagine that such a place actually existed in real life; just some excellent photography and perhaps a smidge of photo-shopping. Yet as we drove up to the gates we were immediately struck silent. If possible, it looked even more spectacular in person. The fieldstone façade, Georgian proportioned windows and 10,000 square foot flagstone forecourt were literally something out of a movie.
Products & Services
From the moment you contact GHM you will feel taken care of. You will be assigned an event designer who is there, as Nicole stated, from the first tour to the last dance. He or she will help you with all the details essentially serving as your very own wedding planner. In fact it's common for couples who don't live in Toronto (and want to get married at GHM) to have the designer arrange flowers, music and anything else the couple needs.
It is customary for the designer to be very full service and hands-on, offering recommendations for all aspects of the wedding. Whether the size of the event includes 40 people or 240 people (the maximum allowed for outdoor weddings, 180 for indoor weddings) the staff at the Manor is ready. They can advise with decorating although in most cases they find all that is needed are some fresh flowers.
All catering is done onsite by their in house catering company, Couture Cuisine. The food is so highly regarded that many elite organizations have asked them to cater events off site. (The only time anyone ever has another caterer brought in is for a kosher wedding. GHM offers recommendations on caterers who specialize in kosher weddings.)  Also, no need for guests to worry about parking as it is free and there are around 120 spaces. In case of bad weather, the chapel is always available. There is never another wedding or event taking place concurrently. When you reserve the Manor you have exclusive use of the facilities. It is like your home for the day or evening.
Packages & Pricing
When walking on our guided tour of the Manor, we were excited by how much space was included and how many options you had. In addition to the Great Hall area which can be set up as a dining space or dance area, you also have a cozy library off to the side as well as a sun room known as the Conservatory that would be great for a bar set-up. There is also a bridal dressing room AND a groom dressing room upstairs. Although only the bride's dressing room has a Juliet balcony looking out onto the patio. (Sorry fellas!) Nicole Pieckenhagan, the managing director of GHM, who also got married there, says all the above mentioned rooms are included when you reserve. You can also opt to have your wedding ceremony onsite.
There is an indoor chapel (that is so lovely you might actually wish for inclement weather) although most brides opt to marry outside amidst the formal gardens. Just off the terrace is a grassy alee (ideal for a wedding processional) with Lilac shrubs in full bloom in the late spring. On either side of the alee are rose bushes that boast bright white "Iceburg" roses during the summer and fall months. Some couples also choose to have the ceremony in front of the fountain. According to Nicole, out of the 100 weddings they have a year, there are maybe two that choose NOT to have their wedding onsite. A huge draw for many couples is that every detail of their wedding, from pictures, to ceremony to reception can all happen on the premises.
Details, Details, Details
The manor has been the site for many movies and TV shows including Nikita. Also, Vivian Leigh from Gone With The Wind actually attended a New Year's party at the Manor back when it was home to financier Rupert Bain.  Also, the kitchen area was expanded during the renovation. It was originally the home's 10 car garage!
Average Couple Spends: $175 per person
Taxes, Gratuities Fine Print that Applies: HST and a 20% service charge
Deposit Required to Book: the room rental (which depends on the day of the week and the time of the year one books)
Months to Book Ahead: Saturdays in peak season, 18-24 months, Fridays/Sundays in peak season: 8-12 months
Couple Reviews
Please login to add your review
You May Consider These Items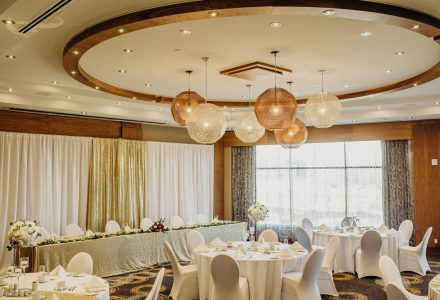 110 Erb St W, Waterloo, ON N2L 0C6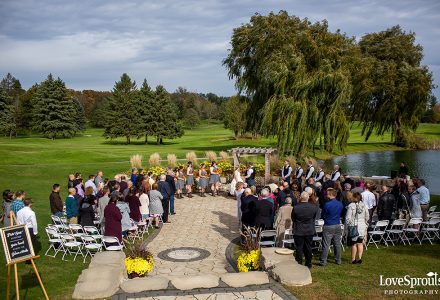 1801 Queen St, New Dundee, ON N0B 2E0
© 2023 The Wedding Ring All rights reserved.