About
Best Western Brantford Hotel & Conference Centre's gorgeous banquet rooms, décor, wedding packages, menus & amazing service makes them one of Brantford's most sought-after venues for weddings, showers, and events.
The Best Western Brantford Hotel & Conference Centre offers an all-in-one venue for your wedding ceremony, dinner, reception, and overnight accommodations. Making it a convenient one-stop shop for everything on your wedding day. A well-known fixture in Brantford for over thirty years, this venue is conveniently located off the 403 just an hour from Toronto and is one of Brantford's most sought-after wedding locations. The Grand Ballroom, with its large, adjustable space, elegant décor, and beautiful crystal chandeliers, is a perfect choice for brides and grooms hosting either a small intimate wedding or a large, plated dinner with up to 500 guests.
To add to its popularity, Best Western Brantford Hotel & Conference Centre offers exceptional value, newly renovated guest rooms, and personalized service for every level of your planning! Red Seal Chef on-site to make sure your menu exceeds your expectations. Here's everything you need to know about this venue…
Products & Services
After your initial inquiry, you'll make an appointment to speak with a member of the events team to discuss menu and bar options and to sign the contract. A deposit is due at booking to reserve your day.
A second appointment is booked six to nine months before your wedding to review your menu, service, and bar options.  At this point, you can also meet the Chef and sample your menu. This is the ideal time to make any final adjustments to your food and beverage plan.
Three months prior to the wedding, you'll meet again to go over all of the details for your big day. You'll chat about everything from the menu to the room set up for your wedding day refining any details as you go along.
From the contract to the wedding day, the team at the Best Western Brantford Hotel is there to help you. If you have any questions along the way, or, would like to view the space again, they're happy to help at any point during the planning process.
On-Site Ceremonies
Best Western Brantford Hotel & Conference Centre offers a variety of spaces for your on-site ceremony. They offer both a beautiful courtyard to several well-appointed indoor spaces.
Devine Receptions
With versatile and flexible space options, the Best Western Brantford Hotel serves small intimate weddings of 25 up to large and elaborate events of 500. While they do offer pre-set menus they're happy to create a custom menu that incorporates your taste, your culture and your dietary requests.
They also offer late-night menu options, showers, rehearsals, and on-site accommodations. The Best Western Brantford Hotel is your one-stop wedding destination in Brantford.
Personalized Service
The events team will assist with seating for your guests as well as music and ceremony timing. "We meet with the M.C. and the D.J. or band and go over the evening's agenda. When the wedding party is ready for their grand entrance, we assist them with the timing of entering the room and the entire service team is in the room to greet them with their guests."
Throughout the reception, the Best Western Brantford Hotel & Conference Centre team is in constant contact with the bride and groom to make sure they are "on top of the world!"
After dinner, when the bridal party is ready, they'll cut and display the wedding cake for the guests to enjoy. Service staff will be available for the entire event to ensure that the day goes by without a hitch.
After your wedding, a member of the team will give you a call to make sure everything went as expected!
Best Western Brantford Hotel & Conference Centre encourages interested couples to drop in at their convenience to check out the hotel. Their team is happy to give you a tour of the hotel and answer any questions you might have.
Packages & Pricing
Although Best Western Brantford Hotel & Conference Centre offers different spaces and packages to appeal to any bride and budget, you can find these packages online at www.bestwesternbrantford.com
Entrée pricing starts at $24 per person, depending on your choice of meal. This includes a gourmet 3 or 4-course meal for you and your guests. Choose from entrees such as Beef Tenderloin, Chicken Princess and so much more!
"We welcome cultural menus & any dietary requests."
Details, Details, Details
The average wedding ranges between $10,000 and $20,000 at Best Western Brantford Hotel & Conference Centre.
•    A $500, non-refundable deposit is required to book your wedding with Best Western Brantford Hotel & Conference Centre.
•    HST as well as a 15% gratuity applies.
•    To ensure that your wedding date is available, it's best to book a year to eight months ahead.
Couple Reviews
Please login to add your review
Vendor Profile : Best Western Brant Park Inn
You May Consider These Items
340 Woodlawn Rd W #26, Guelph, ON N1H 7K6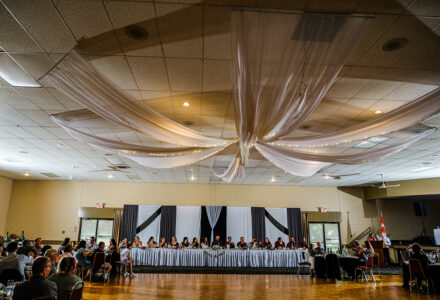 1128 Rife Road Cambridge ON N1R 5S3
© 2023 The Wedding Ring All rights reserved.