About
Incredible spaces, flexible options, and a naturally beautiful country club setting has Dundee Country Club booking ahead
For fifty years, Dundee Country Club has been home to countless K-W and Cambridge area couples' weddings. With ceremony and reception options, cocktail hours by the fireplace, photos by the pond, flexible catering and bar options, beautiful banquet rooms and an attitude that's all about you, Dundee Country Club makes it easy for a couple to want their wedding here.
Products & Services
The Claymore Hall has a high peaked ceiling, wooden features, white walls, and a ton of natural light that comes in from its balcony and wall of windows. The space would work with both a more traditional wedding and a newer elegant (but contemporary) style. It can host up to 140 people for a ceremony (using theatre-style seating) and a sit-down dinner reception.
The Cairngorm Hall has a great L-shaped design, a large mahogany bar, a fireplace, a mix of light and dark colours, and plenty of natural light shining in its large windows. This space can seat up to 80 guests for a wedding ceremony and reception.
Both reception spaces are separate from the club areas, meaning you can have the atmosphere of a country club wedding without the worry of running into any of the Dundee members or other events at the Club on your wedding day.
Being a country club, Dundee's water features, big trees, and rolling hills are perfect for wedding day photoshoots. There is no cost to have your wedding photos shot on-site, however, there are some limitations on where they can take place on the grounds. Danielle can go over this in your meeting with her so that you, your photographer and Dundee are on the same page.
Newly built in 2014, Dundee added a beautiful flagstone outdoor ceremony site overlooking one the many beautiful ponds with rock wall and rock steps that hold subtle and versatile landscaping to match any brides colour scheme-making a gorgeous backdrop for any wedding!
Packages & Pricing
Rental for either hall is $700 unless you choose to forego a bar – in which case rental is $1000. If you are getting married on a non-Saturday, a discount applies. This price includes your linens, set-up, clean up, head table skirting, gift and cake tables, bartender and wait staff and SOCAN fees. To host your ceremony at Dundee as well, there is a $1200 fee, which includes all of the required chairs set up how you want them. Wine, punch and a coffee & tea station start at $25, with meals starting at $65 per person before bar options.
Your best bet is to book 6 to 12 months in advance, though some 2021 dates are still available. But like most venues, they're happy to take last minute bookings. "We can accommodate your event with up to one month's notice if we have the space available."
Dundee hosts an average of 35 weddings per year and you can have your event at Dundee Country Club any day of the week, and at any time of year. The golf course, as you can imagine, isn't open in the winter, but the banquet facilities are. They also host corporate functions, Christmas parties, showers, stag and does and just about any other special event you can think of.
A non-refundable deposit of $1000 is due at booking, with post-dated payments of $1000 each due 6 months and 3 months before the wedding. A week before the wedding, when all details are finalized, they will provide you with an invoice outlining the balance. The balance is due the week after the wedding.
Dundee provides you with all of your essential linens – table cloths and a wide selection of coloured napkins to match. From there you can bring in the decorator of your choice or handle the rest yourself. Danielle is able to recommend other professionals to help out.
Dundee Country Club gives all couples a wedding package with menu samples inside. Menus can be used to the letter or used as a list of options and suggestions – more like guidelines.
Details, Details, Details
• They recommend booking 6 to 12 months ahead, especially for a Saturday wedding.
• $1000 holds your date at Dundee, with flexibile payment options available leading up to your wedding day.
• Your balance will be given to you a week before the wedding and is due a week after the big day.
• Taxes and gratuities are not included in the price, and menu prices are secured for 1 year after putting down a deposit.
• You will need to confirm your guest numbers and menu options no later than 7 days ahead of the wedding.
Couple Reviews
Please login to add your review
Vendor Profile : Dundee Country Club
You May Consider These Items
1150 Wellington Rd, London, ON N6E 1M3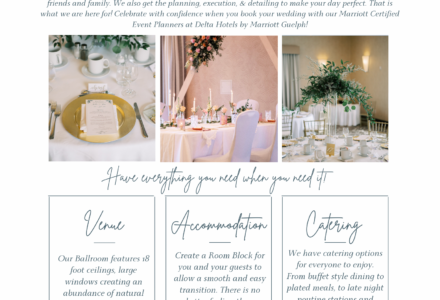 50 stone road West, Guelph, ON, N1G 0A9
© 2023 The Wedding Ring All rights reserved.