About
How it all began
Natalie Zima, owner and operator, was driven "by a strong will to work as a family and take on a challenge. The property was purchased and repurposed into a full-service event center. The hotel was renovated, vacant space turned into event rooms and a restaurant was built on the principle of fresh, simple ingredients. After years of hard work, passion and dedication to hospitality excellence, a century-old, neighboring chapel was purchased and fully restored to add to our portfolio." Natalie has 25 years of experience in the industry and has event planning in her blood! It is Natalie's goal to make her couples' wedding day be everything they have ever dreamed of.
In fact, as part of executing dream weddings, Stoneridge Inn is committed to offering an innovative and creative service. "I worked closely with Natalie and Maggie (the decorator) and they gave me several options of layouts for each room that we used and told me the pros and cons of each. When Maggie was decorating, she regularly sent me photos of the progress and would include some suggestions to improve things! It all came together beautifully." – Jaclyn & Nathan, February 2020
You May Consider These Items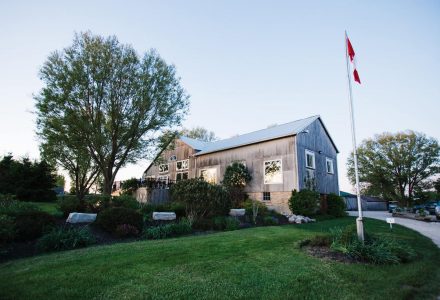 40374 Kirkton Rd, Centralia, ON N0M 1K0
53 Romeo St N, Stratford, ON N5A 6S2
Products & Services
All-Inclusive Packages and a reputation for value and flexibility makes wedding planning with Stoneridge Inn stress-free. With three ballrooms to choose from, Stoneridge has various spaces for the most intimate wedding all the way up to an elaborate reception for as many as 200 guests. The lovingly restored, century-old, Rose Chapel is historic, rustic, simple, and quite frankly, stunning. The chapel is very popular for wedding ceremonies and photos and can seat up to 150 guests. Since it is a non-denominational chapel, you can even bring your choice of officiant!
Your guests are sure to be in awe of the beautiful brickwork and charming central arch. "From the first time we walked into the Rose Chapel, we knew it was a 100% yes and we didn't need to look anywhere else!" says bride and groom Roslyn and Mike. The Rose Chapel can be booked separately if you already have another reception site in mind, but it is quite convenient to have everything all in one place!
"From high budget to modest budget, large wedding or intimate; we can design a custom wedding reception for every kind of couple," says Natalie Zima, General Manager. Able to accommodate traditional, contemporary, themed, or a combination, Natalie and her team are here to make your vision come to life.
Packages & Pricing
With all-inclusive packages from $85-$175 per guest, a la carte menus, grazing tables, brunch and pub grub receptions, there's so many ways available to feed your guests suiting your personal style and budget. "Our Executive Chef is continually developing inventive menus and will personalize a menu to suit the unique choices of each couple. Any special dietary or cultural requirements can also be accommodated," says Natalie. With Stoneridge Inn's versatile spaces and offerings, you can hold not only your ceremony, but also your engagement party, bridal shower, rehearsal ceremony and dinner.
Wondering how much an all-inclusive package will cost? The average Stoneridge Inn wedding for 100 guests is approximately $16,975 and includes The Rose Chapel for the ceremony, linens, chair covers, three-course meal with hors d'oeuvres, alcoholic beverages, taxes and fees. You should also note that there is a non-refundable deposit of $2178 due when booking your wedding, $678 for rental of The Rose Chapel and $1,500 towards the reception space.
Details, Details, Details
While it's best to book your wedding 12 – 18 months in advance, call to check availability if you are working with less time, says the staff. They'll do their best to accommodate you.
The average Stoneridge Inn wedding for 100 guests is approximately $13,500 including ceremony space at The Rose Chapel, linens, chair covers, three-course meal with hors d'Oeurves, alcoholic beverages, taxes and fees.
There is a non-refundable deposit of $1678 due when booking your wedding, $678 for rental of The Rose Chapel and $1000 towards the reception space.
Vendor Profile : Best Western Stoneridge Inn
eaturing everything you could ever imagine, it's an easy choice to select the Stoneridge Inn for your special day! Did we say EVERYTHING? Stunning Chapel? Check! Multiple ballroom options? Check! Comfortable accommodations? Check! Flexible menu, all-inclusive pricing, fireplaces, chandeliers, and the backing of a brand dedicated to service – CHECK!
General Questions & Answers
Video
Sorry, No video added by vendor
Couple Reviews
Please login to add your review
© 2023 The Wedding Ring All rights reserved.