A Rocky Mountain Elopement was meant to be for these long-time loves and high school sweethearts. From the perfect photographer to the most amazing backdrop, Becky and Jeff got everything they had been dreaming of.
WEDDING DATE: September 1st, 2021
LOCATION: Tunnel Mountain, Banff AB
PHOTOGRAPHY: Jess Collins Photography (www.jesscollinsphotos.com) Kitchener, ON "We found Jess at The Ring's KW Wedding Expo right before the pandemic struck! I am so glad I did because it gave me the chance to actually chat with her in person before making a choice, an opportunity that would have been much more difficult through virtual searching in a COVID world. Jess is a fantastic photographer. Her energy matched our go-with-the-flow style and she made us feel so comfortable throughout our wedding day! Jess is both a fly on the wall capturing special moments you wouldn't have seen on your own, while simultaneously being so personable and connecting with your guests. She was the perfect person to capture our Rocky Mountain Elopement" – B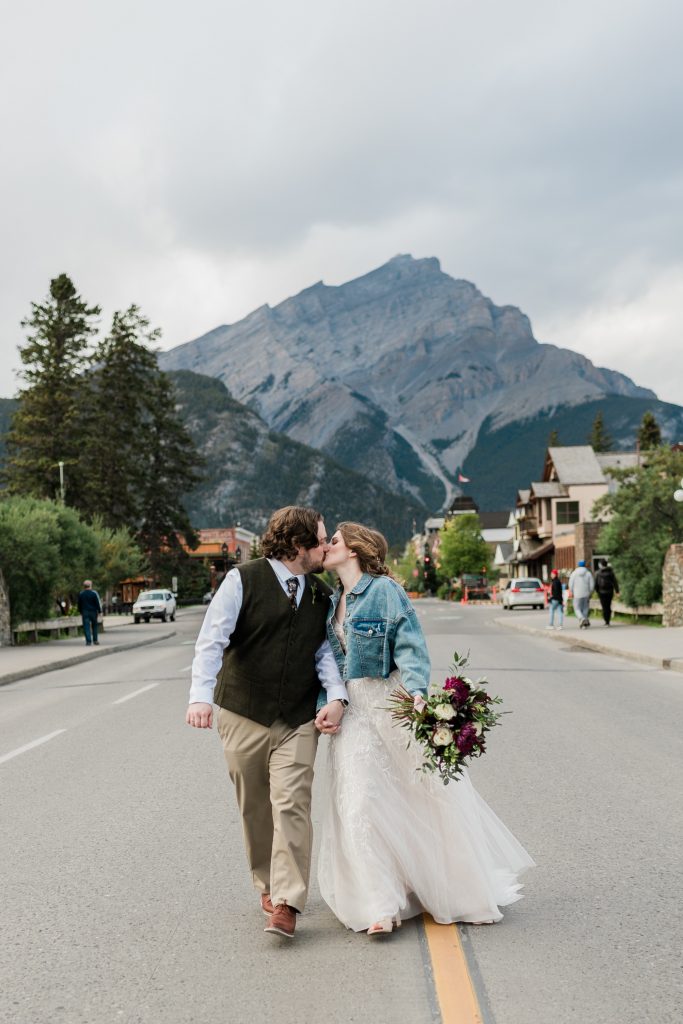 BRIDE ATTIRE: The Modern Bride (www.tmodernbride.com) Guelph, ON 
GROOM ATTIRE: Moores Clothing for Men (♥) (www.moores.com) Kitchener, ON
HAIR & MAKEUP: Lilies & Lace Beauty Co. (www.liliesandlace.ca) Canmore, AB 
FLORALS: Banff Mountaintop Flowers (www.banffmountaintopflowers.com) Banff, AB 
CAKE: Kake by Darcy (www.kakecanmore.com) Canmore, AB
WEDDING PLANNER: Rocky Mountain Weddings & Events (www.rockymountainweddings.ca), Banff AB 
TELL US YOUR STORY: "Jeff and I met in 2007 when we were a couple of awkward teenagers in high school just trying to get by. What started as a strong friendship, bonding over video games, music, and pizza, blossomed quickly into a relationship. Though it may be cliche, we are each other's person. The one we go to with the good, the one we feel supported within the bad, and the one we want to experience all of life's in-betweens with. Growing into adulthood together and learning who we wanted to become was always supported by the other – how could you not want the world for your best friend?!
We made our way through different University journeys, braved a 2-year long-distance relationship, and made sacrifices to support each other's goals. All our life changes and challenges have built a strong foundation for us to build our life on. We had always talked about getting married, even during those love-struck teenager days, and inevitably, so did other people after having been dating so long! It was on our radars but we were working hard to save up to buy a home. So when Jeff proposed on October 2019 during our vacation trip, I was surprised but excited to say yes to this next chapter. And let's just say he understood the assignment and did his research, talking with my sister and spying on my Pinterest boards to pick out my dream ring!" – B
BIGGEST CHALLENGE: "Looking back the whole planning process went incredibly smoothly. I hired Rocky Mountain Weddings and Events to assist with the planning and execution because it was a Rocky Mountain elopement wedding and I thought it would be best to have someone with their boots on the ground to help out. Best choice I could have made for the day!" – B
BEST MEMORY: "There are so many that we both have during that day, but I think we both would agree that having a first look between the two of us was perfect. Admittedly, we picked a fairly touristy spot to do it (Surprise Corner) so we were a little worried about privacy, but we wanted to get some shots with the castle in the background. Fortunately for us, by some universal miracle, everyone cleared out just as I arrived to meet Jeff. It was a perfect moment of being with each other before the ceremony in a beautiful location." – B
ADVICE: "If you can afford to hire a day-of coordinator or planner to assist you with sorting the details and getting vendors organized, I highly recommend it! We had a small wedding and found it so helpful. I can't imagine trying to coordinate a larger-scale wedding on my own!" – B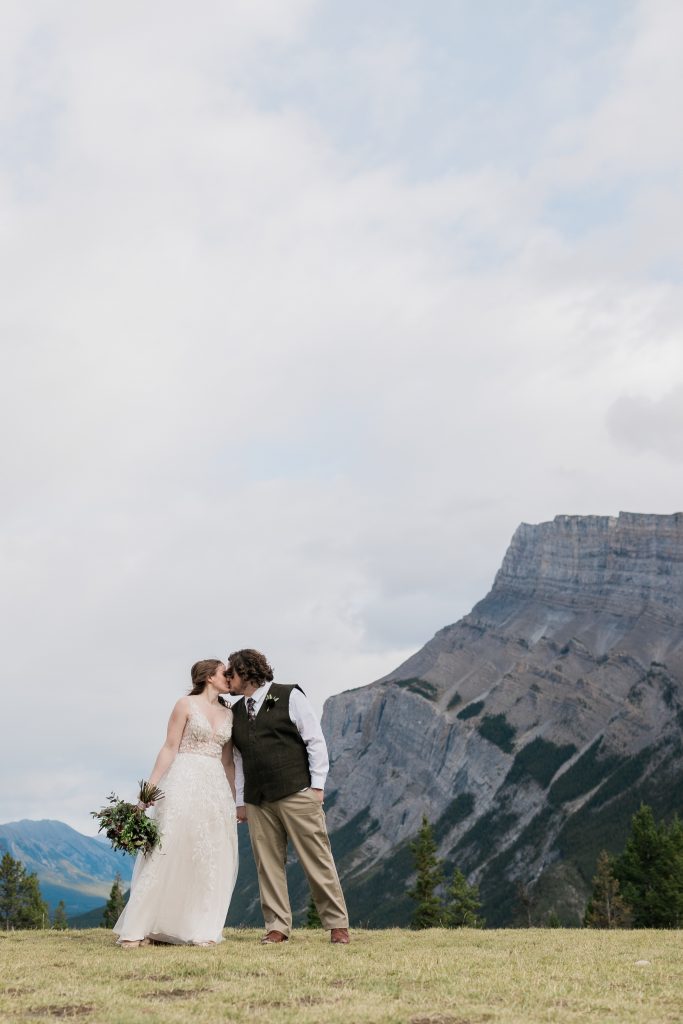 Featured in the Fall/Winter 2022 edition of The Wedding Ring Magazine
FIND OUT MORE ABOUT JESS COLLINS PHOTOGRAPHY | To speak with Jess Collins Photography about your wedding options, you can reach them using the form below.