EXPERT TIP BY: Outlooks for Men (www.outlooksformen.com) BC
Even before the global pandemic cancelled or reduced the size of social gatherings, the most momentous of them — weddings — were undergoing an evolution.
Fewer couples were choosing the traditional church ceremony and reception in a banquet hall, opting instead for venues that reflected modern, sometimes casual, sensibilities: backyards, beaches, and even B&Bs. And as they embarked on a life together in a manner quite different from the way their parents said "I do," so their clothing choices change.
For the men in a wedding — the grooms, groomsmen, fathers, and even guests — nowhere is that evolution more pronounced than in this question: Tuxedo or Suit?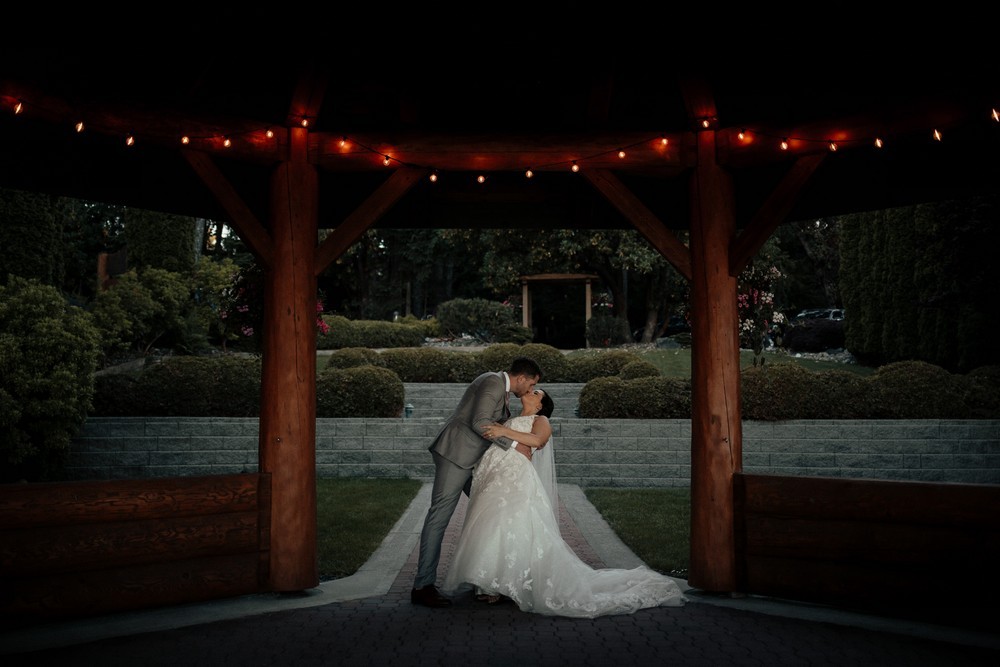 THE NEW RULES: Dale Olsen hears that question often. Owner of Outlooks, Vancouver Island's premier men's clothing stores — he has shops on Yates Street in downtown Victoria, at the B.C. capitol's Uptown shopping centre, and in Duncan — he and his staff dress men for roughly 500 weddings each year. Thus, he has seen grooms who walk out with custom-tailored suits or tuxes as well as those who choose a fresh but casual look: chinos, white shirt, suspenders, and bow tie. "There are no hard and fast rules on your wedding anymore," Olsen says. "You're actually making up the rules — but there still are some rules."
And when it comes to dressing the grooms and groomsmen — and, often, to answer that tuxedo vs suit question — the rules are actually three key considerations: the season; the venue; and, most importantly in some weddings, the bride.
THE SEASON & THE VENUE: Although Olsen is firmly on Team Suit, he acknowledges a tux can have its place, mainly in fall and winter weddings. "Winter weddings or church weddings are easier because there's just no doubt about what to wear," he says. "If you're having a full-on wedding in a church with a bride in a full-length gown, with a reception in a hall at night, that's a very formal event."
A spring or summer event, however, is another thing altogether, and grooms and those who stand up with them on the big day are more likely to choose a suit, in Olsen's experience.
As well, a less formal venue usually means a corresponding dress code, both for the wedding party and the guests. Olsen notes that brides in ornate, formal gowns and grooms in tuxedos with satin lapels might appear incongruous on
a sprawling, rustic B&B property or ankle-deep in beach sand.
The consideration that overrules all others in the choice of men's attire for a traditional wedding, however, is the bride, Olsen says.
Although the groom, by tradition, is not to see her gown before the wedding day, he says it's advisable for the lucky man to make general inquiries before shopping for his own outfit. If his bride says she will be wearing a traditional, floor-length gown, his clothing should match hers in formality. If she's going for a shorter, lighter dress for a more casual look and wedding, he has a creative licence to dial down.
"Whether you're a groom, a groomsman, or a guest to a wedding, you need to dress to that," Olsen says, noting, "It's going to make for some very weird pictures if the groom is in chinos and a white shirt and a bow tie, and yet the bride is in a full-on white wedding gown. So that's how you base your decision."
Another element to the consistency sought for the sake of photos that will be preserved for generations, he says, is fit. Grooms and groomsmen in sometimes ill-fitting rented tuxes will look out of place next to the immaculately dressed and fitted bride and bridesmaids — hence Olsen's preference for a custom-tailored suit.
This brings the conversation to one additional consideration.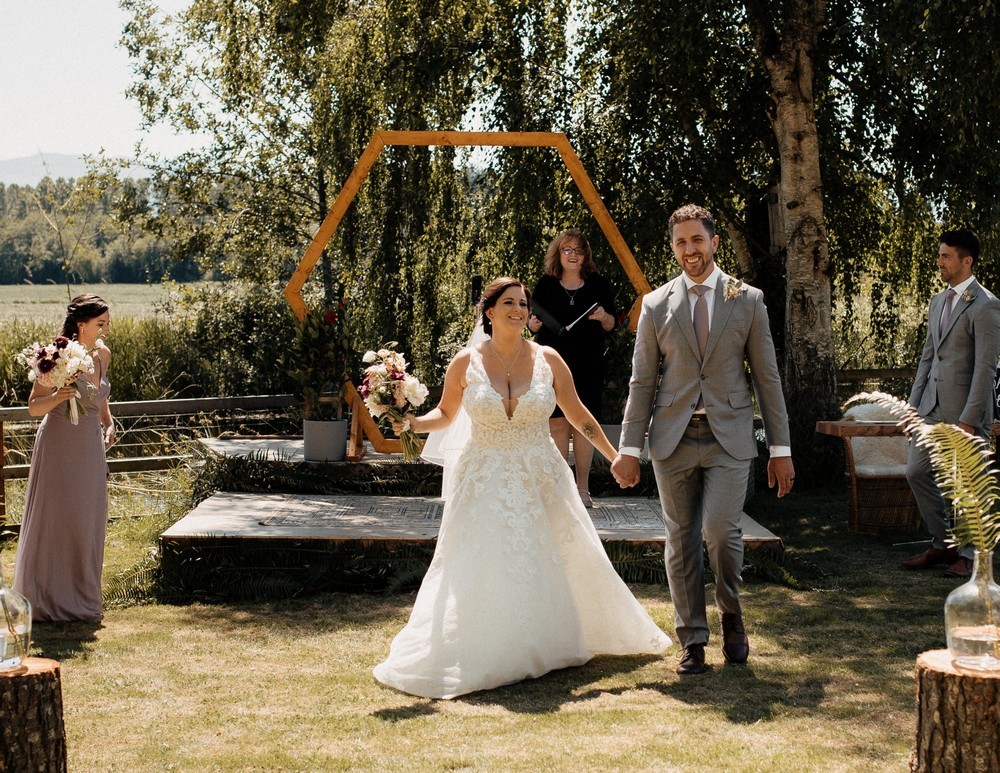 PRACTICALITY: "If you ask grooms or groomsmen to buy a dark blue suit, you're not asking them to do too much," Olsen says. "You're actually doing guys a favour because then he has a suit to wear to other weddings and different things — Christmas parties and formal events. You've given him something he probably needed anyway."
"The tuxedo has maybe lost a bit of its practicality," Olsen adds, "and the suit may just qualify as formal enough."
And if that suit is properly fitted, the grooms will do justice to their spouses on their special day, and in the photos, they will share with family for years to come.
ABOUT OUTLOOKS FOR MEN: Outlooks carries more than 75 lines that have been personally selected by Dale and his team for quality and value. Preference is given to Canadian designers and manufacturers, however, products from all over the world make it to the shelves if they fit within the Outlooks style.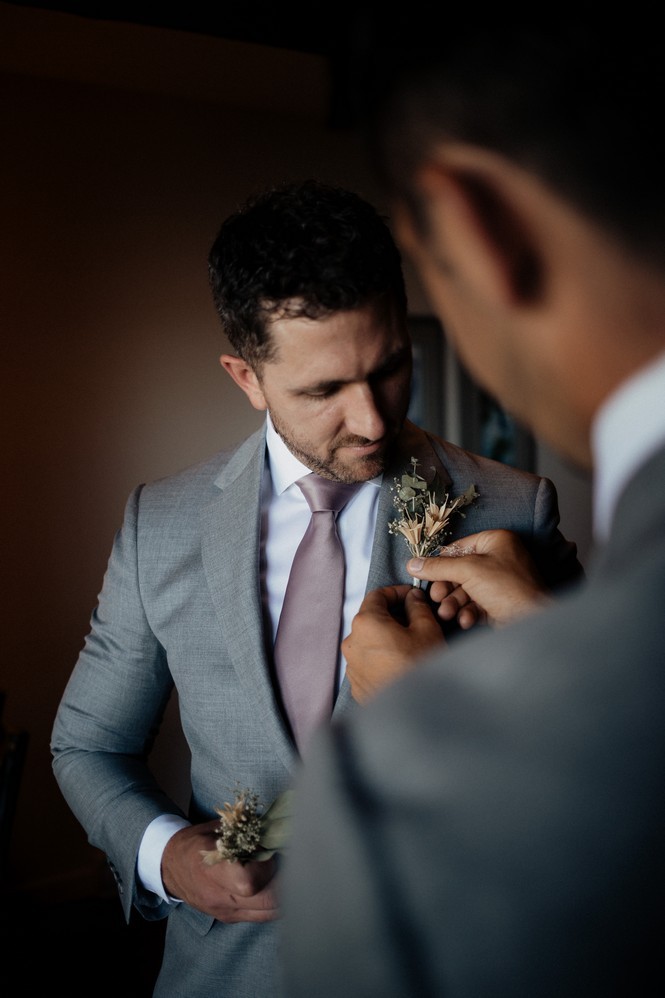 Featured in the Fall/Winter 2021 issue of The Wedding Ring Magazine
FIND OUT MORE ABOUT OUTLOOKS FOR MEN | To speak with Outlooks for Men about your wedding options, you can reach them using the form below.