EXPERT TIP BY: Rob Aitken, Music Central Entertainment (♥) (musiccentral.ca)
Couples planning weddings for 2023 and 2024 are turning their attention to making sure that their weddings are experiential; shifting guests from their role as witnesses to active participants at their weddings. The hottest trend for 2023 isn't new to the team at Music Central. They've always had a passion for amping up the guest experience. Rob from Music Central tells us how they can help you embrace this trend.
MASTER OF THE DANCE FLOOR:
DJs at Music Central are passionate about music and making sure that your wedding is memorable. "It's important that we execute the vision for your wedding properly. All the details of your day are translated into a blueprint for your wedding. All the details without exception, get passed along to your DJ. We help make your day memorable. We're making the soundtrack to your wedding. The next day you want to hear: 'That was a party!' 'My feet are so sore. I've never danced so much!' 'Uncle Bob never dances, and he danced all night!' We care about what we do. We'll give you everything we've got. It's our passion.
MASTER OF THE PHOTO BOOTHS:
While this has been a popular experience that seemed to be fading out of popularity, couples are reembracing the open-air photo booth to commemorate the opportunity to celebrate together again. Open-air photo booths allow larger groups to join together to make photo memories. A side benefit
of the photos is that it amps up your guest experience. Not only do they get to have fun posing with fun accessories and props in the photo booth, but they're also more likely to hit the dance floor when they're done in the photo booth. The photo booth gets them out of their comfort zone and gets them moving.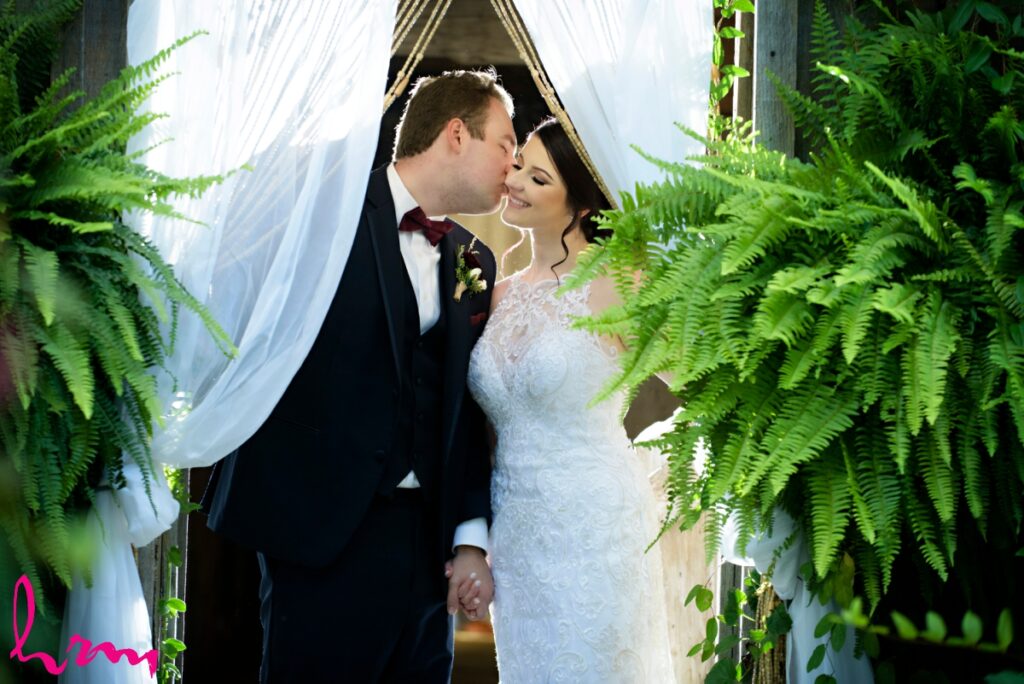 MASTER OF CEREMONIES:
Choosing your Master of Ceremonies is a more complicated decision than it can seem on the surface. Who you choose can impact the way that your guests experience your wedding day unfolding. Rob tells us, "The MC is the storyteller of your wedding. They make sure that you stay on track and steer the event along. They have 2 basic duties at your reception: first, they coordinate with vendors, so everyone is on the same page and then they communicate the day with your guests. But the truly great Master of Ceremonies doesn't just coordinate and communicate. They help to tell the story of your wedding; they help to create moments you and your guests will never forget. They tell the background story for guests that may not know the significance, they set the stage for the special moments that the couple wants their guests to experience with them. A professional MC knows how to set the mood, the stage, tell the story, and then step back and let the moment unfold."
MASTER OF EXPERIENCE
When you book Music Central for your wedding you get access to their limitless experience. "There are aspects to a wedding that are very subtle but make a huge difference. One of the most important aspects is flow. We can give you advice on how to keep your day flowing naturally, seamlessly, and stress-free. Keeping the day flowing enhances your guests' experience." Speaking of experience… "Most of our team have 200, 500, and even over 1,000 weddings under their belts. Sure, some weddings go off without a hitch but what if there's a hiccup? You want someone who doesn't get rattled. With Music Central, you'll have someone calm and experienced to help get the day back on track and keep it on track."
ABOUT MUSIC CENTRAL: Music Central Entertainment is the area's most respected disc jockey service based out of London, ON. Music Central specializes in weddings as well as corporate events and creating unique events based on the client's wishes, musicality, and suggestions. As well as their famous DJ services, they can also provide photo booths, lighting, special effects, audio/visual, karaoke, master of ceremonies, and much more.
Featured in the Spring/Summer 2023 edition of The Wedding Ring Magazine
FIND OUT MORE ABOUT MUSIC CENTRAL ENTERTAINMENT | To speak with Music Central Entertainment about your wedding options, you can reach them using the form below.