About
Couples looking to have an eco-friendly wedding while still remaining in the city have found their dream venue in the Toronto Botanical Garden (TBG as it shall now be referred). TBG, located in mid-Toronto, is a volunteer driven charity whose central goal is to spread horticulture and gardening information. The main building, the Dembroski Centre for Horticulture was renovated in 2005 with the intention of creating a facility architecturally adhering to the "green" mission of the TBG. The sloping green roof atop the 5000 square foot glass pavilion is crucial in helping to keep cooling and heating costs down while also managing the runoff from stormwater.
The building has been recognized with a Toronto Green Award and received a silver rated LEED certification (Leadership in Energy and Design). The Centre also houses several stunning halls and events spaces, such as the Floral and Garden Halls, with their own private garden courtyards offering stunning views of the 17 award winning themed gardens. Couples will feel connected to nature while also knowing that the environment is being taken care of as they dance the night away!
Products & Services
For those looking to host a smaller wedding The Garden Hall will suit your needs perfectly. Your 80 guests (120 if you are having a cocktail reception) will be able to step out onto the sunken courtyard with its natural amphitheatre. The stunning space is surrounded by gardens (of course), a curving water channel and a bubbling waterfall. A stone bridge connects the courtyard to the Westview Terrace where guests will be greeted by trees, shrubs and colourful perennials which are in bloom year round. The Perennial Border is the perfect outdoor garden space for ceremonies and small receptions. For larger weddings there is the Floral Hall, which can accommodate 250 for a sit down meal with a dance floor or 350 cocktail style.
The Floral Hall itself is truly quite impressive with its 20 foot ceiling and series of skylights.  It also has a stage, screen, sound and lighting system as well as its own washrooms and changing rooms. Through double glass doors guests will enter the private garden courtyard, "walls of acid-etched glass, natural stone and fruit trees encircle this space." (www.torontobotanicalgarden.ca)
And let us not forget the fragrant shrubs and flowering perennials. The event staff help couples customize the space to suit their needs – and if you're looking to tent the space, this is always an option. TBG also works with an exclusive group of catering and event suppliers who have been vetted for their outstanding commitment to the environment and reputations for planning events that exceed clients' expectations. Each space also has an accessible private entrance and catering kitchen.
Details, Details, Details
Average Bride Spends: $3,500-$4,500 on venue alone
Taxes, Gratuities, Fine Print that Applies: HST, no gratuities, caterer contract and costs are separate
Deposit Required to Book: 100% of total booking cost
Months to Book Ahead: Minimum of 12 months
Couple Reviews
Please login to add your review
Vendor Profile : Toronto Botanical Gardens
You May Consider These Items
6015 Hwy #89 , Alliston, ON, Canada, ...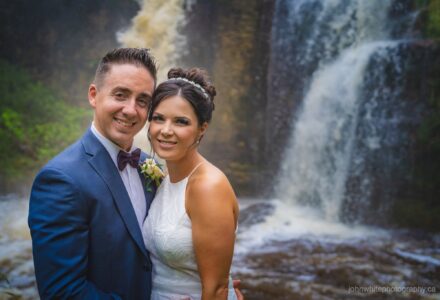 140 Front St W Walters Falls ON Canada
© 2023 The Wedding Ring All rights reserved.