About
Located about thirty minutes outside of Kitchener-Waterloo in the quaint and historic town of Stratford, the Stratford Country Club is a well established favourite for area couples and local destination weddings outside of the city. The Stratford Country Club has a beautiful backdrop for nearly any type or style of wedding. From trendy to traditional, it offers an indoor ceremony and reception space in neutral colour schemes. Natural décor with walls of windows overlooking the scenic property. Stratford Country Club also gives you fabulous menu and décor options, two rooms for the price of one, views overlooking the beautiful eighteen-hole golf course, and a service team that's trained to go out of their way to make your wedding day memorable.
Products & Services
Jessie has worked at the Club since 2008. She makes it her goal to be as helpful as possible to each of the couples that come through the Club's doors. When we met her, it was easy to love her energy and enthusiasm for the art of planning weddings. And it was even easier to envision her using that energy to bring fresh, inspirational ideas to the table as she meets with brides and grooms.
Jessie graduated from the Hospitality and Tourism Management program at Conestoga College and also completed a Post-Graduate Event Management Certificate Program from Conestoga to help make her even better at her job. She is also WPIC (The Wedding Planners Institute of Canada) certified with a strong knowledge of the wedding industry.
"What keeps me passionate about my work is knowing that I can assist couples in finding, planning, and selecting all of the details for their wedding and making their day as truly special as it should be," Jessie told us. "I really feel that the event industry is all about making your guests feel welcome, exceeding their expectations and surprising them," which is just what she sets out to do with each wedding at Stratford Country Club.
"Stratford Country Club is absolutely stunning. Having a coordinator was also a huge plus! Jessie made my life so easy! She was incredible!! Anything you asked for, it was done efficiently and happily, she is truly amazing at her job and so easy to get along with!" says bride Nicole.
Charlene (Char) Louwagie is a recent graduate of the Bachelor of Commerce majoring in the Hotel and Food Administration program from the University of Guelph. She is also a Certified Wedding Planner. She has been with the Stratford County Club since 2018. Charlene found a passion for weddings and events when she first started in the industry 9 years ago. "I love the details and creating a dream day for every couple. Welcoming guests and exceeding expectations is what I love about the events industry."
Breanna Kloss loved everything about working with Jessie for her September Stratford Country Club wedding. "The beauty of the grounds and reception space, combined with the delicious meal options and experienced (and passionate I might add) event coordinator can't be found elsewhere for the same fair price."
It's no secret that Stratford is full of some of the best culinary treats in Canada, and the Stratford Country Club is no exception. Though they regularly update the Stratford Country Club menu to better showcase the great food that they can make, their current menu is quite fantastic. In fact, Jessie says that one of the things they're known for in the industry is their unique and exquisite food selection.
Stratford Country Club also offers numerous types of bar services available to customize your wedding. The average couple spends about $16,000 -22,000, dependent on the services selected. The Club also offers discounts on room rentals for Sunday and weekday weddings (not including holidays).
Ken Odette the Executive Chef has worked at the Stratford Country Club since 2014 after attending the Stratford Chef School. He specializes/excels at creating food for large groups such as weddings and other events.
Sarah and David really liked that Stratford Country Club offered ample food selections on their menu, various ways of serving it, and were willing to accommodate various bar services (e.g. host, cash, ticket system, toonie bar, etc.).
Couples who host their weddings at Stratford Country Club also have use of the golf course for both photos and rounds of golf, which is a fun option for the guys the morning of the wedding. Jessie just suggests that if you're heading to the course for photos, be careful. "If you hear fore, duck!"
Packages & Pricing
The Stratford Country Club can accommodate many different styles of couples with varying budgets and tend to see a lot of local couples, as well as couples from out of town planning a home-grown destination wedding in Stratford. "The service style at the Stratford Country Club is casual and flexible," Jessie told us. "Make sure to ask; just because we don't mention it, doesn't mean we can't do it!"
Even the colours of the reception room are neutral and work well with both traditional and bright coloured décor. The Club offers a reception hall and indoor ceremony site, as well as an on-site kitchen with their own culinary team. The room rental rate includes the use of two rooms – The Grand Room and The Executive Lounge.
Courtney Hebert hosted her September wedding at Stratford Country Club and had this to say about the space: "Absolutely breathtaking! Our wedding was months ago and we still have our guests telling us how beautiful the venue was! Even the washrooms were beautiful! Very neutral in colours, modern yet elegant. We barely decorated because we didn't want to take away from the natural beauty."
The Grand Room holds up to 220 guests for a plated meal/300 for a cocktail reception and has a wall of windows and a balcony that overlook the beautiful eighteen-hole golf course, giving some natural décor and gorgeous scenery for you and your guests, as well as a nice backdrop for on-site photos. Ceremonies can also be hosted on-site in The Executive Lounge, or you can use this room for the buffet dinner, cocktail hour, or as an escape for guests who want a break from music and dancing.
Details, Details, Details
• At Stratford Country Club, you have the option of 2 rooms to host a ceremony and reception for up to 220 guests for a plated/buffet or 300 for a cocktail reception. They also have the option of indoor or outdoor ceremony space.
• A $1000 deposit is required to book. A $500 food deposit is required 2 months before, with 75% of the remaining balance due 2 weeks before along with the final guest count; the rest of your bill is due no more than 30 days after the wedding.
• The average couple spends about $16,000 -22,000  on the hall, food, and drinks; discounted rental rates are available for Sunday and weekday weddings (except on holidays). From May to October, as well as holidays and long weekends, the rental cost for Fridays & Sundays is $2700.00. Saturday's rental fee is $3000.00. From November to April  Friday & Sunday rental is $2500.00, and Saturdays are $2700.00.
• You can also book your on-site ceremony for $700.00 which includes all setup, take down, sound system, microphone, and white padded garden folding chairs
• Tax and gratuities are not included in quoted prices and are extra.
Couple Reviews
1 Review for Stratford Country Club
Please login to add your review
Vendor Profile : Stratford Country Club
You May Consider These Items
70671 Bluewater Hwy, Grand Bend, ON N0M 1T0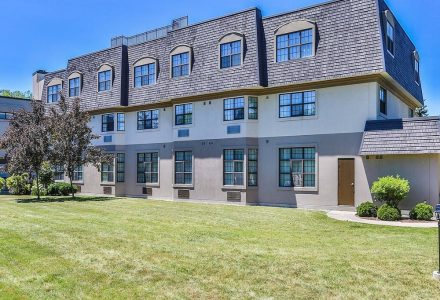 19 Holiday Dr., Brantford, ON N3R 7J4
© 2023 The Wedding Ring All rights reserved.