About
Unique papers and interchangeable design collections have kept Stephita busy with wedding stationery.
Stephita Wedding Invitations and Stationery uses customizable design collections and unique imported papers to create (by hand) items such as invitations, menus, programs, place cards, thank you cards, favour boxes and more for Toronto and area brides. Stephita is a company that is based almost entirely online. They utilize the internet to display product samples, colour and style options, and other stationery details. Taking it a step further, the girls at Stephita offer step-by-step help and supplies for do-it-yourself brides through their online resource, InspiredBrides.com.
Stephita was created by Stephanie Wong and Rita Chu, their first project being invitations for Stephanie's wedding. That was five years, several bridal shows, two websites, and – at their last count – approximately 2000 stationery orders ago.
Products & Services
Everything at Stephita is made by hand and intended to look and feel entirely unique. Rita says they incorporate different types of papers and concentrate on the 'pearlized' papers because they are heavier and have a shine. This is the paper you see most often in their samples. New lines involving Japanese patterned papers will be launched at Toronto's January bridal show line-up, including Canada's Bridal Show at the Metro Convention Centre, the National Bridal Show at the International Centre at the Exhibition and Canada's Wedding Expo at the Rogers Centre.
Everything in the Stephita collections is interchangeable, "We can change paper or ribbon colours from the collections you see online." They assure their brides that if their friend has used Stephita, their own stationery won't be the same – a common concern amongst brides.
Stephita goes as far as to match your gown or décor swatch as closely as they possibly can. Because they're up on much of the latest trends, they often have no problem with colour matching. For example, with brown and pink being so hot right now, they have a lot of options in those colours. Anything they don't have, they can accommodate with complimentary colours and close matches.
Packages & Pricing
Invitations range most often from $4 to $5 each with packages acting as a starting point. "The average order is about 100 invitations (two hundred guests)… It would run at approximately the four hundred to five hundred range." says Rita. Their minimum order is 30.
Details, Details, Details
Even though most of the work Stephita does is made for brides, they also go outside the box by offering Do-It-Yourself supplies and instruction through their DIY website, inspiredbrides.com. This website was built for brides who may not have the budget to have their stationery made for them, or who want to take a more hands-on approach. "Inspired Brides is a tool for brides to gather more information, get inspired…"
Couple Reviews
Please login to add your review
You May Consider These Items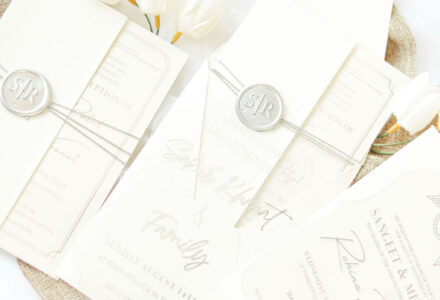 7250 Keele Street Concord L4K1Z8 unit 281
© 2023 The Wedding Ring All rights reserved.