About
For Cindy, decorating and designing décor concepts has always been a passion. And so, when Cindy opened Now & Always in December of 1998, a small inventory of rental items quickly grew to include an extensive list of gorgeous décor options for weddings and events. As Now & Always enters their 23rd year of serving local brides and grooms during these unprecedented times, they do so with anticipation of even better days ahead. Cindy explains, "Though the pandemic altered the wedding industry, we believe that even though things may be different, weddings can still be beautifully memorable."
With fifteen years devoted to decorating some of the area's most beautiful weddings, Cindy has made the visions of over 2,000 engaged couples come to life. After so many weddings, we had to ask Cindy what keeps her inspired. Cindy told The Ring, "The wedding industry is never the same…it's never been quite what it is right now… it's always changing, with new inspirations, new colours…I am always learning something new. And of course, the clients keep me inspired…I've met many wonderful couples."
The Now & Always showroom is a cozy room filled with centrepeices, linens, seating charts, fabrics, backdrops, decorated tables, and much more. We absolutely love that Cindy will decorate a table in her couples' colours and theme to give each couple a firsthand look at their vision before they even book! After so many weddings, we had to ask Cindy what keeps her inspired. Cindy told The Ring, "The wedding industry is never the same…it's always changing, with new inspirations, new colours…I am always learning something new. And of course, the clients keep me inspired…I've met many wonderful couples."
Past MOB Becky, worked closely with Cindy on both of her daughter's weddings, who happened to be married just nine months apart! Says Becky, "The first wedding was in December. The décor was black, silver and crystal …following the ceremony my husband and I walked into the venue and were stunned by the absolute elegance of the décor, it was everything our daughter had dreamed…that was my favorite moment!"
Becky continues, "Our youngest daughter was married in September. Her wedding was large, overwhelming and I was very worried about how we would turn a community centre into a beautiful wedding venue. Cindy was confident we could do this, reassured me that all would be well. The best compliments of the night came from local people who had been to many weddings at this community centre….they were astounded by the transformation… champagne on ivory with blush accents perfectly appointed with special touches. Cindy helped alleviate stress and the weddings my daughters had dreamed of came to life…although both very different, beautiful in their own way."
Products & Services
What sets the designs of Now & Always apart from the rest is Cindy's background and experience? With a start as a floral designer, she can take her knowledge and translate it to flowers and beyond to make over-the-top wedding atmospheres. Cindy is certified with The Flowers Canada School of Floral Design and has a business degree from the University of Guelph. She has also trained with, and from the best, such as Patzee of Patzee's floral in London – a widely recognized expert.
Another big part of the Now & Always inventory is linens. "Brides love linens," says Cindy. She has expanded her linen selection each year, with countless types, styles, textures, patterns, and colour choices. Working with brides and grooms and their overall theme, linens of various textures often get paired and layered across tables and over backdrops to create a stunning, unique look that ties in perfectly with the rest of the day.
"As we've returned to more intimate settings for weddings, popular new tablescapes include cylinder vases glowing with high-quality pillar candles and lush greenery garlands. Outdoor spaces are completed with our greenery draped hexagon archway and candlelit vintage wine barrels."
Popular new additions to Cindy's table setting options include gorgeous napkin rings, as well as patterned napkin options that include everything from vintage-inspired, to pinstripe to paisley designs.
Alisha and Kevin hired Cindy to decorate for their July wedding. "I was so nervous as to what our simple barn was going to look like as a wedding venue. Cindy took the vision I had in my head (and in my Pinterest dreams) and turned it into reality!  We had so many compliments on all the decor and it's all thanks to Cindy and her team. Cindy was so patient and flexible which made the week before our wedding go so smoothly."
Cindy knows that to keep up with brides she can't just stock up on decorations and call it a day, so this decorator makes weekly quests for something new, beautiful, or different. "I'm always looking for something new so that I can have exciting ideas for my brides," says Cindy. It's never 'what you see is what you get' with Now & Always… it's always more!
Packages & Pricing
Cindy says Now & Always can accommodate any style of wedding- from traditional to simplistic or celeb-style and extravagant. "We're mostly asked for simplistic, beautiful decor but we work with brides who wish to create a classic look and brides who like to try a more modern or daring look…all while working with each individual client's budget.  I thoroughly enjoy being able to use our creativity to meet our clients' needs."
Cindy admits that she does have a few personal favourite styles…."Anything with greenery ….and more greenery. A combination of faux and fresh greenery achieves the same effect as all fresh greenery for a fraction of the cost. Greenery accentuates all venue spaces and offers visual impact for your wedding decor."
"I also love vintage…and more vintage! I enjoy going to antique markets and finding unique props! I just purchased lots of beautiful vintage style items from lace to pearls and more."
Lastly, Cindy loves creating an exciting, statement entrance at the reception. "It's the very beginning of the ambiance that is to be carried through into the rest of the night's décor."
Couple Reviews
Please login to add your review
Vendor Profile : Now & Always ~ Special Event Décor
You May Consider These Items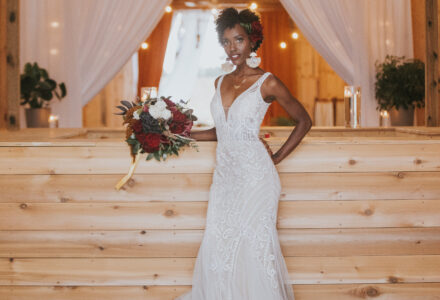 London, ON, Canada, Ontario
© 2023 The Wedding Ring All rights reserved.