About
Music Central provides hours of music, lighting effects, Master of Ceremony services and even karaoke. For prices starting at $999 per event, you can get a DJ, light package, cordless mic, free consult where applicable, back-up services, seasoned and well trained DJ!
Considering the cost of most of the elements that go into a wedding, the services that Music Central provides for your wedding reception are priced to impress.
Prior to booking, Rob is more than happy to sit down with you to answer any questions. This is also a great chance to meet Rob and learn more about the options for music, lighting, the various packages, slideshow equipment, ceremony options and much more. Closer to the wedding date, Music Central will meet with you, in person if possible, for a consultation to discuss the details of the wedding. This usually happens a few weeks before the wedding. This is a great time to discuss the more in-depth details such as musical likes and dislikes, additional services needed, such as MC services, or to go over any specific song request lists. He says that, "… it's important for every client to have a chance to meet Music Central and discuss what they want and don't want at their wedding." Rob says that the bride and groom's preferences and tastes are what it's all about.
Music Central places emphasis on working within whatever guidelines his clients give them, whether it is a themed wedding, a specific list of songs you want played at certain times, or specifics about what you don't want played at your wedding. There are still many couples that simply leave music choices up to the DJ. Either way, Rob is dedicated to delivering what his clients ask for.
Products & Services
Rob is a big part of what sets Music Central apart from other DJ companies. With a great personality, five kids at home, and a huge love of music, he provides couples with the face-to-face service that is so rare. "Really, I'm a former musician myself. Just about any DJ you meet is likely a frustrated musician and/or a huge music fan!" Rob insists that a DJ needs to love music to work in this field. "I needed a way to justify my record-buying addiction. This was the perfect fit!" And that was how Music Central was born in 1983.
Rob is a big believer in supporting the music industry and continues his love of purchasing music. Music Central buys music on a weekly basis not just to keep up with what's new but also to bolster their back catalogue. Music Central's office library now consists of well over 6000 CDs. All their music is legal and appropriately licensed with the A.V.L.A. Rob states, "If you want a song and we don't have it we'll go to great lengths to find it for you." Take for instance, the cool new "lounge" music that Rob recently added to his music collection- offering the perfect vibe for your cocktail hour or, to set the tone during dinner.
In addition to constantly updating their music library, Rob believes that it is just as important to constantly update their equipment. When you book with Music Central, you know you are getting top notch music AND equipment.
For example, Rob has a patio speaker that is set up outside. When guests step outside for a breath a fresh air, they can still enjoy the music at your party!
Music Central tries to provide as many personal touches as possible throughout the couple's wedding day. They work with the couple to determine appropriate and meaningful songs for things such as the first dance of the bride and groom, mother-son dance, father-daughter dance, garter and bouquet toss and special songs chosen for family and friends.
Packages & Pricing
Customized packages at Music Central start at $999 for up to 8 hours. Rob says that there are add-ons to each package to make them completely customizable including ceremony music and lighting packages… anything to suit the couple's needs, including Stag & Doe packages. Music Central also offers a Stag & Doe discount (a value of almost $100) when you book your wedding with them.
Karaoke is becoming an increasingly popular (and fun!) choice for many couples. Rob says that as one of London and area's main suppliers of karaoke entertainment, they have a huge library of karaoke background tracks available to you. If you have someone who wants to perform a particular song, he can even let them practice with the background track beforehand. Karaoke is a great idea for the kissing game or to raise money at the Stag & Doe.
Music Central is prepared for ceremonies and/or receptions in remote locations such as beaches and parks. If you are planning a wedding anywhere where you may be concerned about power outages (or where there is no power source), Rob can make sure that the party won't stop if you book their portable generator. For a small fee of $100, you can be assured that your remote location reception will run smoothly. The generator is built with new whisper quiet technology so noise is not a factor. On several occasions Music Central has come to the rescue during an emergency power outage. Their back-up staff was called to deliver a generator and the party continued on.
One of our favourite things about Music Central is their Field Manager. The Field Manager makes sure that your event is running seamlessly by driving around to each venue and checking that your DJ has everything they need for a flawless event (how great is that!?!).
Details, Details, Details
Rob and his associate disc jockeys will always attend your wedding dressed appropriately.
• Music Central requires a $200 deposit to confirm and hold your wedding day for their services.
• Music Central now has a storefront at 1496 Dundas Street East in London (by appointment). However, Rob is more than happy to meet you at a place that is convenient for you.
• Suggested book ahead time is one year, if at all possible.
• There are six DJs on staff including Rob and he will try to match up the personality of the DJ with the couple to ensure a good fit!
• Music Central is a member of the Canadian Disc Jockey Association (CDJA), The London Chamber of Commerce, Tourism London and are CONNECT Licensed.
• During their busy season, Music Central does up to 6 weddings per weekend.
• Music Central now accepts debt and credit card payments.
Couple Reviews
Please login to add your review
Vendor Profile : Music Central Entertainment
You May Consider These Items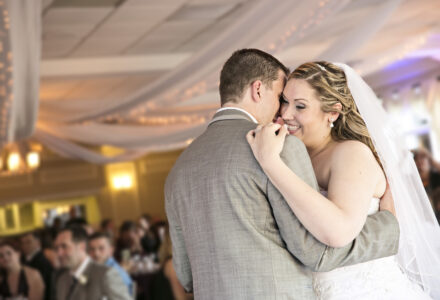 © 2023 The Wedding Ring All rights reserved.