About
Four Points by Sheraton London offers beautiful spaces for ceremonies, receptions and 600+ guests
With 180 guestrooms, a full-service conference centre, and beautiful outdoor gardens, Four Points by Sheraton London provides you with everything you need to make your dream wedding come true- all under one roof! Four Points London is conveniently located about 10 to 15 minutes from downtown London, with quick and easy access to the 401.
Products & Services
The wedding coordinator is the couple's point-person and stay with the couple through the entire planning process and on the day of the wedding.
The Wedding Coordinator ensures that everything has arrived on time and is set according to the couple's vision. The Executive Chef and Banquet Manager are also on site for the event. "The Executive Chef provides a delicious meal that the couple has chosen and tried at their tasting. The Banquet Manager handles all of the details, so that the couple and their guests can enjoy the event."
A few of our favourite things…
• The property allows for the entire event to be hosted under one roof. Having the ceremony, photos, reception and guest accommodations in one location makes planning a breeze!
• The property offers numerous areas for photos – both inside and outside!
• Location: the hotel is located right off the highway and makes for easy access for guests travelling from in and around the city.
Packages & Pricing
The hotel offers a full ceremony and reception venue with guestroom accommodations. The hotel has three main ballrooms –Bristol, Balmoral, and London Ballroom. The Grand Bristol Ballroom is true to its name providing space for up to 400 people. The Balmoral Ballroom offers use of the hotel's mezzanine lounge for events of up to 150 people. The London Room is the perfect backdrop for an intimate affair for 100 people. Each ballroom offers its own unique features that contribute to the perfect day.
Four Points London offers customized wedding packages, with their "all-inclusive wedding" package starting at $130 per person. "Our all-inclusive wedding package is definitely a popular choice amongst our couples. It provides an easy planning experience and makes budgeting very simple," Four Points Sheraton London.
Details, Details, Details
• Deposit required to book: $1000 nonrefundable deposit
• Months to book ahead: The Four Points London has helped organize weddings in less than a month, but should you have your heart set on a certain date it is best to book at least 12 months in advance.
• Taxes & gratuities: A 15% service fee is applicable to all food & beverage items. 13% HST is applicable on all goods & services. Good news these are already included in the all-inclusive package price!
Couple Reviews
Please login to add your review
Vendor Profile : Four Points by Sheraton London
You May Consider These Items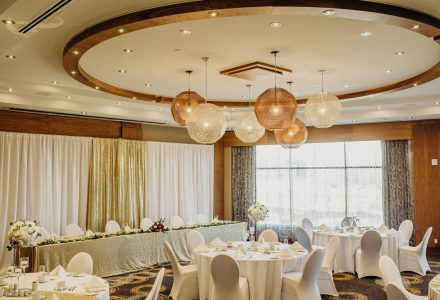 110 Erb St W, Waterloo, ON N2L 0C6
© 2023 The Wedding Ring All rights reserved.