ThunderStorm Productions Elevates your Wedding Entertainment to Extraordinary
ThunderStorm Productions, one of the most well-known Disc Jockey services in the Kitchener/Waterloo areas, has been bringing the party to weddings for over 25 years. From DJ services to pinball and video game rentals to slushie, popcorn, cotton candy machines, and dole whip soft serve ice cream, ThunderStorm Productions will elevate your wedding entertainment from ordinary to extraordinary.
About ThunderStorm Productions…
The company was started by Eric Hoshooley in 1993 when he was just 13 years old. Looking for something fun to do he had always enjoyed helping the DJ's at his elementary school dances, so he decided to try it for himself. 25 years later, ThunderStorm Productions has become one of the region's leading DJ companies.
"We've been involved in weddings as small as 20 and as large as 1000," says Eric. "We are well versed in lighting/sound/music and have a great technical background and have been involved in many aspects of the wedding industry," he says, adding that they also keep on top of trends and keep in contact with many local vendors to get the pulse.
Having DJ'd over 800 weddings, Eric still gets excited when he watches a crowd of people at a wedding jump up and down, sing along and smile because they're having a great time.
"Because of the music and feeling we are putting into a room brings us so much energy. A good room get us going better and better always wanting to get to that next party," admits Eric.
About the team…
Eric, Mitch, Neil, Terry, and Kris are the key players at ThunderStorm Productions.
"Our DJ's all share the same role," says Eric. They all bring the party to the wedding and according to Eric, all the DJ's know how to read a crowd and choose the right music to play. "We are all well versed in all genres of music with years and years of experience and we are also trouble shooters, as well as someone who can keep the event timeline on track."
"We also have DJ's with different personalities, some more interactive, some less so, that way we can pair the right DJ to your personality," says Eric.
Eric spent years doing lighting and sound in high school, which lead to a job with the IATSE Union doing concerts for bands like Tragically Hip, Backstreet Boys, The Guess Who and many more. This hands-on experience and knowledge of the technology behind the lighting and sound world combined with his Theatre Production program education from Sheridan College is just one of the things bride & grooms love about ThunderStorm Productions.
Marsha also found the company's prices to be very reasonable and she believes the value well exceeded the cost.
"My favourite memory was meeting with Mitch, our DJ," says Marsha. "He was so thoughtful and thorough and was so knowledgeable about the industry. He offered great ideas and made me feel so much better about how the day would flow musically." Marsha describes Mitch as extremely friendly, honest and hilarious. "They went above and beyond to help suggest ideas for my father/daughter dance as he is in a wheelchair with Parkinson's," says Marsha, adding that she would highly recommend ThunderStorm Productions.
ThunderStorm's services…
"Our most popular product is our DJ service of course, but our new Fun Foods division has really been growing, both for weddings and other parties," says Eric. "We now carry popcorn, cotton candy, slushies and soft serve ice cream. We think this is all due to our reputation of going above and beyond and being friendly and helpful. A one stop shop for entertainment"
Popular products include:
Ceremony live streaming
5pm to 1am Including Dinner Music & Reception
8pm to 1am Just Reception Music
Stag & Doe's
Popcorn
Cotton Candy
Slushies
Soft Serve Ice Cream
Video games
Drinkbox
When Gaby was looking to book a DJ for her Stag & Doe and wedding, she felt very overwhelmed, but when she met Eric she felt relieved. "He was the only one who took time out of his day and answered all my silly questions both on the phone and email," she says, describing Eric as very personable. "He had so much knowledge about the wedding day and stag and doe day that I wouldn't have thought of."
Eric believes that brides choose ThunderStorm Productions because of the team's personalities.
"We are so much fun! We love to joke around, we love to laugh, everyone comes by our booth at wedding shows and everyone is smiling, our guests are laughing, we want it to be fun!"
ThunderStorm Productions is described as very fun, interactive, entertaining and of course knowledgeable – in music, lighting, and sound.
A fellow member of the wedding industry, Michelle Maeck from Maeck Weddings admits she loves working with Eric and his team.
"Their level of professionalism is second to none! Eric is flexible, friendly and knows how to keep the dance floor going throughout a wedding or event," says Michelle. She describes their services as customizable. "They tailor their DJ-ing and extras to each and every couple that we work with making sure that each weddings reception and after party is unique to the couple."
NEW to ThunderStorm Productions
Drinkbox
The DrinkBox from ThunderStorm Productions is the perfect solution for any wedding! It is fully equipped with TVs to show your wedding slideshow (or hook up a gaming console). LED colour changing lighting can also be set for your wedding colours. DrinkBox can dispense 6 different flavours of pop, cold water along with 4 types of BEER all day long! No hydro or potable water on location? No problem, power, and water can be brought in, and it also works for on-site cold storage.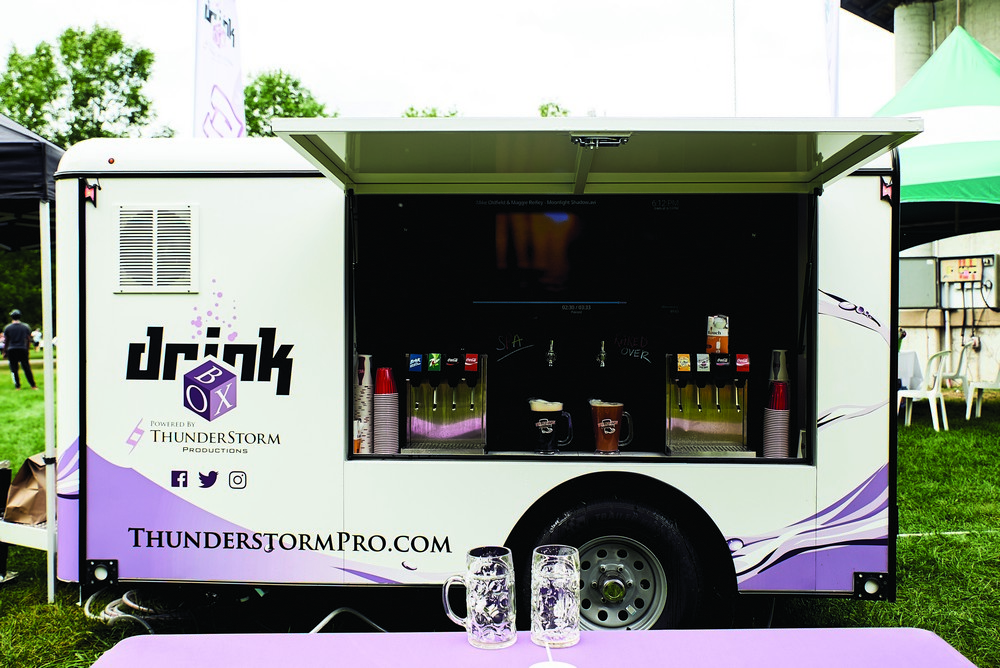 Live streaming
Prior to March 2020, live streaming a wedding ceremony was gaining in popularity. It was a common choice for engaged couples who elected to host a destination wedding or elopement, or for those couples who had loved ones who couldn't be present for medical reasons. With COVID-19's dramatic impact on wedding guest lists, many couples turned to virtual streaming to ensure that everyone could witness their love.
"We provide multiple angle high-def video and an on-site sound system so that both your in-person and your online guests can witness your carefully planned ceremony. We will also provide a microphone for your officiant, so your guests don't miss a word of your vows. As always, we'll provide the ceremony music you selected."
To read more about ThunderStorm Productions Live Streaming view their recent article here.
Details, detail, details…
The average bride spends between $200 and $1500 with ThunderStorm Productions
HST applies to all bookings
There is a $200 retainer fee required to secure your booking with ThunderStorm Productions
The balance is due on or before your wedding day
Contacting Thunderstorm Productions
To learn more about Thunderstorm Productions, contact Eric Hoshooley directly by email using the form below. 🙂 You can also visit Thunderstorm Productions online at www.thunderstormpro.com.