Guest post by Amy at Unmistakably You | Photo: HRM Photography
Let's not sugar-coat it. Covid SUCKS. The uncertainty, the constant state of flux, the inability to plan more than a few days in advance… these are all things that make wedding planning tough.
As the 2021 wedding season approaches, it's becoming increasingly apparent that life has not returned to normal, as we know it. Faced with slow vaccine dispensing, continued physical distancing, and masking, it's not likely that large weddings with dancing are in the near future.
While it's totally understandable to want your dream wedding, there's also a case to be made for getting married NOW, and starting the next chapter of your lives together. So many couples have put their lives on hold, postponing (sometimes multiple times!) not only their wedding but the next phase of life. We all know that in this day and age, couples do all the 'life things' (having kids, buying houses, moving in together, relocating) in all kinds of orders. You don't have to be married to do any of those things. But a lot of people prefer to be.
Also, keep in mind that, while times are uncertain now, nobody can predict the future. Having just lost my dad to an undiagnosed and unexpected illness, I can be the first to advise you that finding a creative way to celebrate today means that those you love who are still with you can be there NOW, while they might not be in the future. (Sorry to go there… now, on to happier topics!).
There are tons of benefits to hosting a Micro-Wedding, not the least of which is budget. Reducing your guest count can free up money to indulge in really great food and drink, or to make your décor and florals more lavish.
Hosting a smaller number of guests also means that you'll have more quality time with each of them; time to make special memories and celebrate with those closest to you.
Eliminating the dancing from your wedding certainly doesn't mean you eliminate the fun, either. From live music to comedians, caricaturists to magicians to contests…. the options to create a memorable experience for you and your guests are endless.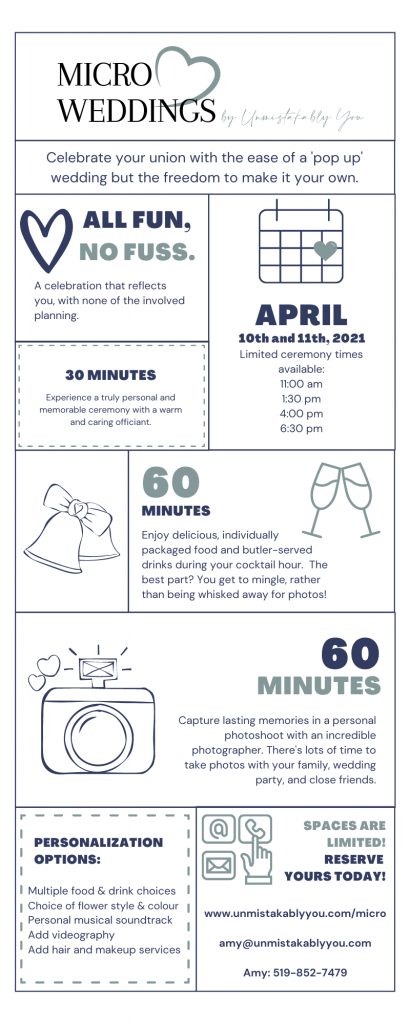 Finally, if you're just starting to plan your wedding, and are finding the uncertainties stressful, there are tons of micro-wedding and elopement offers out there, where literally all the legwork is done for you. All you need to do is get your marriage license and show up!
Are you considering a Micro Wedding in 2021?
If you're interested in Micro Wedding options, Unmistakably You offers two days, April 10 & 11, where an incredible team of creative vendors will come together to offer a personal wedding experience at a fraction of the cost (and stress!) of doing it yourself.
A three-hour package ensures that you won't be rushed, and a customizable 60 minute cocktail hour will allow you to mingle with your closest friends and family. A bespoke ceremony by a warm and caring officiant will guarantee that your love shines through to all of your guests.
Stunning décor and top-notch photographers ensure that your photos will preserve perfect memories for decades to come, and the options to personalize your flowers, music, food, and drink set these Micro Weddings apart from your standard 'Pop Up' wedding. Spaces are limited, and booking fast.
MORE ABOUT UNMISTAKABLY YOU | For more information, visit www.unmistakablyyou.com/micro, email [email protected], or call Amy at 519-852-7479. You can also contact Amy directly using the form below.